Rene Lalique: Fakes, Imitations, Forged MarksBy
Mark Chervenka
Lalique: Fakes, Imitations, Forged Marks
Rene Lalique (1860-1945) was one of the most successful artist/designers of all time. He was successful designing jewelry, wallpaper, textiles, and commercial packaging but it is his glass wares that brought him the most fame. Lalique began commercial production of his own glass around 1905 and carried on his work until his death in 1945. The glass business was carried on by his son Marc (d. 1977), then his granddaughter, Marie-Claude Lalique (d. 2003). This article will compare authentic Lalique glass and its marks to present day and earlier imitations, fakes and copies and reproductions. This will include an explanation of original and forged marks, typical design features, production details and ingredients in the glass.
Fake and Forged Marks
Before Rene Lalique's death in 1945, the initial R was used in virtually all marks, i.e. "R. Lalique, France". After 1945, most all of the same marks continued to be used except they now appeared with the initial R removed, i.e. "Lalique, France". The presence of the single letter R can add hundreds, sometimes thousands, of dollars to a price. This is why Lalique marks are forged more often than almost any other marks on glass with the possible exception of American cut glass. There is such a huge variety of forged Lalique marks it is impossible to list them all. Typical examples of authentic marks and common forgeries are shown below.
Many persons believe that only sand blasted or acid etched marks can be forged but this is wrong. Forged marks are also cast in the mold and can appear as either raised lettering or incised (intaglio) lettering. Another method is to take a mold of an authentic mark, make a resin casting in the mold and apply the molded copy. Regardless of how they are made, buyers should be aware that molded marks can be forged and are certainly no guarantee of age or authenticity.
The most commonly seen forgeries, though, are engraved and etched marks. These are cheap and inexpensive and require little skill. Engraved marks are commonly made with diamond tip pencils, rotary grinders and pens with vibrating metal tips. Most forged etched marks are made with rubber stamps and acid. More ambitious etched marks are produced with stencils and sandblasting.
As a general rule, Lalique glass marks before 1945 must include the initial R to be authentic. Rene Lalique died in 1945 and after his death the R was dropped. Many of the pre-1945 marks continued to be used after 1945 with the initial R removed. Be alert for marks on genuine Lalique made after 1945 that have been "enhanced" by the addition of the letter R which would indicate an earlier production and add greatly to the value. Before 1945, France may or may not appear in a mark. After 1945, however, France virtually always appears in all marks,
Generally, all authentic pre-1945 Lalique markings are very small, rarely over 1/8" high. The lettering style is very plain with all letters being the same width and no decorative flourishes at the end of the letters. Marks on genuine pieces appear in inconspicuous places like bottom rims or worked into the design.
Forged marks, in contrast, are made to stand out and be seen so they are frequently placed in a prominent position and are relatively large, up to 1/2" high. Forged marks frequently use fancy and decorative styles of lettering.
Many forged marks also include phrases or wording never used in originals. "Made in France" for example, has never been used in any Lalique marks either before or after 1945. "Paris" was never used with the word "France" and "Rene" was never spelled out on ordinary production pieces. Nor did Lalique ever use numbers to indicate limited edition series such as "NO. XX/XXX" or "#XX of XXX".
Like any general rules, there are certain exceptions and all those known are noted. You also need to review what new products were introduced by Cristal Lalique. For example, a limited group of the hood ornaments—or car mascots—made from old molds do include the R. Lalique molded mark. Most of these pieces were made in 1950 and were marketed as paperweights. In the late 1970s, the St. Christopher ornament was reissued with an R. Lalique molded mark. But all these and other post-1945 pieces can be detected by the difference in the glass used which is discussed next.
Type of Glass
Before 1945, Lalique glass had a lead oxide content of about 12%, known by the French term demi cristal. After 1945, the amount of lead oxide was doubled to 24% which qualified it under French law to be called full cristal. The higher lead content makes the glass since 1946 brighter, heavier and more transparent than the pre-1945 glass. This is relatively easy to see with the unaided eye but can also be tested under long wave black light. Colorless (clear) Lalique glass made before 1945 glows yellow under long wave black light. Colorless Lalique glass made after 1945 glows blue-white or blue. But don't use black light alone as a test for authenticity. Some ca. 1920s Lalique imitations by contemporary manufacturers also fluoresce yellow and may have a forged Lalique mark. Nearly all the present day imitations and look-alikes, however, such as frosted glass from the Czech Republic, have no reaction under long wave black light or glow blue-white or blue.
Cutting and Finishing
Ornamental cutting is rarely found in genuine pre-1945 Lalique. Cutting was widely used, however, on Eastern European glass where much of the imitation Lalique was made. Large broad facets (see Figs. 11, 17, 19) around the base and top rim almost always point to eastern European products from the Czech Republic, Romania, Turkey or Yugoslavia.
Summary
In its nearly 100 year history, Lalique has produced tens of thousands of pieces of glass. There is always the possibility of some minor unknown exceptions to the general rules of authentication. Do not use any one single rule to determine age or authenticity such as marking or black light alone. Use a broad range of facts and evidence to determine age.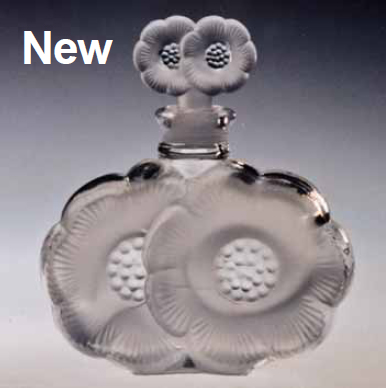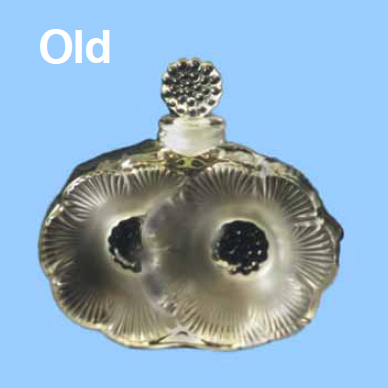 Radiator Ornaments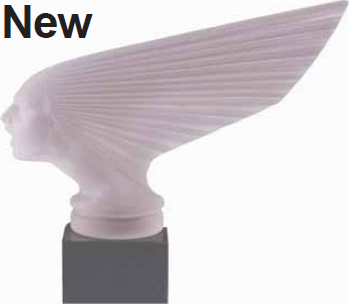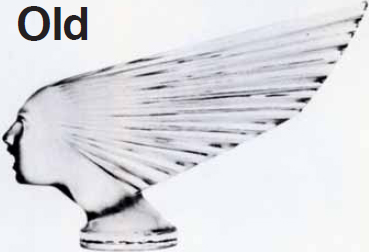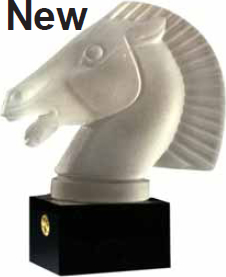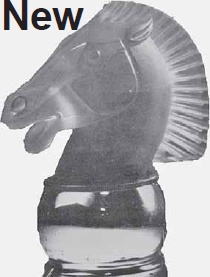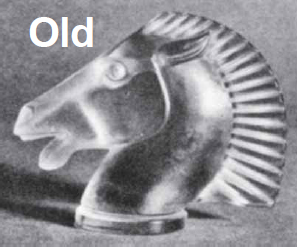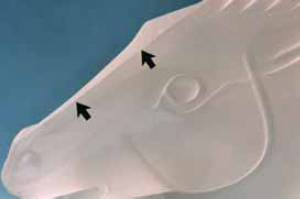 Vases
The new frosted glass vases shown on pages 4 and 5 are commonly found with forged Lalique marks. Forgeries may be acid stamped, engraved or molded. Many persons incorrectly think a molded Lalique mark is a guarantee of authenticity-it is NOT. Examples of forged molded marks are shown later in this article.
Although most of the vases shown are currently being made, many have been in and out of production since the 1920s. Be alert for pieces made in the 1920's with natural wear with a recently added forged mark. A current wholesale catalog page showing some of the new Czech glass is shown on page 5.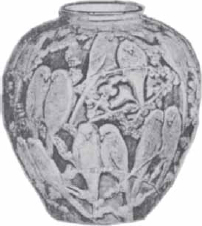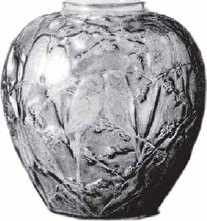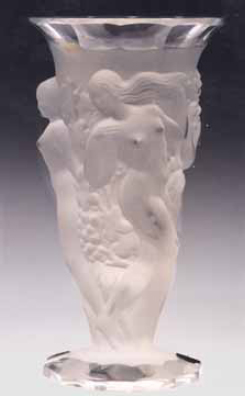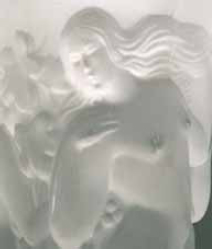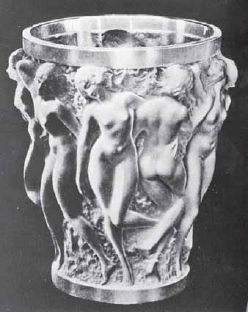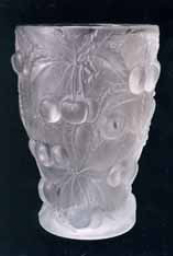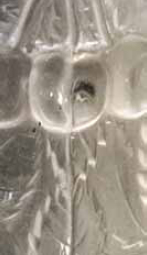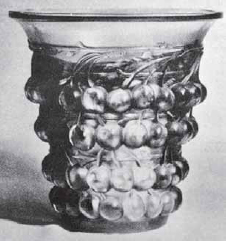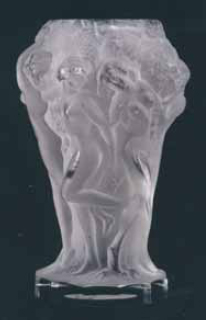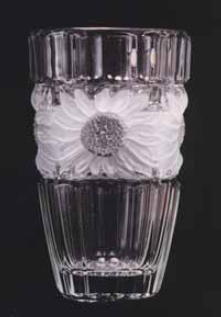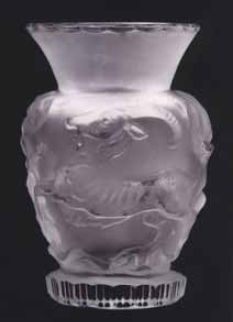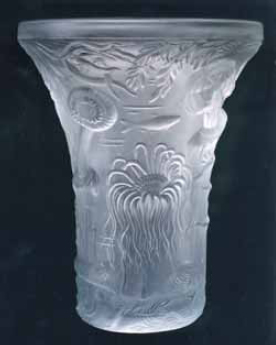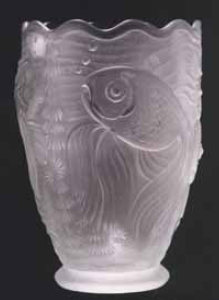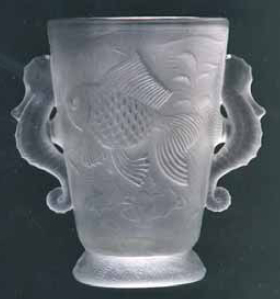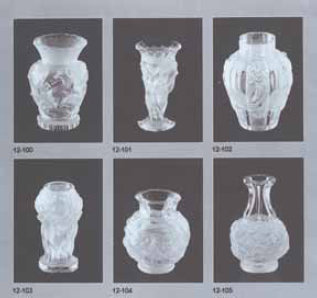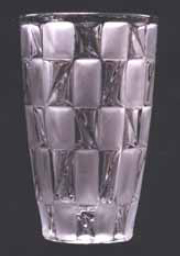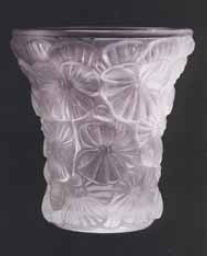 Miscellaneous Items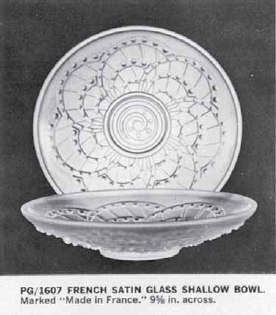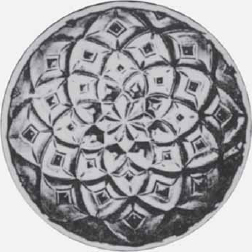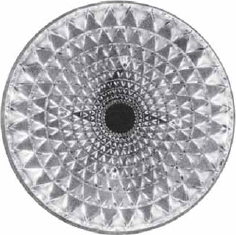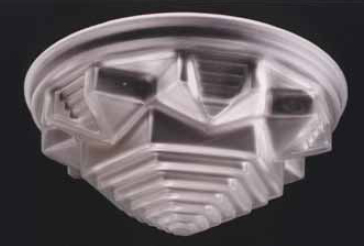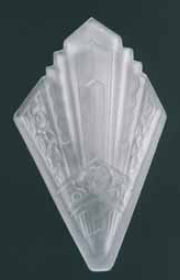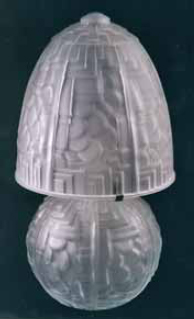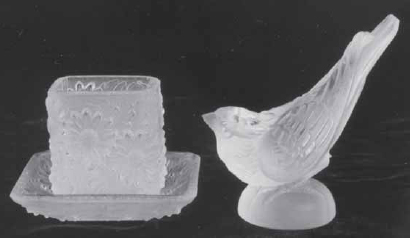 Perfumes
There are two basic types of collectible Lalique perfume bottles: empty bottles sold directly by Lalique and other retail outlets, and custom designed bottles made for commercial perfume companies such as Coty or large retail stores such as Saks Fifth Ave. Most pre-1945 custom bottles have a raised molded Lalique mark. Bottles sold empty before 1945 generally carry either a raised molded Lalique mark or an engraved mark or both. Many of the pre-1945 bottles sold empty have matching engraved "control numbers" on the stopper and bottle (but not always). Fakes of Lalique perfume bottles have been made for years. In Lalique Glass author Nicholas Dawes quotes a 1928 writer, Miguel Zamacois, who describes the flood of copies made in mid-1920s as "blatant forgeries and cynically improvised imitations" of Rene Lalique's originals. Many copies, both old and new, carry forged marks. A number of Lalique's perfumes have been in constant production since the 1920s. Be alert for recently made genuine Lalique bottles which have a forged letter R added to the factory mark to suggest the piece is pre-WWII, not post WWII.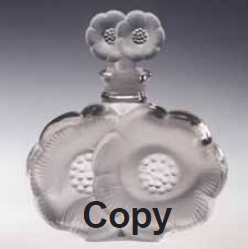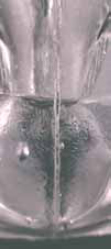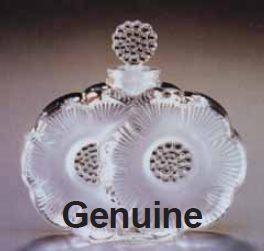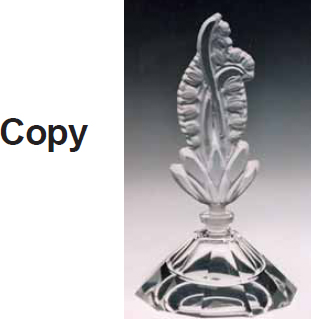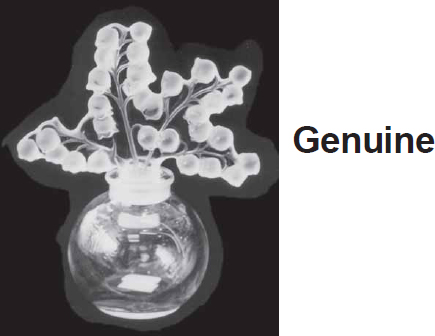 Authentic Marks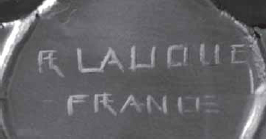 After 1945


Clues to Forged Marks
There are certain words and phrases that appear in many false marks that virtually never appeared in any authentic Lalique mark on general production pieces made either before or after 1945. Any of the following words or phrases are indications that you are most likely looking at a forged or faked mark.
Paris France
Some perfume bottles include Paris, but general production pieces do not. As a general rule, be suspicious of any marks with Paris, France.
Rene Lalique
Standard marks on general production pieces before 1945 generally include only the initial R; Rene is not usually spelled out.
Made in France
Authentic Lalique marks used before 1945 and the great majority of marks used after 1945 include France only. As a general rule, any mark with Made in France is probably not genuine.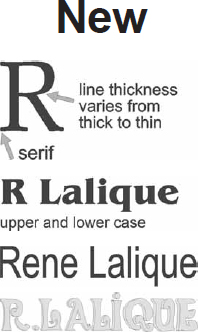 Many forgeries are one-quarter inch and larger.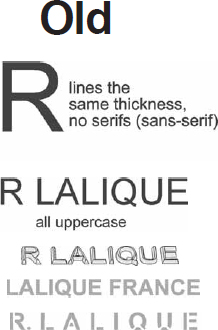 Authentic marks are rarely over one-quarter inch tall.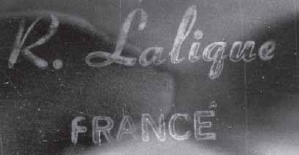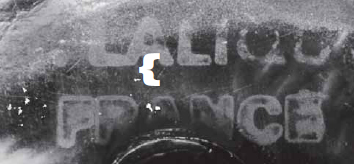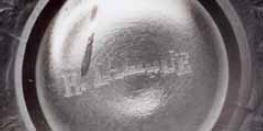 Real Or Repro is an industry resource powered by
a vetted marketplace of dealers and winner of numerous
Ecommerce Bytes Sellers Choice awards
for Quality, Usability, Customer Service, Communications and Most Recommended Selling Venue
---
So now,
Our Ruby Lane Shop Owners
invite You
to shop with them for the
Real Deal
on Ruby Lane ...