L.G. Wright Epergne Mold Put Back in Production by FentonBy
Mark Chervenka
L.G. Wright Epergne Mold Put Back in Production by Fenton
An epergne mold originally used by L. G. Wright in the 1940s-50s was put back into production by Fenton Glass.
The original Wright mold was made in the early 1940s by the Island Mould and Machine Co. owned by Joe Weishar. Unlike the majority of Victorian era epergnes which are blown, the Wright (and now Fenton) epergne is pressed.
The 16½″ tall epergne has one large center trumpet surrounded by three smaller trumpets above a crimped rim base. Trumpets and base are joined by a unique clear glass connector.
Fenton's epergne was offered as part of that company's Centennial Collection, a five year marketing campaign that promoted its 100 years in business, 1905-2005. All new epergnes were marked in the mold with a special oval logo with "Centennial Collection". The color is green opalescent.
The epergne mold was among over 200 molds purchased by Fenton during the May, 1999 liquidation auction of the L.G. Wright glass company.
Wright never made any glass but only owned the molds. The actual work was jobbed out to full time glass companies such as Fenton, Westmoreland and others. Fenton produced almost all of the original Wright 1940s-1950s epergnes.
None of the Wright 1940s-50s epergnes are permanently marked.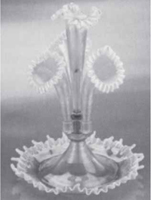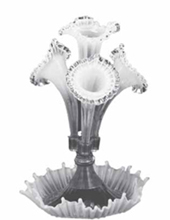 Real Or Repro is an industry resource powered by
a vetted marketplace of dealers and winner of numerous
Ecommerce Bytes Sellers Choice awards
for Quality, Usability, Customer Service, Communications and Most Recommended Selling Venue
---
So now,
Our Ruby Lane Shop Owners
invite You
to shop with them for the
Real Deal
on Ruby Lane ...