Kerosene Glass Lamps - Separating New from OldBy
Mark Chervenka
Kerosene Glass Lamps - Separating New from Old
Increasing numbers of new glass kerosene lamps have been coming on the market. This includes everything from small finger-lamps to multicolored banquet lamps. New lamps continue to be made overseas as well as here in America.
The new kerosene lamps are generally quite good quality. Like any other mass produced items, however, pattern detail and overall quality vary from piece to piece. One of the catalogs from a new lamp wholesaler claims its lamps "were made using the original antique lamps as models." Regardless of pattern, there are several ways to identify these new lamps: 1– how fonts and bases are joined; 2–hardware; and, 3–colors.
Font-to-Base Joints
The easiest first test to catch new glass lamps is to simply expose them to black light. The vast majority of all new glass lamp fonts and bases are glued together. Vintage glass kerosene lamps were fused together when the glass was hot. All the pressed glass lamps we purchased for this article, which came from several sources, were glued. Even knowing what to look for, it is difficult to detect the glue in ordinary light with the naked eye. But every new joint fluoresces brightly in black light (Fig. 3). Old joints that are fused, not glued, do not fluoresce at the base-font joint.
Pure acetone has no effect on the modern glue. Neither does any one of several other solvents and paint removers. The new lamps were finally were separated after boiling them in water for about 5 minutes. (CAUTION: The boiling water test is mentioned purely to prove that the lamps are indeed glued. This procedure should be considered hazardous and is not recommended as a test for new and old.)
Hardware
Another clue to age is the metal hardware. This includes the metal fitting collar into which the burner screws; metal filling holes through which fuel is poured; and metal font-to-base connections.
With rare exceptions, all old metal hardware is mounted or joined to the glass with plaster. By contrast, almost all new metal hardware is glued. This glue also fluoresces brightly under long wave black light. Another clue to new metal hardware is wide or empty spaces between the metal and the glass. There are no empty spaces in old joints; the entire joint is packed with plaster (Figs. 6-7).
Don't be fooled by elaborate new hardware such as you might find in larger lamps like the new Cathedral lamp in Fig. 13. The hardware joining the base and font looks complicated but it is just another form of a glued joint. A metal plate is glued to the bottom of the font. A bolt passes through this plate on into the glass base where it is fastened with a nut.
Old glass fonts intended to be used with metal connectors generally have fairly long glass pegs (Fig. 5) molded on the base of the font. Packing plaster around the peg held the old font in the old metal connector. New fonts designed to be glued into new metal connectors or glued to a glass base, have only a slightly raised bump (Fig. 4) on the bottom of the font, not a peg.
The long bolts generally used in new hardware are threaded their entire length (Fig. 9, left). Old bolts are threaded only on the last 1/2-inch or so. Nearly all the old bolts are packed in plaster so they don't move. Most new bolts are loose within the metal plate (Fig. 10).
All but two pieces of new metal hardware on these lamps were brass plated, so it's tempting to say all the new hardware is plated. But that isn't true. Connections on the new Cathedral lamp are solid brass. What the hardware is made of isn't as important as how it's fastened to the glass. Keep in mind, however, that old hardware can be put on new lamps. They might even be put on with plaster.
Colors & Size
Many of the new lamps are being produced in colors and color combinations not originally made. A list of new pressed glass kerosene lamps including colors and sizes appears at the end of this article. If an original was only made in clear, any colored examples would obviously be highly suspect.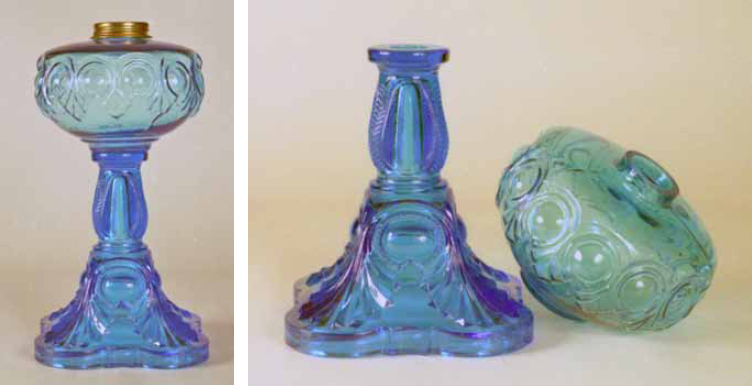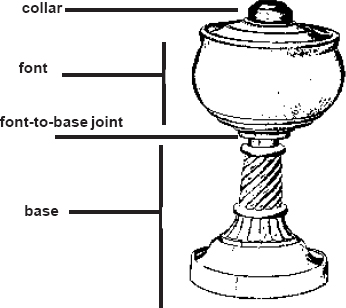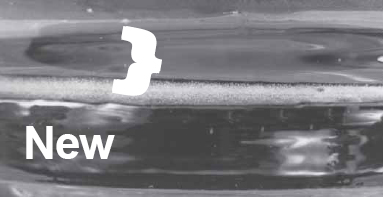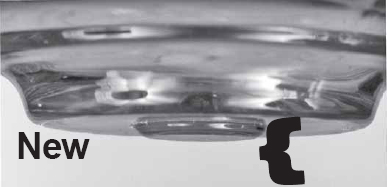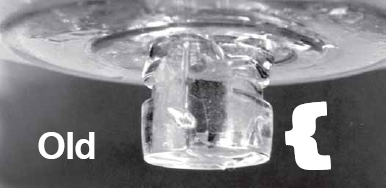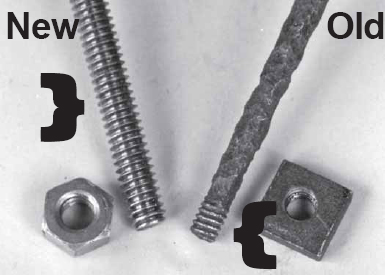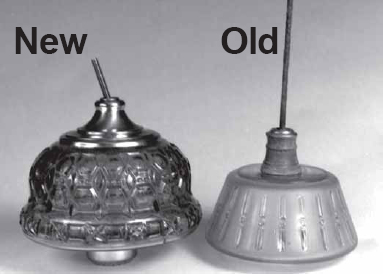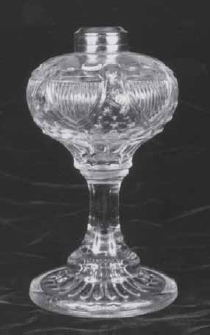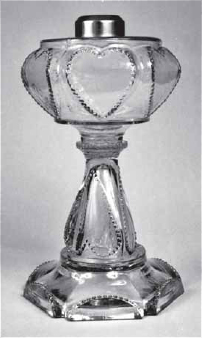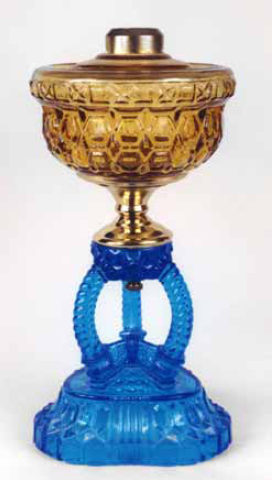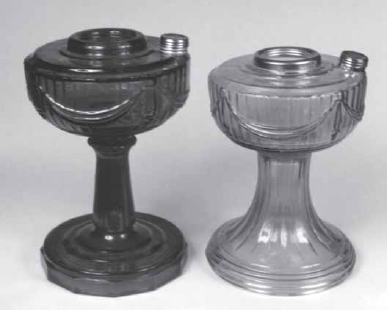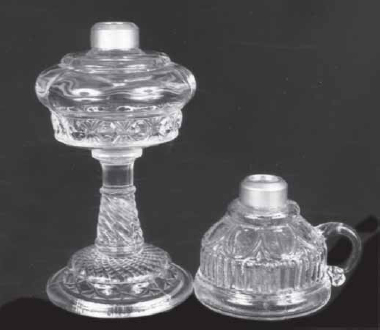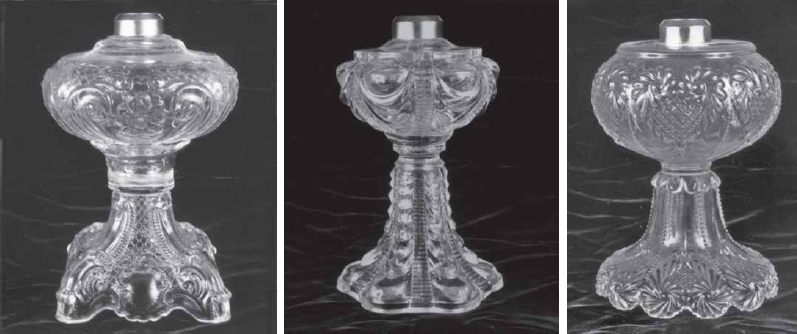 Pattern
New Size(s)
New Color(s)
Comments
Peanut,
finger lamp
5"
amber*, clear, cobalt*
old lamp (see Thuro, "Oil Lamps I" pg 304; is one piece including handle, new handles tend to droop)
Petal & Rib,
finger lamp
4"
clear, cobalt*, ruby*
new lamp has applied handle just like old lamp
Shield & Star
7"
clear, cobalt*
new is glued, comes with brass collar
Button &
Swirl,
8"
clear, cobalt*, ruby*
new is glued, comes with brass collar
Coolidge
Drape(Water-fall)
10"
clear, cobalt, ruby*, milk glass*
may be available in more new colors
Lincoln
Drape(tall)
9.75"
amber*, clear, cobalt, ruby, moonstone
bases glued to fonts; the old lamp bases are solid except for 1" in bottom: new lamps are hollow or partially hollow
Lincoln
Drape(short)
8.75"
issued by Aladdin Industries in amber, clear, green, plus other colors
bases glued to fonts; Aladdin Industries has marked most but not all of their new lamps; see "Aladdin Coll. Manual"-Courter
Sweetheart (Beaded Heart )
10"
clear, milk glass*, all pink*, pink cased font* w/clear base,
new lamps glued together; old lamps only came in green and clear combinations
Princess
Feather
6" & 9.5" also a 10.5"(tall)
9 1/2" in blue, clear, cobalt blue, pink cased, pink, 6" amber
all new lamps glued together; the originals came in a wide variety of colors so you need to look at the overall lamp
Bullseye-
Fine Detail
11"
variety of font/base combinations in blue, clear, pink*, & white
new lamp is glued together
Cathedral
banquet lamp
12 1/2"
combinations of amber, clear and blue
new hardware is lacquered solid brass; new fonts are glued to connecting plate, then bolted to base
Americus
16"
combinations of amber, clear and blue
new hardware is lacquered solid brass; new fonts are glued to connecting plate then bolted to base; top plate also glued
Daisy Heart
91/2"
clear, pink
glued together; we could not find an old example
*denotes color not originally made
Real Or Repro is an industry resource powered by
a vetted marketplace of dealers and winner of numerous
Ecommerce Bytes Sellers Choice awards
for Quality, Usability, Customer Service, Communications and Most Recommended Selling Venue
---
So now,
Our Ruby Lane Shop Owners
invite You
to shop with them for the
Real Deal
on Ruby Lane ...