Keen Kutter Fakes and ReproductionsBy
Mark Chervenka
Keen Kutter Fakes and Reproductions
There has recently been a large increase of fake, fraudulent and reproduction Keen Kutter items. Wholesale reproduction importers are mass producing everything from cast iron boot jacks, match holders, hatchets and "dealer" signs. Do-it-your-self forgers are taking old, unmarked inexpensive clocks, scales and tools by other manufacturers and adding the Keen Kutter name. This article will look at some of the typical fakes and forgeries and outline some tests on how to catch them.
History of Trademarks
The Keen Kutter brand name developed by the Simmons Hardware Company of St. Louis, Missouri. The brand dates back to 1870 when it was first used on tools and cutlery. As the years passed, the brand eventually expanded to include household items such as meat grinders, sewing machines, lawn mowers and other types of general hardware.
The trademark of the brand was a wedge with a horizontal bar through the middle (Fig. 2) and Keen Kutter in slanted lettering. E.C. Simmons appears in a curved line at the top. With few exceptions this wedge shape trademark appears on every authentic item. If an authentic item does not have the wedge mark, it is most commonly due to the shape of the object. Long, thin shapes like wrench handles and ruler blades, for example, may have only the Keen Kutter lettering.
It is very important to note what name, if any, appears at the top of the wedge logo. This name changed over the years and can be used for approximate dating.
E.C. Simmons was used from the earliest years to 1940. In that year, Simmons was bought by Shapleigh Hardware also of St. Louis. Shapleigh continued the Keen Kutter brand but replaced E.C. Simmons with "Shapleigh's" in the trademark (Fig. 3). That trademark continued until the early 1960s when Shapleigh went out of business.
The Keen Kutter name and trademark were then purchased in 1962 by Val-Test Distributors, Inc. of Chicago, Illinois. Val-Test was not a manufacturer. It was formed originally in the 1950s to help liquidate the existing stock of Keen Kutter inventory held by over 50 manufacturers who supplied Shapleigh. Once existing stocks were sold, no more goods could be made without trademark ownership. Val-Test stepped in and purchased the trademark which it continues to license out to various manufacturers. Some of the current licensees are Frost Cutlery, Crosly Group(major appliances) and Vaughn & Bushnell (hand tools).
When Val-Test purchased the trademark, it removed the Shapleigh name and placed a large letter K behind the wedge shape (Fig. 4). This mark was used from about 1965 until 1985. It was discontinued because K-Mart Corporation said the mark infringed on the K-Mart logo and threatened legal action. Since 1985, the wedge shaped trademark has been used alone with no other company names inside or outside (Fig. 5). Val-Test also bought the rights to the Keen Kutter slogan "The Quality Remains Long After the Price is Forgotten" which it also licenses for present day use.
Dates of trademarks are approximate. Items already made before names changes continued to be sold by new owners. Russell Meeks, current president of Val-Test, said some Keen Kutter items marked Shapleigh's existed in such large quantities that they continued to be sold into 1965 and beyond.
Examining Trademarks
In general, all authentic Keen Kutter, old and new, should have the wedge shaped trademark. It should be well formed, well proportioned and legible no matter what the size or how it is applied. A half-inch die stamped mark in a knife blade or an 8" acid etched mark on a glass display case should be about the same as the mark on a printed paper sign. Virtually all pre-1960 trademarks should include either "E.C. Simmons" or "Shapleigh's" at the top of the wedge. The words "St. Louis, U.S.A." or "Cutlery and Tools" frequently, but not always, also appear inside the pointed area of the wedge. Their use, however, varied considerably in pre-1960 originals and are not as an important indicator of age as either E.C. Simmons or Shapleigh's
The trademark on the bottom of the lobster bootjack in Figs. 6-7, for example, should be immediately suspect. Rather than the wedge, only the words Keen Kutter appear in a rectangular box. Similarly, the sign in Fig. 19 is wrong. Despite plenty of available space, the words Keen Kutter appear without the trademark. Although the wedge mark appears on the fantasy match holder in Fig. 18, it is very crude and indistinct.
But don't rely on marks alone as a test of age. As you can see by the photos in this article, trademarks are easily forged. Use trademarks as a first step in making your evaluation but never your only test. If the mark proves wrong, you won't need to waste your time in further examination.
Other Tests for Fakes and Forgeries
Some of the more difficult items to catch are the relatively small production runs of "do-it-yourself" homemade fakes. This is a particular problem when old appearing trademarks are applied to genuinely old non-Keen Kutter items. Some new marks are stamped into metal with new punches; others are printed by home computers on paper and applied with glue. New marks have also been found acid etched and sandblasted on glass cases.
The alarm clock and scale in Figs. 1 & 9 are examples of how old inexpensive non-Keen Kutter items have been enhanced. Dials with the Keen Kutter trademarks have been created on a computer and printed on paper. Original dials have been removed and the forged dials substituted. The presence of early patent dates and correct trademarks make the dials fairly convincing. But there are some simple tests to reveal their true age.
Probably the easiest is the use of long wave black light. Black light will generally make new paper, especially computer papers, fluoresce (glow). Glue used to apply new paper labels and dials also fluoresces. The entire surface is not required; any exposed edge is adequate to make your test.
But above all, be logical. Look, for example, at the forged label on the scale in Fig. 11. Notice that the paint is chipped underneath the paper label. If this is an original label applied at the factory at the time of manufacture, how did the paint get chipped and the paper didn't get torn or scratched? Logic tells you that the new label was applied over an already worn surface.
There are also paint chips on the scale needle (Fig. 10). How can a part protected under glass get chipped? Notice where the chips are; they're right where the needle is attached to the scale. The forger chipped the paint taking off the needle when the old dial was removed.
The forged clock dial has similar problems (Figs. 14-15). The second hands were not replaced properly when the new dial was put on; they're rattling around between the face and the glass front. How did they come to fall off? Also note what at first appears to be scratches in the dial at the black arrows in Fig. 14. Closer inspection shows these are not scratches in the surface at all but printed areas of black ink. True scratches in some old original dial were copied into the artwork used to make the fake. You can detect the printed "scratches" with a 10X loupe.
When examining stamped marks in metal, keep in mind that original marks were generally die stamped in a machine press. The majority of forged marks are stamped with a hand punch. For this reason, most hand stamped forgeries are currently in soft metals like aluminum and brass. Here are some clues to detecting a forged stamped mark
1) Beware of double strikes. This appears as a second mark or shadow slightly offset from the main mark. This is caused by the hand punch bouncing.
2) Be suspicious if the edges surrounding the mark are raised. Edges surrounding original die stamped marks are generally perfectly flat.
3) Marks should not be visible from the reverse side. Forgers sometimes hit the punch too hard on thin metal causing the mark to be seen on the back side.
4) Genuine marks are generally proportional to the size of the piece they mark. Beware of a tiny mark on a large surface. Forgers often own only one size punch. The same size forged mark appears on every object they mark regardless of the object's size.
What else is out there?
Additional new Keen Kutter items currently in the market appear in the list below. The list has been compiled primarily by Jerry and Elaine Heuring, authors of Keen Kutter Collectibles, An Illustrated Price Guide and from a similar list collected by The Hardware Companies Kollectors Klub(THCKK). Items shown in this article do not appear in the list below. Information on how to detect the new item is included if known.
-plumb bob, solid brass; no original solid brass was ever made
-small axe, about 2" overall; metal head with carved wood handle
-pocket watch, nickel case; dial has copy machine look. Authentic Keen Kutter watches were usually gold and given only as presentation pieces, they were not a manufactured item in the Keen Kutter line.
-lapel pin, a stick pin shaped like the trademark; believed to have been made from a new watch fob
-emblems shaped like the trademark in brass and cast iron; both new emblems are both 5 3/4" tall; original old cast iron emblem is 4 3/4" tall
-nail apron, fictitious date stamped on apron
-brass watch fob in shape of trademark; old are centered on blank, well stamped with raised lettering; new are smooth, frequently not centered
-various pocketknives
-waffle iron, 7¼" dia., wire handles on griddle; rough texture inside and out, warped lids
-glass paperweights with various paper inserts of Keen Kutter products or letterhead
-brass tags for wood ice boxes reading "White Clad Simmons Hardware Co."
-brass tags "Leader-Simmons Hardware Co."
-padlock, brass, shaped like trademark
-10½ X 15½" painted metal sign, "We sell Keen Kutter Cutlery & Tools"; marked AAA Sign Co. Coitsville, OH
-12 X 12" painted metal sign, "The Recollection of Quality Remains Long After the Price is Forgotten."
-7½ X 21" painted metal sign, words "Keen Kutter" and pictures of axes
-advertisement, copy of 7 X 10½" original promotional post card advertising Keen Kutter exhibit at Panama Pacific Intl Expo, San Francisco, 1915
-showcases, etchings may be on new or old glass, inside or out; check quality of lettering with magnifying glass
-poster, 27 X 21 3/4"; father and children (black), preparing to cut off dog's tail "The dog doesn't mind, he knows it won't hurt, it's a Keen Kutter"
-jar opener
-concrete trowel
-can opener, two styles made in cast iron: 1) Keen Kutter in raised letters only; 2) with trademark
-baseball bats, miniature and full size; E.C. Simmons in straight line is branded into surface
Summary
Buyers of Keen Kutter have to be aware of what years different trademarks were used. The Keen Kutter trademark is still being used today on legitimately made goods such as appliances and hand tools. Forged trademarks are being used on mass produced fakes as well as single items made individually on home computers. It's better to rely on how a piece is made rather than marks alone to establish age and authenticity.
Thanks to Jerry & Elaine Heuring for their information and photos. You can order their book Keen Kutter Collectibles An Illus.
Also thanks to Val-Test president, Russell Meeks for sharing the history of the relationship between his company and Keen Kutter.
The Hardware Companies Kollectors Klub is for those interested in products of Winchester, Keen Kutter and Diamond Edge.
Words and Terms
enhance = to make an inexpensive or less desirable piece more attractive by adding a sought after name, i.e. Keen Kutter, Winchester, etc.
fake = any item not genuine
fantasy = never originally produced, no old piece ever existed
forgery = to add a legitimate appearing trademark or name to a piece made by some other company
look-alike = made in the same style as an original but is the wrong size, has the wrong marks, wrong colors, etc.
reproduction = a new version of an original product
upgrade = similar to enhance; representing a less desirable piece as something it is not; i.e. selling a toy size piece as a "salesman's sample" or engraving an item to make a "presentation piece"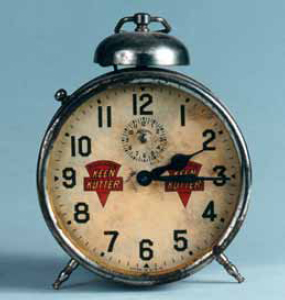 Trademark history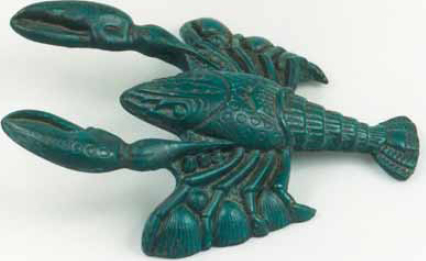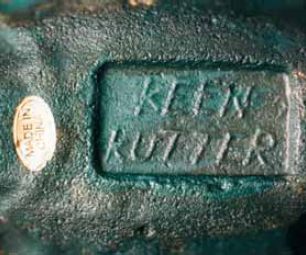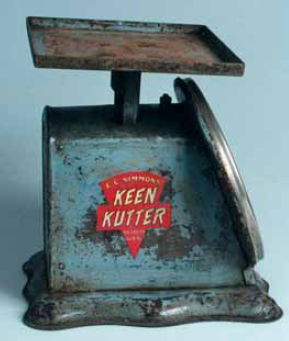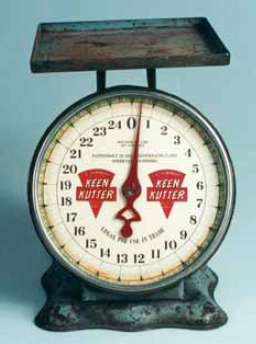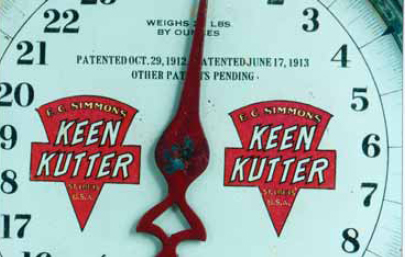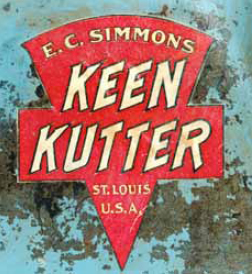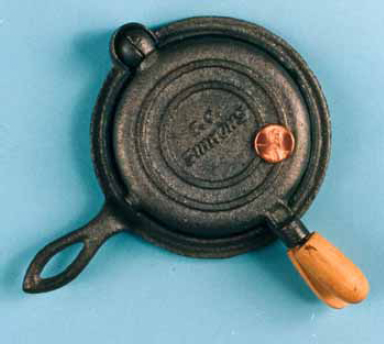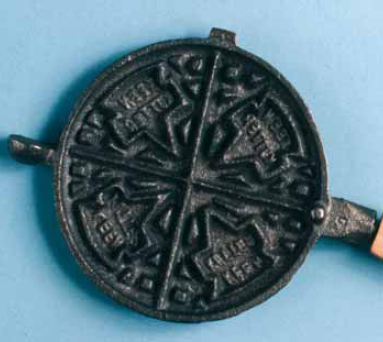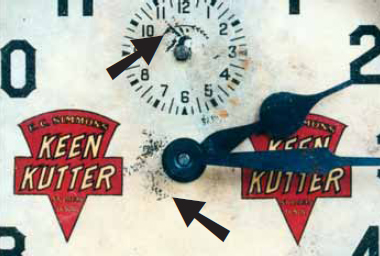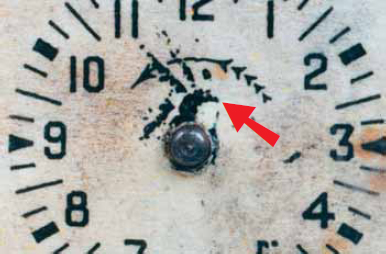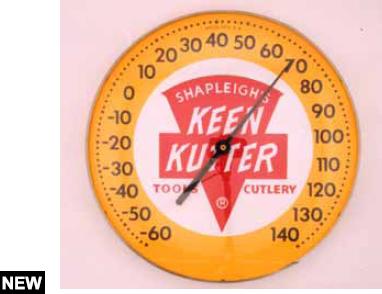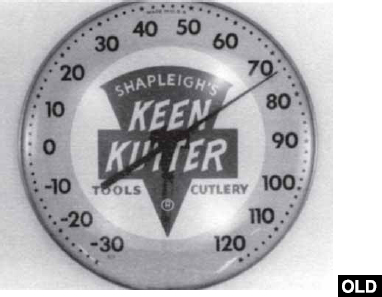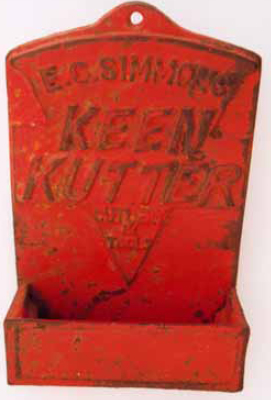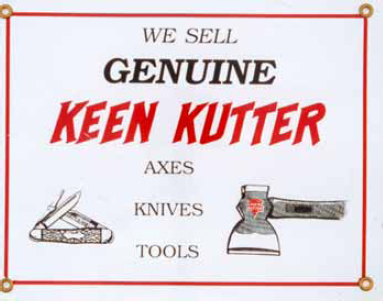 Real Or Repro is an industry resource powered by
a vetted marketplace of dealers and winner of numerous
Ecommerce Bytes Sellers Choice awards
for Quality, Usability, Customer Service, Communications and Most Recommended Selling Venue
---
So now,
Our Ruby Lane Shop Owners
invite You
to shop with them for the
Real Deal
on Ruby Lane ...
View More Similar Items