Jadite Glass from ChinaBy
Mark Chervenka
Jadite Glass from China
Low priced reproduction Jadite, pale green opaque glass, was mass produced in China. Prices for the table pieces shown in Figs. 1 & 4 were: 8¼″ salad plate, $2.99; 8″ soup bowl, $3.99; 10″ dinner plate, $5.99 and 6″ covered bowl, $5.99.
This particular group of Jadite was sold through Cracker Barrel restaurants. Original packaging is shown in Fig. 2. All the pieces begin life with the removable stickers shown in Fig. 3 with the country of origin and a brief promotional statement. Of course the stickers are long removed by the time the new Jadite is sold as a vintage collectible.
New American-made Jadite has been in the market for many years. The majority was sold through Martha Stewart mail order catalogs and on-line shopping sites. The largest American Jadite producer is L. E. Smith. Jadite is also made at other shops including Mosser and Summit.
The price difference between the Chinese-made Jadite and pieces made in America is dramatic. While the 8″ Chinese soup retailed for only $3.99, the virtually identical piece sold by Martha Stewart was $38.00 plus shipping. The Chinese dinner plate was $5.99; a nearly identically shaped 13″ Martha Stewart plate was $48.
Pieces of Chinese Jadite have filtered into the collectibles market. In her August 21, 2000 column Circa, Connie Swaim, eastern editor of Antique Week, reported seeing numerous pieces of the new Jadite on a two-state trip.
"We kept seeing the same [Jadite] pieces over and over," wrote Swaim. She found the source of the pieces while stopping for breakfast at a Cracker Barrel restaurant.
"All of the pieces we had seen on our trip, except for a reamer, were there. The covered bowl we had seen repeatedly priced around $45 was $5.99. Plates were $5.99."
At this point, there is no practical way to distinguish old Jadite from new reproductions. No Chinese pieces are permanently marked. Although some Stewart pieces are permanently marked, the vast majority are not clearly marked.
ACRN's samples from Stewart arrived with one piece marked, the other not marked; others were only faintly marked and hard to see. The marks found on Stewart Jadite are "Martha by Mail" either spelled out or the letters MBM or the letter S in regular type or script type. The letter S is the mark of L.E. Smith the glass maker, not Stewart.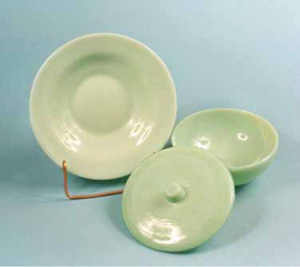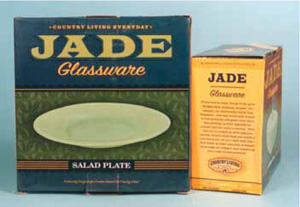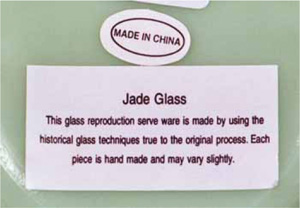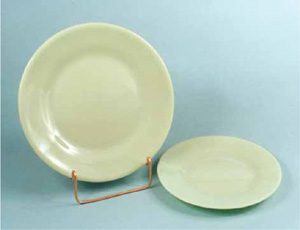 Real Or Repro is an industry resource powered by
a vetted marketplace of dealers and winner of numerous
Ecommerce Bytes Sellers Choice awards
for Quality, Usability, Customer Service, Communications and Most Recommended Selling Venue
---
So now,
Our Ruby Lane Shop Owners
invite You
to shop with them for the
Real Deal
on Ruby Lane ...
View More Similar Items