Humpty Dumpty Cookie Jar CopiedBy
Mark Chervenka
Humpty Dumpty Cookie Jar Copied
A holiday mail order catalog sold a new Humpty Dumpty cookie jar made from "an original mold from Brush Pottery." The new jar sold for $44. Original jars, made in 1956, sell for $250 and up.
Original jars are permanently marked on the base with a molded mark in three lines: Brush, W18, USA. The W indicates the original jar was designed by Ross and Don Winton of Twin Winton Ceramics. New jars have the same mark as vintage jars, Brush/W18/USA, plus the additional words, "American Retro Inc. Distributed by Clay 101." Be sure to ask very specific questions about any marks if you're bidding online or otherwise buying this jar without handling the piece firsthand. Insist on a photo of the entire base. A partial photo may only show the original markings and not the additional words that identify the new jars.
Brush Pottery was among the first American potteries to make cookie jars. It made jars from the 1920s until the company closed in 1982. Brush Pottery was located in Roseville, Ohio. Other new cookie jars in the market are marked Brush McCoy. All cookie jars marked Brush McCoy are new.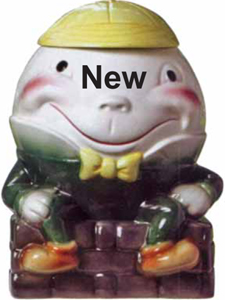 Real Or Repro is an industry resource powered by
a vetted marketplace of dealers and winner of numerous
Ecommerce Bytes Sellers Choice awards
for Quality, Usability, Customer Service, Communications and Most Recommended Selling Venue
---
So now,
Our Ruby Lane Shop Owners
invite You
to shop with them for the
Real Deal
on Ruby Lane ...
View More Similar Items