Hull Red Riding Hood Cookie JarBy
Mark Chervenka
Hull Red Riding Hood Cookie Jar
There are at least two types of reproduction Little Red Riding Hood(LRRH) cookie jars currently in the market. Ellen Supnick, who with husband Mark wrote The Wonderful World of Cookie Jars says both new jars are a big problem. "You'd think word would have gotten out but it hasn't", said, Ellen. "Every week we get calls from people who have been victimized for hundreds of dollars."
The reproductions are causing problems because both have marks virtually identical to marks on originals. One reproduction has a raised McCoy trademark; the other new jar has an incised Hull mark which includes patent and design information.
A McCoy trademark on a LRRH jar is by itself proof you are looking at a reproduction. Why? Original LRRH cookie jars were designed and patented by Hull Pottery of Crooksville, Ohio not McCoy Pottery. Any LRRH jar with the McCoy mark is therefore not original. You don't need to consider any other features once you see the McCoy mark.
New jars with the Hull mark require only slightly more examination to establish age. All you need do is simply measure the height. Original jars are around 13¼" tall; the reproductions measure only 12" high. Checking the height is the most reliable and easiest method to catch the marked Hull reproductions.
Here are some other tips and further background:
- Original jars are made of vitrified china; the new are generally made of a low-fired soft ceramic clay like that used in china painting and ceramic classes
- The gold trim on new such as the stars on the apron or gold outlines, show no wear
- Decals on new are different from originals. For decals on authentic jars, see Collecting Hull's Little Red Riding Hood Pottery by Mark Supnick, The Wonderful World of Cookie Jars by Mark & Ellen Supnick and Hull, The Heavenly Pottery by Joan Hull.
- Although designed and patented by Hull, the majority of LRRH cookie jars were actually made for Hull by Regal China Company during the 1940s.
- Only LRRH reproductions with gold stars on the apron have been seen. Aprons with gold bows, a more expensive variation in originals, have not apparently been reproduced as of yet.
- Original LRRH jars include baskets of two different shapes, the open basket seen in Fig. 2 and the closed basket shown below in Fig. 9. So far reproductions have appeared in only the open basket style.
The above details are offered for your general information. By far the easiest way to tell old from new is, again, simply a matter of measuring the height.
They found new Hull jars at various wholesalers throughout the Unites States for $20-$25. Original Hull jars sold for $400-$1200 depending on rarity of decoration. The reproductions are common sights at shows, flea markets and malls priced similarly to originals. Reproductions have also been extensively sold through various sites on the Internet in computer auctions and sales rooms.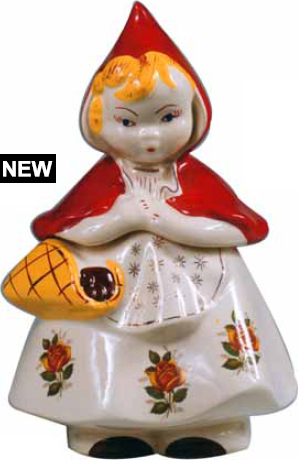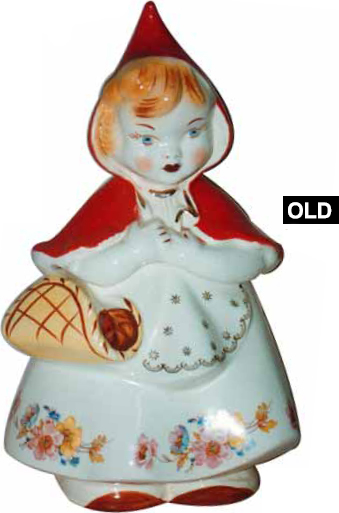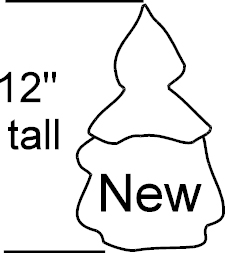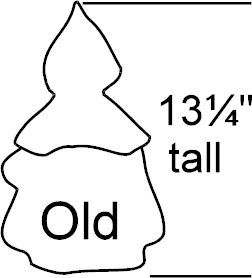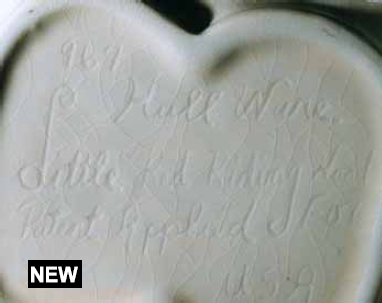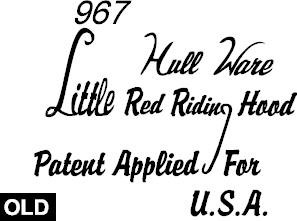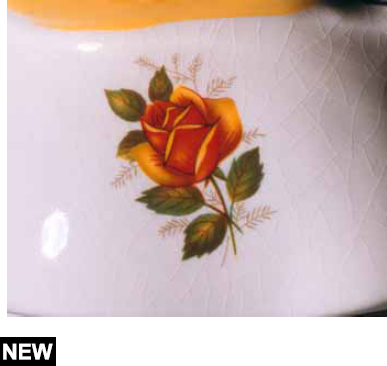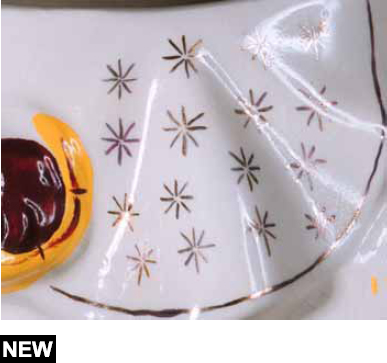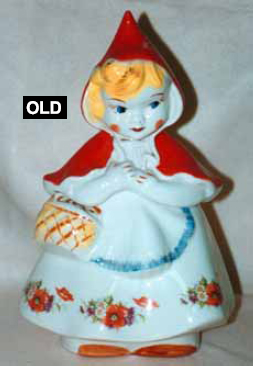 Real Or Repro is an industry resource powered by
a vetted marketplace of dealers and winner of numerous
Ecommerce Bytes Sellers Choice awards
for Quality, Usability, Customer Service, Communications and Most Recommended Selling Venue
---
So now,
Our Ruby Lane Shop Owners
invite You
to shop with them for the
Real Deal
on Ruby Lane ...
View More Similar Items