Horse ToysBy
Mark Chervenka
Horse Toys
There are several varieties of reproduction toy and hobby horses on the market. These include rocking horses, platform horses, combination platform/rocking horses, small carousel-type figures, tricycle-styled horses and stick horses.
In general, most old horses are made of hardwoods produced in factories and small workshops by highly skilled workers. The surfaces are usually smooth and painted or covered with real or simulated 'skin'. The only vintage carved horses you would typically find tool marks on would be homemade or folk art toy horses, not commercially carved toy horses or carousel horses.
Manes and tails in vintage toy horses are almost always some type of real hair. The majority of vintage toy and carousel horses have life-like glass eyes; only homemade or folk art styles of old horses might be found with carved or painted eyes.
The new horses generally are made of soft, easily worked tropical woods which usually show many obvious tool marks. New eyes are almost always two-piece plastic plugs (Fig. 1) designed for rapid production. Most manes on new horses are carved even on very small toysized new horses. Many non-carved tails on new horses are generally made of raffia-- a paper-like product made from shredded palm leaves, not hair.
Almost all of the new horses are coated with a very heavy layer of "antique" paint. This thick paint has numerous pits, scratches and dents which create an artificial appearance of natural wear and age. But in fact, such defects are only in the paint, not in the wood. Most metal pieces used in the new horses have a rusty appearance. The rust is applied at the factory when the item is being assembled; the rust is not caused by age.
A key consideration when evaluating a horse is practicality and functionality. If a seller says it's a child's rocking horse, it better be strong enough for a child to sit on. Are normally removable parts glued in place? Does it appear too fragile for a child to play with? Are parts adjustable for different sized children? Do parts that are supposed to move, move freely? Also consider the safety factors. Are there exposed pieces of rough wood or wood with sharp or pointed details? Are there protruding pieces of rough or sharp metal ? Are the stirrups and handles made to fit a child?
Wholesale prices for the new horses ranged from around $40 for stick horses to $150 for the large tricycle horse. Other styles were priced from $40 for small rocking horses up to nearly $200 for the largest combination platform/rocker. Most of the horses shown were available in several sizes.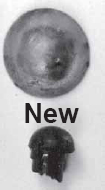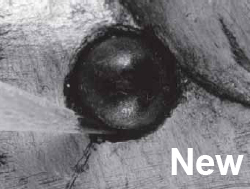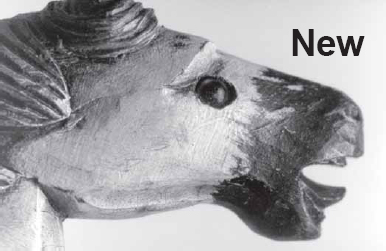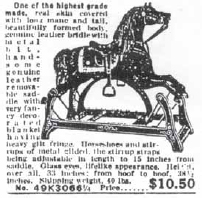 Platform/Rocking Horses
Original platform rocking horses combined two features--rockers and wheels. Mounted on a wood platform with wheels, the horse was used as a floor pull toy. Or, the platform could be mounted on rockers and then used as a regular rocking horse. In the reproduction horses, the platforms cannot be removed and they often lack wheels. Some new platforms do come with new cast iron wheels so do check for plastic eyes, raffia tails, and other details previously mentioned.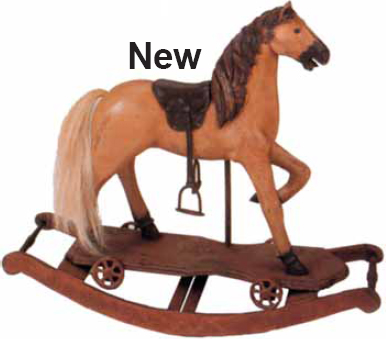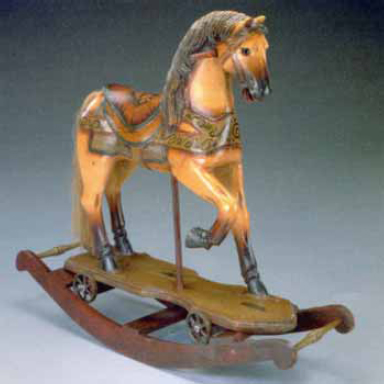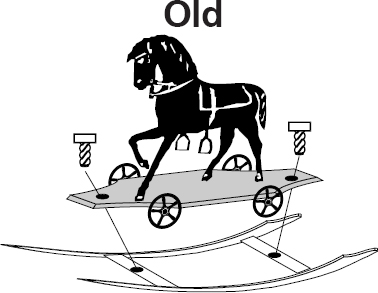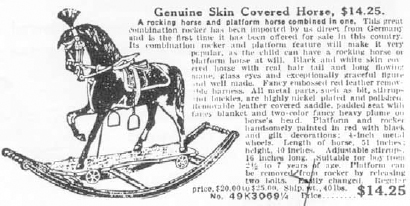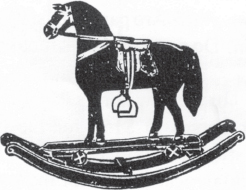 Tricycle Horses
This particular reproduction seems to give buyers more trouble than any others. Many new tricycle horses commonly sell for $300 to $700.
Part of the problem may be that there is so little information about the originals which are very scarce. The original shown in Fig. 13 was located in a 1907 general catalog published in England (rarely seen in the US). The only photo of an original was also English, a Sotheby's auction catalog, London, May, 1987. Their photo shows the identical horse as the catalog illustration. Sotheby's attributes the horse to "English, ca. 1900". In 1987, the original tricycle horse brought $792.
As with the other horse reproductions, the new tricycle horses have plastic eyes, rafia type tails and a carved mane rather than a real hair tail and mane. A couple of examples we have seen have had their plastic eyes painted over or replaced so be sure to use several tests if you encounter one of these pieces.
One variation of the new tricycle horse includes cast iron bracing above the rear wheels. This bracing was never used in the old tricycle horse. Cast iron would never be used to provide strength because it is too brittle. But again, since the new pieces are made as reproductions they use materials that would be impractical and illogical in real toys built for daily play.
Some sizes, like the 15x15" variation shown in Fig. 10, is obviously too small for a child to ride. No small toys made in this tricycle horse shape are known.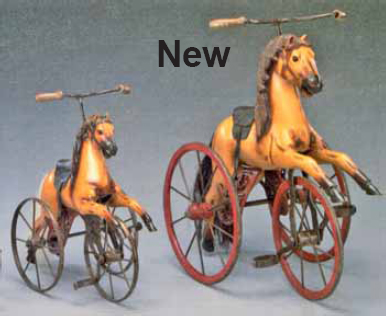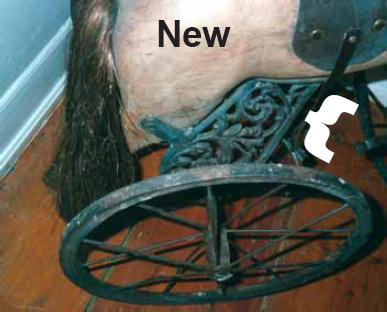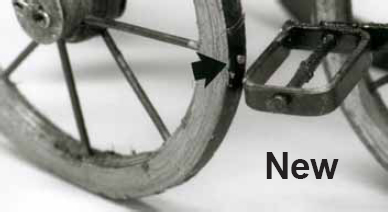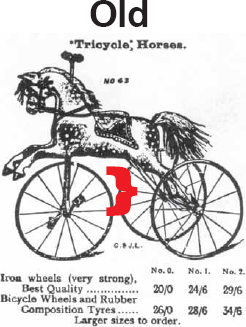 Misc New Horses