Head Vases ReproducedBy
Mark Chervenka
Head Vase Reproduced
New head vases are available around the country. The 6½″ high example shown below was purchased in an antique mall for $22. The seller had 20 pieces of the example shown. A similar new head vase was also purchased in a gift shop for $20.
New and old head vases appear to be virtually identical in construction. Both are made of relatively inexpensive ceramic material. There are no permanent marks on the new pieces. Some vintage head vases were marked, many others were not.
Head vases were originally sold as flower holders primarily in the 1950s-60s. Most were very inexpensive when new and were made primarily in Japan. Interest has grown in head vases and prices for many examples now range from $50-$300 with rarities selling for $1,000+.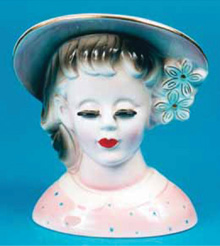 Real Or Repro is an industry resource powered by
a vetted marketplace of dealers and winner of numerous
Ecommerce Bytes Sellers Choice awards
for Quality, Usability, Customer Service, Communications and Most Recommended Selling Venue
---
So now,
Our Ruby Lane Shop Owners
invite You
to shop with them for the
Real Deal
on Ruby Lane ...