Have You Been Fooled by the Clevengers?By
Thomas Haunton
Have You Been Fooled by the Clevengers?
By Thomas C. Haunton Copyright 1993
In the 250+ years since Caspar Wistar started the first successful American glass factory in the city of Alloway, the state of New Jersey has been home to over two hundred glasshouses. Many of the names associated with these glasshouses are familiar to collectors of South Jersey glass: the Whitneys of Glassboro, Coffin & Hay of Hammonton and Winslow, and Victor Durand of Vineland, to name a few.
Not so familiar to collectors is the production of a small glasshouse started by three brothers in the midst of the Great Depression. Working out of a furnace in their backyard in Clayton, New Jersey, Tom, Reno and Allie Clevenger continued the tradition of glassblowing in South Jersey by using knowledge passed on to them during apprenticeships at numerous South Jersey glasshouses. During the years of Clevenger family ownership (1930-1966), the glassworkers of the Clevenger Brothers Glass Company could, at times, produce free-blown and mold-blown glassware of such quality as to be virtually indistinguishable from antique South Jersey glass. Since 1966, James Travis has operated the factory as the Clevenger Brothers Glass Works continuing to produce most of the well-known Clevenger moldblown pieces.
Despite the wide variety of glassware produced for almost seventy years, Clevenger Brothers has remained relatively unknown to a large part of the glass collecting community. Due to this obscurity, identification errors can and do happen, often at considerable expense to an unsuspecting collector or dealer. The material presented in this article should provide collectors with many of the tools necessary to determine whether a piece of glass is an authentic antique, or one made by the Clevengers.
Production
The production of Clevenger Brothers can be divided into two categories. The first is free-blown, glass formed by blowing and then shaped with tools. The second is mold-blown, or glass which is blown into a mold to give it a specific form.
For the first dozen years, Clevenger glass was primarily free-blown in traditional South Jersey styles: pitchers, vases, bowls and whimsies. Especially popular were pieces with lily pad decoration (Fig. 1). Production was usually limited to 75 to 200 pieces a day, with the lily pad pieces taking the most time to make.
Starting in the 1940s, the Clevengers began to make more of their glassware with molds. Molds allowed them to make a wider variety of pieces in much larger quantities and in a shorter amount of time. Allie once remarked that, with the help of "Oat" (Otis) Coleman, he could make between 480 and 900 moldblown pieces a day. 1
Space limitation prohibits listing the almost 200 different free-blown and mold-blown shapes the Clevengers made, but some of the more important pieces are shown in the individual photos and catalog reprints in this article. This range covers a wide variety of shapes including bottles, flasks, vases, jars, mugs, plates, bowls, pitchers, goblets, tumblers, hats, and sugars and creamers (Figs. 3, 4, 6,7,8).
Clevengers also made lamp fonts for several businesses in the South Jersey area. (Fig. 5) Most of the lamps using these fonts were assembled at Charles Marks' Clayton Glass Works, located a few blocks from the Clevengers' operation. The majority of these lamps were electric with marble bases and brass metalwork. Some lamps, however, were copies of the old oil lamps of the last century. When Clevenger fonts were combined with milk glass bases made elsewhere, the result could be very convincing. When the lamp business slowed, many of the font molds were converted to molds for pitchers or vases. Horn o'plenty, moon & star, star & shield and daisy pattern pieces were made in these converted molds.
Clevenger glass has been made in a wide variety of colors. The Ritter-Carlton/Clevenger Brothers' catalog from 1939 advertised glass available in "six original colors." These colors were amber, amethyst, dark green, colonial blue, light green (also referred to as Jersey green) and light blue. In addition to these six colors, cobalt blue and ruby red were available as a special order. Colonial blue and light blue were phased out in the 1950s and replaced with the brighter azure blue. Other colors used were opal (milk glass), vaseline (which often came out an opaque chartreuse), orange, clear (rarest color) and amberina.
Clevenger Brothers' one-pot furnace allowed them to work in only one color at a time. Colors rotated from light to dark, jersey green to green to blue and so on. When the current color of glass began to run low, sand, ash and other ingredients were added to the furnace tank. A bottle would then be filled with a coloring agent and placed in the middle of the tank. During the night, the heat of the furnace would melt the bottle and release the coloring agent. By morning, the glass batch would hopefully be the color wanted. There was no way to stir the tank so occasionally pieces would turn up with a bit of the earlier color.
Whimsies, Experimental Pieces, Special Orders
Clevenger employees often made whimsies or off-hand pieces during their breaks or at the end of the workday. These whimsies, in combination with the Clevengers' experimentation with new ideas and formulas, have provided collectors with a wide variety of unusual pieces. Whimsies known to have been made at Clevengers include lily leaves, witch balls, candlesticks, flip-flops, any number of animals, compotes , pipes, buttonhooks, canes and rolling pins. Clevengers Brothers also filled special orders. These ranged from private mold work for individuals to large assortments for Paramount Pictures to use in their movie productions.
Identification
The problem that many collectors, historians and dealers have with Clevenger glass is identifying it as such. While most pieces can easily be identified as reproductions, many free-blown examples are difficult to attribute unless one knows the Clevenger's style and production. Styles range from graceful and well proportioned to crude and bulky depending on the skills of the individual glassmaker. Some of the more talented workers were Emil Larson (who also worked at Durand), August Hofbauer, Bill Valla, Otis Coleman, Vermont Frie, Lester Roun and Ted Ramp.
Despite stylistic variety among these men and others, Clevenger free-blown glass is identifiable if one knows what to look for. One way to recognize free-blown Clevenger glass is by its shape. The pieces shown in Fig. 9 have a basic contour that remains fairly uniform even with an increase in size. This form varies, however, depending on the glassblower.
Another clue to identifying a Clevenger piece is to look at the handle of a pitcher. Each "gaffer" or finishing worker has a unique way of applying a handle or other decoration to a piece of glass, thus creating his own "signature". If one knows what a particular gaffer's "signature" looks like, identification can be very easy (Figs. 10-12). Another point to consider is the length of the "tail". In contrast to the Clevenger 20th-century handles shown in Figs. 1, 9, 10-12, and 13, handles on many antique pieces generally have a longer tail or handle base as shown in a typical original Fig. 14 on the opposite page.
With a few exceptions, mold-blown Clevenger is fairly easy to identify. This is primarily because old and new catalogs are so readily available and the product line has changed so little over the last 50 years. Most of the trouble for dealers, collectors and museums has been caused by three of the Clevenger designs; a blown-three-mold pattern, Jenny Lind calabash and Booz bottle.
The blown-three-mold pattern, called "Stoddard" by the Clevengers and "GIII-5" in George McKearin's American Glass, have often been mistaken for pieces made by the Boston and Sandwich Glass Company or other early glassmakers. Production items by the Clevengers in this pattern includes pitchers, jugs, vases and decanters (Figs. 15, 16). The identifying feature of the Clevenger Stoddard design is the misalignment (Fig. 17) of one of the three diamond panels that encircle the piece, with the diamond pattern tilting up slightly from left to right.
Identification of an original 1860s Jenny Lind calabash by Fislerville Glass Works poses a problem because of the existence of three reproductions: two by Clevenger and one Czechoslovakian. (Figs. 18-21). Some of these reproductions have blob tops and can appear with or without a pontil mark. Close examination of these bottles will show the following:
(1) The original Fislerville bottle has six full leaves and a twig on the right branch below Jenny Lind's portrait and seven full leaves on the left. All three reproductions have six full leaves on the right and six full leaves and a bare twig on the left.
(2) On the reverse side beneath the glass works building, the Czechoslovakian Jenny Lind reproduction has a grouping of four crates to the far right. Both Clevenger varieties have only three crates in this grouping.
(3) The Clevenger Jenny Lind, Variety 1 has smoke rising from the main smokestack and three smaller stacks. Variety 2 has smoke rising only from the main smokestack.
Identification of the Booz bottle (Fig. 21) is complicated because of the large number of Booz reproductions made by Clevenger Brothers and other makers. A simplified guide to identifying the Clevenger Booz bottles is as follows:
(1) straight roof - The Clevenger straight roof Booz is the only reproduction of this type. The lack of a period after WHISKEY on the obverse right of the bottle has long been the main identifying mark of a Clevenger straight roof Booz bottle (Fig. 23). There are, however, examples of original Whitney Booz bottles where the period is not visible, due either to a dirty mold during production or a glassblower not blowing hard enough into the mold to get a clear impression on the glass. A better identifying mark is that the bottom fork of the "K" in WHISKEY on the Clevenger obverse right will be wider than the top fork. On original Booz bottles, the opposite is true: the top fork of the "K" is wider. In addition, the Clevenger bottle has a small, star shaped flaw in the first full shingle (from the left) of the third row of shingles on the reverse roof (1840 side). These were made at Clevengers between 1930 and 1942.
(2) beveled roof, variety one - This repro has an applied blob top and letters that are uniform in size and shape. The roof corners are cut into the second row of shingles. Made between 1942 and mid-1940s.
(3) beveled roof, variety two - Same as variety one except that it has a simple tooled collar instead of applied blob top. Made between the mid-1940s and 1955. This bottle should not be confused with the Italian reproduction which has BOOZ BOTTLE embossed on the base.
(4) beveled roof, variety three - Same as variety two, with the addition of a small "CB" appearing beneath the front door and on the kick-up on the base. Made between 1955 and 1966.
(5) beveled roof, variety four - Same as variety three, with the addition of a larger "CB" to the flat part of the base. Made after 1966.
(6) beveled roof, variety five - Same as variety four, with the substitution of a commemorative slug plate for the normally plain reverse side. Made after 1966.
Marks-Labels Both free-blown and early mold-blown Clevenger pieces are not marked. It was not until about 1955 that Allie Clevenger began putting a small CB on the base of some of his molded ware. After 1966, when the company was purchased by James Travis, CB appears on all pieces. Most pieces made under Travis ownership now feature a large CB (Fig. 24), sometimes in addition to the smaller letters.
A small number of free-blown Clevenger pieces with labels have survived. Some of these labels say "This glass is made by skilled old time blowers and reproduced like the Genuine Antique South Jersey Glass which is prized by collectors of Early American Glass." Labels from the 1950s have the Clevenger name on them. Under Travis ownership, one label, in the shape of the State of New Jersey, advertises "Authentic Hand Made South Jersey Glass Clevenger Bros. Glass Works Clayton, N.J."
Pontil marks cannot be used as a test of age. Puntey rods, which produce the pontil mark, were used at Clevengers up until 1980. Pontil marks on Clevenger reproductions look virtually identical to pontil marks on authentic pieces of glass (Figs. 25-26).
Many collectors dismiss Clevenger glass as merely reproduction. In a technical sense, this is true since Tom, Reno and Allie Clevenger went into business to make "affordable reproductions of old South Jersey Glass". On the other hand, two of the Clevenger brothers were making what we today call "original" South Jersey glass at some of South Jersey's prominent glasshouses in the nineteenth century, long before they went into business for themselves. Where does "original" stop and "reproduction" begin?
About the author: Thomas C. Haunton has been a collector and historian of South Jersey glass since 1981. He is the author of several articles on South Jersey glass and a slide documentary The Clevengers of Clayton. In 1992 Haunton presented the museum exhibit The Colorful Clevengers.
Printed with permission of the author. A more in depth study of the history and production of Clevenger glass - Last Links to the Past 20th Century South Jersey Glass Volume 1 - Clevenger Brothers - has since been published by Thomas C. Haunton. This book is available on Ebay or directly from the author attchaunton@comcast.net.
Further reading
Haunton, Thomas C., "The Booz Bottle - Real Vs. Repro" Antique Bottle and Glass Collector, Nov. 1989.
Haunton, Thomas C., Colorful Clevengers, catalog, Gloucester Co. Historical Society, Woodbury, NJ. 1993.
Grant & Lyon, Renaissance of South Jersey Blown Glass, The, Providence, RI, 1934.
Ritter Carlton Company, Inc., Catalog, Authentic Reproductions of Early American Glass, New York, NY, 1939.
NOTES
1. J. E. Pfeiffer papers, NJ State Park Service, Batsto Manuscript Collection.
2. Interview with Ward Campbell, former employee, Clayton Glass Works, Nov. 1986.
3. Interview with Albert J. Schneeman, son of Clevenger employee Al Schneeman, March 17, 1989.
4. Lanmon, Dwight, "Unmasking an American glass fraud, The Magazine Antiques, Jan. 1983.
5. Conversation with James Travis, owner Clevenger Bros.Glass Works, Clayton, NJ.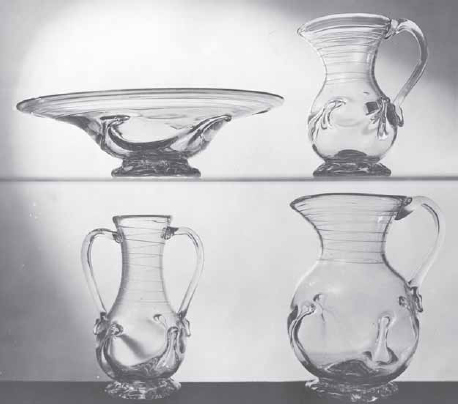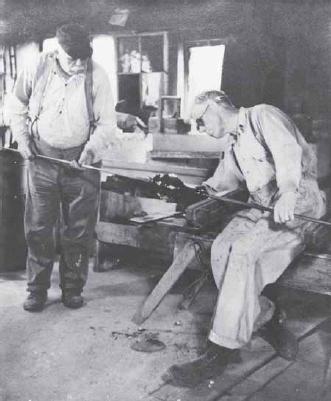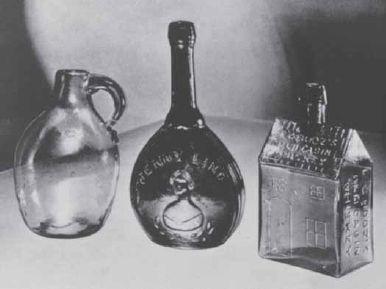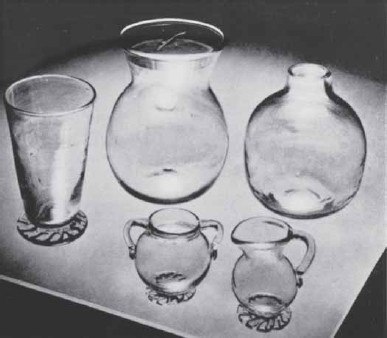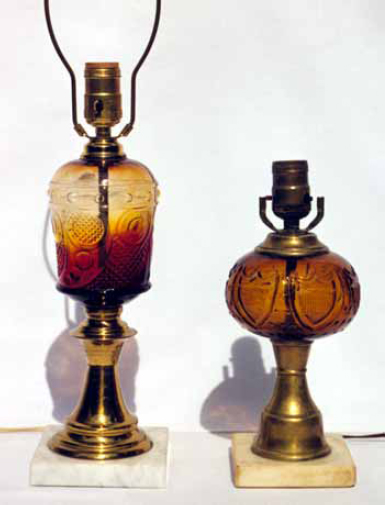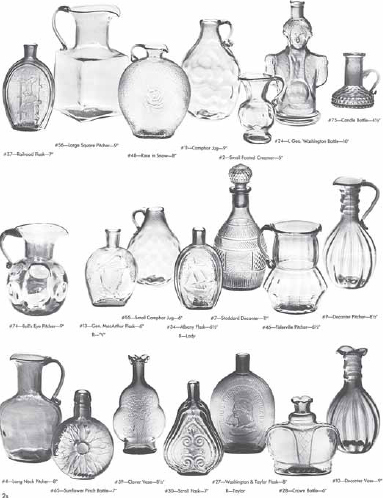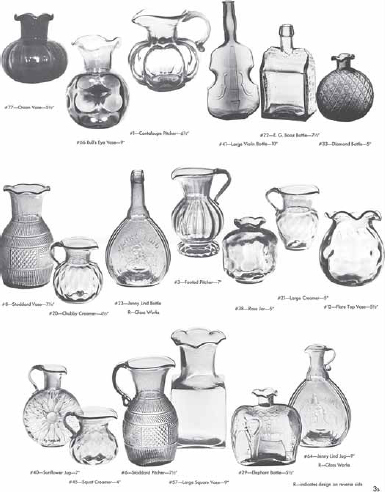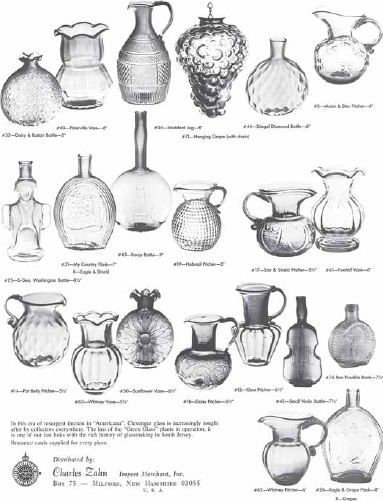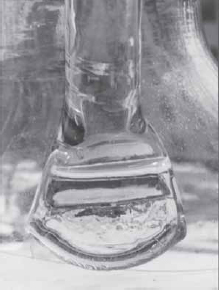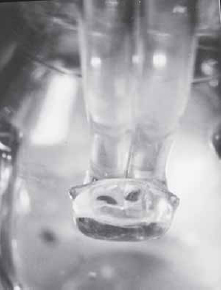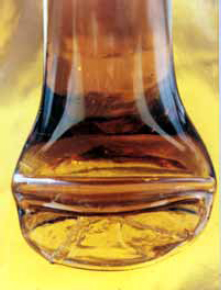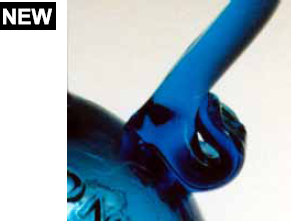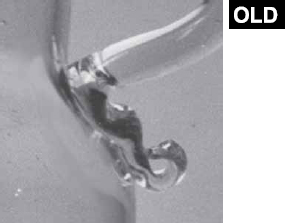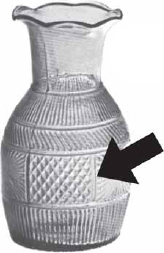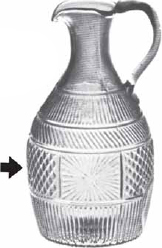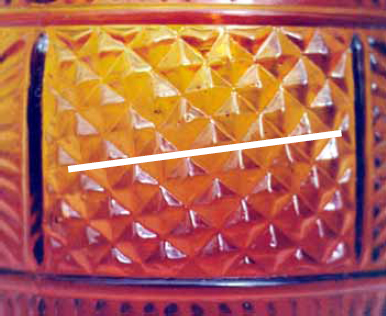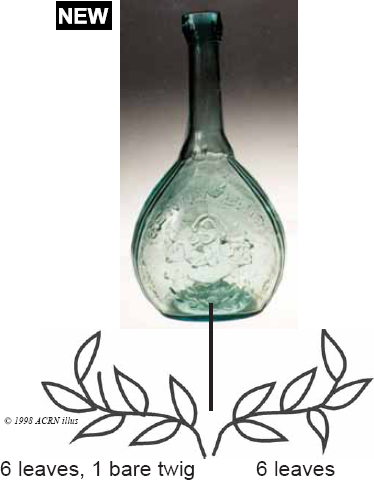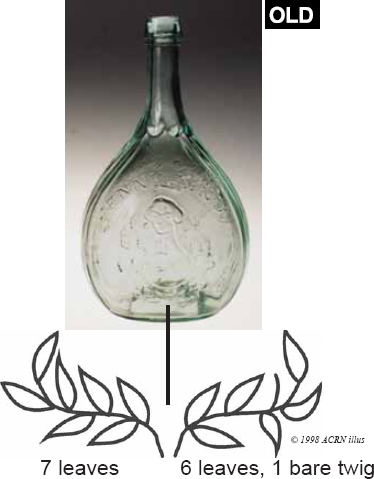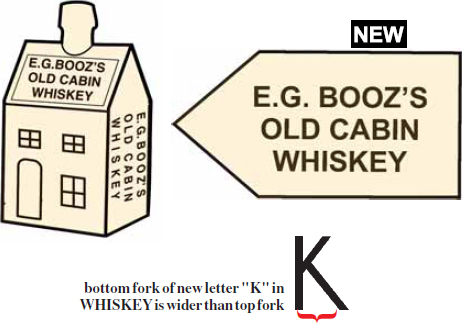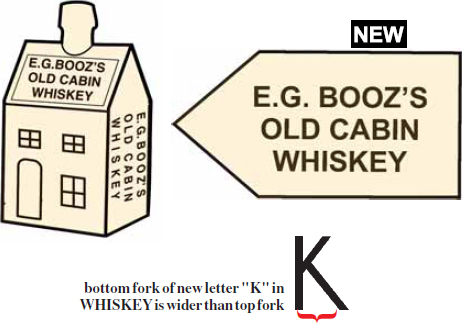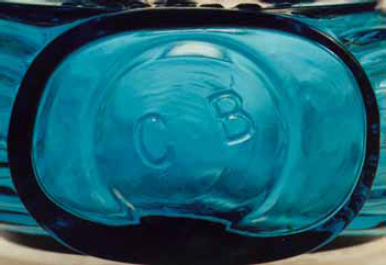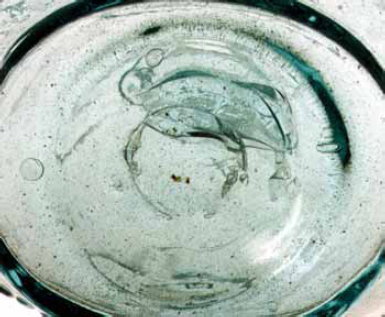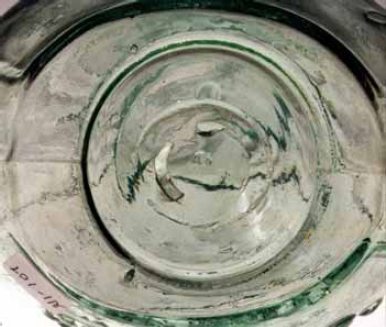 Real Or Repro is an industry resource powered by
a vetted marketplace of dealers and winner of numerous
Ecommerce Bytes Sellers Choice awards
for Quality, Usability, Customer Service, Communications and Most Recommended Selling Venue
---
So now,
Our Ruby Lane Shop Owners
invite You
to shop with them for the
Real Deal
on Ruby Lane ...
View More Similar Items