Grueby Pottery Look-alikesBy
Mark Chervenka
Grueby Pottery Look-alikes
The same studio that made reproductions resembling Newcomb Pottery also reproduced designs virtually identical to those made famous by Grueby Pottery.
At least two different Grueby-like shapes were made in 1998. Both were jardinieres: one 10″ high by 13″ diameter; the other 7¾″ high by 10¾″ diameter (shown below). Each has raised naturalistic leaves separated by slender flower buds around the body typical of original Grueby designs. Glaze on the new pieces–a dark matt green–is also a very close copy of the most famous Grueby glaze, a "cucumber" matte green. The small flower buds on the new pieces are yellow.
The larger of the pieces sold for $400; the smaller, $300. Number produced is unknown.
Original two-color Grueby is quite rare and highly sought after. Riley Humler of Cincinnati Art Gallery, specialists in American art pottery, told ACRN an original two color Grueby jardiniere 10″ × 13″ would have a current market value of $15,000-$20,000.
Glaze on original Grueby is very opaque and often quite heavy often obscuring the mark. Glaze on the new pieces is very thin and almost nonexistent on the base. The light glaze on the new pieces is not water proof and fired at much lower temperatures than the original.
Grueby Pottery was among the most famous of American pottery factories. It was begun by William H. Grueby. Art wares were made under slightly varying company names from around 1897 to the mid 1920s. Original Grueby is always marked; usually either Grueby Faience or Grueby Pottery.
All of the new pieces resembling Newcomb College pottery are marked Ephraim Faience Pottery, USA. The mark is very shallow and stamped into the bottom of the base. The same company is making the Grueby lookalikes but we can't say for sure whether all the Grueby-like pieces have the same mark.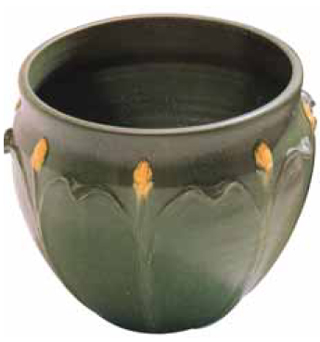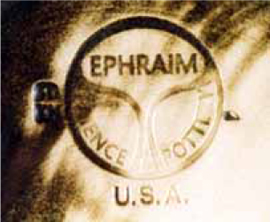 Real Or Repro is an industry resource powered by
a vetted marketplace of dealers and winner of numerous
Ecommerce Bytes Sellers Choice awards
for Quality, Usability, Customer Service, Communications and Most Recommended Selling Venue
---
So now,
Our Ruby Lane Shop Owners
invite You
to shop with them for the
Real Deal
on Ruby Lane ...