Glass Skillet: Greentown Glass or Wright Reproduction?By
Dr. James S. Measell
Glass Skillet: Greentown Glass or Wright Reproduction?
The original skillet was made by the Indiana Tumbler and Goblet Company (commonly called Greentown) between 1899 and 1903. This novelty dish is shaped like an old fashioned shallow cast iron frying pan, 6″ in diameter. Two pouring lips are on either side of the handle just like a typical full size frying pan.
A reproduction of this piece was made from a new mold and first marketed by the L. G. Wright Glass Company in 1960. It is similar, but "similar" is not the same.
The original Greentown piece has a rather busy, regular cut glass-like pattern on the outside of the bottom. Also note the fine vertical ridges around the sides (Fig. 1, right, arrow).
On the outside bottom of the Wright reproduction is a daisy and button pattern whose design elements are much larger than the Greentown skillet. Note that the pattern on the bottom of the reproduction continues up the sides of the skillet (Fig. 1, left, arrow); there are no vertical ridges on the new. There are some other minor differences but this is the most significant point and the easiest to detect. Another obvious difference is weight: the reproduction is much heavier than the Greentown original.
The original skillet is well known in crystal with a few rare examples in Greentown's Nile Green and Chocolate Glass (the Chocolate pieces have the added detail of beads around the top rim). Wright's reproduction is known in amber, amberina, amethyst, cobalt blue (some with "Mary Gregory" painted decoration), light blue, crystal and green.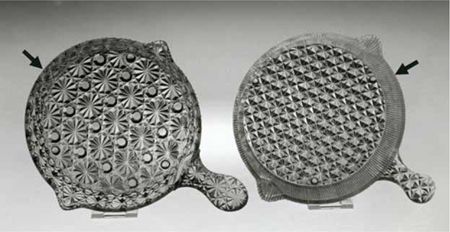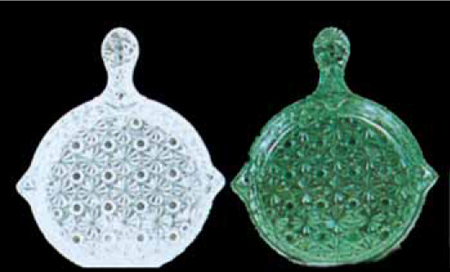 Real Or Repro is an industry resource powered by
a vetted marketplace of dealers and winner of numerous
Ecommerce Bytes Sellers Choice awards
for Quality, Usability, Customer Service, Communications and Most Recommended Selling Venue
---
So now,
Our Ruby Lane Shop Owners
invite You
to shop with them for the
Real Deal
on Ruby Lane ...