New Glass Reamers made from Original MoldsBy
Debbie Gillham and Bobbie Zucker
New Glass Reamers made from Original Molds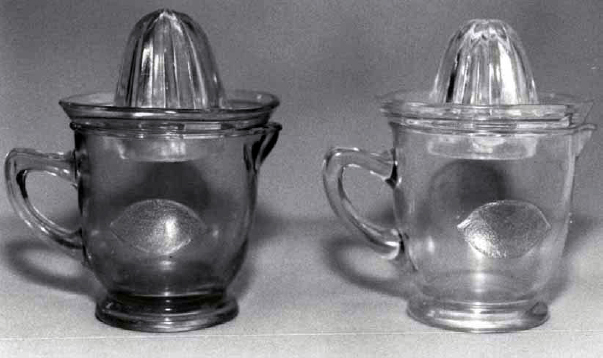 Reamer collectors are faced with an increasing number of reproductions. This article will discuss the three main categories of new reamers that buyers should familiarize themselves.
(1) Reproductions - sometimes made from original molds obtained from defunct U.S. glass companies. Most have no identifiable new markings and confuse the buyer regarding age. (2) New issues - usually very similar to the old with minor shape or size variations. These are sold as legitimate collectors items and clearly marked with date and/or manufacturer; (3) Foreign made "knockoffs" of American reproductions and new issue reamers.
Learning to detect all the new reamers may be difficult at first but becomes easier with education. Two of the best clues to a reamer's age are its color and the quality of its mold. We'll be pointing these features out as we discuss each reamer. Where appropriate, we'll also be using the identification numbers from the Mary Walker reference books on reamers.
Old and New
Figure 2 shows the Easley reamer (Walker N-124) which was originally made only in crystal. It has now been reproduced from the old mold in large numbers by Summit Art Glass. New colors include cobalt, black, vaseline (yellow), apple green and Moonlight (light blue). Buyers not aware of the original color are often misled by the embossed lettering "Pat July 10, 1888, Sept. 10, 1888" (Fig. 1). Since the lettering is in the original mold, the patent dates appear on both new and old reamers.
Another widely reproduced reamer with an old embossed date is the hand held Duboe (Walker N-184) shown in Fig. 3. The original Duboe was made only in crystal, never in color. Embossed around the top of the handle is "Duboe Patent July 24, 1917". Summit initially issued this reproduction, including the embossed markings, in cobalt, green, vaseline, black, variations of light blue, pink, shades of amethyst, white milkglass, slag variations and some colors with either an opalescent or carnival finish. New copies from Taiwan without patent markings are currently made in pink, green and cobalt. Another way to spot a Duboe reproduction is to examine the reamers top rim. The rims on the originals are smooth--the Summit and Taiwan reproductions have stippled rims.
Another reamer that was originally made only in crystal is shown in Figure 5. This style (Walker LE-23) was first reproduced in 1981. It was made in amethyst by Imperial Glass for Edna Barnes, and was marked IG '81. Summit Art Glass then issued the same reamer in blue slag followed by cobalt, black, teal, amethyst and amethyst carnival. A few reamers were marked with both a small IG and V in circle. Now the reamer is being made with no mark. The new glass appears heavier than the old and has that greasy feel found in most glass reproductions. The tab handle is also stippled; the original handle is not stippled (Fig. 6).
One of the better quality reproductions is the two-piece Hazel Atlas reamer/measuring cup pictured above in Fig. 7. This 2-cup size (Walker N-129) was originally produced in white milkglass, crystal, green, pink, cobalt, and yellow. Taiwanese imports have appeared in a poor green, very bad red, a passable cobalt, and a fairly accurate pink (which occasionally turns orange and makes detection easier).
One of the ways to catch the reproductions is by the position of the embossed lettering in the bottom of the cup. Look down into the cup from above with the handle in your right hand. In originals, the embossed lettering in the bottom lines up with the spout and handle (Figs. 8 & 9). In the new, the embossed lettering is rotated about 45 degrees from the handle and spout.
There is also a difference in the spouts. New spouts are very short and are little more than a shallow bend in the rim. Spouts in old cups are well formed and extend out away from the top rim (see Fig. 10 and illustrations in Figs. 8 & 9).
The small twin spout reamer in Fig. 11 is old only when found in crystal or white milkglass (Walker N-202). New colors so far include green, red, pink and cobalt blue. Even if you forget the original colors, there are enough differences in the molds to make the reproductions fairly easy to spot.
Tops of original cones (Fig. 13) are blunt and more rounded when compared to the pointed cones on reproductions (Fig. 12). New cones are also often found noticeably tilted or off-center. The finger hole handles are also different on new and old. Handles on originals form nearly perfect circles; handles on the new are shaped more like an oval or tear drop.
The reamer style shown in Fig. 14 is one of the more difficult in which to separate old from new (Walker N-365). This reamer was originally manufactured by the Westmoreland Glass Co. but has since been made by Summit from the old mold. Original colors included crystal, amber, various shades of green, white milkglass, and pink. Some original reamers were decorated with decals or etched designs. New colors include cobalt, black, vaseline, red (with stress flaws in rim), teal, pink (easily confused with the old), light amethyst and caramel slag. Buyers should be cautious when considering a purchase of this particular style. Be sure to double check the "feel" of the glass. Most reproduced pressed glass from both the U.S. and over seas feels greasy to the touch. If you have any doubts, insist on a written statement of age from the seller.
The Westmoreland Oranges and Lemons 2-piece reamer (Walker N-132) has also been reproduced (Fig. 15). This 2-piece combination was initially issued only in pink, green and crystal. It is now reproduced in a long list of colors. If you compare the rims on the cups, you will note that the old cup's edge is smooth while the new copy has a stippled finish. Also be alert for new reamer tops being sold with old cups.
One word of caution. This 2-piece set has been made new in vaseline glass and the glass batch was made with uranium oxide. This means the new vaseline fluoresces the same as the old. No old pieces were made in vaseline. Do not be mislead into thinking that the new vaseline is old simply because it fluoresces.
One of the 2-piece measuring cup/reamer combinations is a fantasy item--no such original item was ever produced. This is a Gillespie one-cup measure mated with a reamer top. This cup was not originally made with a reamer top! The new cup/reamer combination is shown in Fig. 18. A Gillespie measuring cup with an original measure-type lid is shown in Fig. 19.
Another reproduction glass reamer in the marketplace is a poorly made copy of a Sunkist reamer (Fig. 20). The original Sunkist reamer (Walker N-330A) is most often seen in white milkglass but was made in many other colors too numerous to list (original color variations continue to appear). Thus far new colors include a very clear red, a red/orange or red/white slag, cobalt, green and pink. The new version does not have the word "Sunkist" embossed on the front. However, the new cobalt has been found with "Sunkist," "Florida," or "Valencia" in white decal lettering on the front. One other clue to age is that new pieces have very rough bottoms.
Now we come to new issues and limited edition reamers by Edna Barnes of Uniontown, Ohio. Barnes designed and marketed reamers she had made for her at Mosser Glass. Barnes, who began her venture in 1980, clearly marked her reamers with an embossed letter "B" in a circle (Fig. 22). Some of Barnes' reamers are totally new designs while others are reissues of old shapes with new marks. One of the most confusing reamers on the market today is one made originally by Westmoreland (Walker N-101), then reissued by Barnes and then was remade over seas (Fig. 24).
The easiest way to tell old from new in this style is to compare the design on the outside bottom. On the original Westmoreland the rays form a "star" pattern that meet in a plain center (Fig. 28). The rays of the Barnes reamer meet in the center at the circle "B" mark, Fig. 26. (B also appears inside the reamer cone). The Barnes version was made in more than 15 colors including satin and iridized finishes and a few with hand painted floral designs. Confusing matters even further, Barnes made a small batch in cobalt marked with an "N" instead of a "B" for a wholesaler; now the pieces with the N have been appearing on the market as "old Northwood".
Here's where the new issue and reproduction categories cross. A foreign made reproduction with the "B" removed has surfaced in pink, cobalt and "coke bottle" green. If you hold this reamer to the light you can see where the "B" was scratched out of the mold (Fig. 27, also close up in Fig. 25). While most of the pinks have an orange undertone, some colors are frighteningly close to the original. Again, we recommend that "buyers beware" before purchasing one of these. Carefully check the underside of the base where the rays meet in the center before making a decision to buy.
Glass reamer reproductions come into the market so quickly that it's difficult to keep informed of all of them. There are, however, a number of steps you can take and pointers to minimize being fooled:
1) Dates on glass reamers are the copyright or patent dates, not the date of manufacture. A number of new reamers have early patent dates embossed in the glass. Don't be misled.
2) If the glass feels oily, it's probably new. This is caused by a much higher sodium content than old glass. The sodium attracts moisture and dust.
3) Buy only from reputable dealers who will stand behind the authenticity of their merchandise in writing.
4) Read the authoritative reamer books, Reamers: 200 Years, and More Reamers, both by Mary Walker as well as Gene Florence's Kitchen Glassware of the Depression Years.
5) Join the National Reamer Collectors Association (NRCA).
Debbie Gillham was President and Bobbie Zucker was Vice President of the National Reamer Collectors Association.