Glass Marked Webb - New, Old and Confusing MarksBy
Mark Chervenka
Glass Marked Webb - New, Old and Confusing Marks
The name Webb has been associated with English glass since the 18th century. It's probably as well known among Americans as with English collectors.
What few Americans realize, however, is that the name Webb appears in several glass company's marks. And some marks Americans attribute to Webb – the propeller and spider web – were never used by Webb. In this article, we'll examine and date the authentic Webb marks used over the years as well as typical forgeries.
The best known branch of the family begins with John Webb and the White House Glass Works in the 1830s. John passed this glass works to his son Thomas Webb I in 1835. Thomas went on to found Thomas Webb & Sons which operated several glass houses known collectively as Dennis Glassworks. When Thomas I retired in 1863, he was succeeded by three sons Thomas II, Charles and Walter. In 1919 the Dennis Glass Works was reorganized under the name Webb's Crystal Glass Co. Ltd. Another merger in 1964 combined the original Thomas Webb & Sons and Webb's Crystal Glass under the name Crown House Ltd.
Thomas Webb & Sons produced some of the world's finest Victorian art glass including cameo, cut and colored wares.
Many pieces of Webb–particularly Webb cameo are among the most highly priced pieces in the market. Forgeries have been reported since the mid-1960s and they have become increasingly common.
The authentic examples shown here are the most common, but certainly not all, of the authentic marks found on Thomas Webb and Sons glass made ca. 1880 to 1910. None of these marks would ever appear as a simple matte acid stamp. Sharpness of detail varies considerably among original marks.
Generally, Webb cameo was marked on the bottom, not the sides as French cameo was marked. The only Webb cameo consistently marked on the side, is the so-called pseudo cameo, made in the 1930s. Other than that exception, it would be unusual to find any of the genuine marks shown here on the side of an authentic piece.
Thomas Webb and Sons should not be confused with the products of Webb Corbett, covered at the end of this article.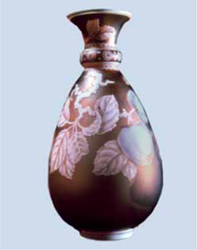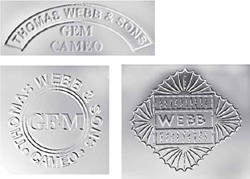 Authentic Marks on Thomas Webb & Sons Glass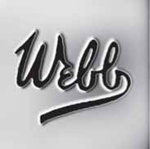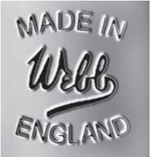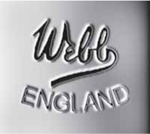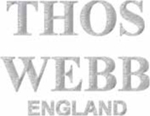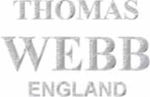 Thomas Webb & Sons Cameo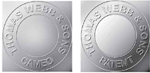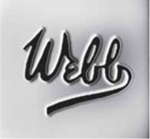 Thomas Webb Queens Burmese
The original Burmese art glass was invented by American Frederick Shirely and first produced by Mt. Washington Glass Co., New Bedford, MA. In 1886, Mt. Washington sold a license to Thomas Webb & Sons to produce Burmese in England.
Webb named their product Queens Burmese. Some, but far from all, pieces of Webb's Burmese is marked Queens Burmese Ware, Patented, Thos Webb & Sons. This mark is cut with acid in the ground pontils. It can appear with letters either below the surface, below left, or raised above the surface, middle. This mark was in use 1887 to ca. 1913. The mark may or may not include the English Registry (patent) number, 81067, which is the only number that should appear with this mark.

Marks Incorrectly Attributed to Thomas Webb and Sons
So-called propeller mark hand-painted in black enamel. It is widely thought in the American market that this is a mark of Thomas Webb and Sons. No evidence has ever been found documenting this link. It is pre-1920, but not Webb.
So-called spider web mark in hand-painted red and sometimes black enamel. Widely represented as Thomas Webb & Sons but never actually proved. It is English and dates to late 19th-early 20th century, but exact source not established*.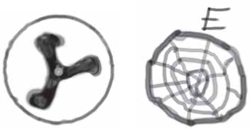 Common Forgeries of Thomas Webb and Sons Marks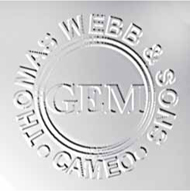 Webb Corbett, Ltd
Webb Corbett was founded in 1897 by George Corbett and Herbert Webb and Thomas Webb III (two grandsons of Thomas Webb.) The original name of the glass house was Thomas Webb and Corbett Limited. Although two Webb descendants were partners, there was no connection between this new firm and Thomas Webb & Sons.
In the 1930s, the company name was changed from Thomas Webb and Corbett Ltd to Webb Corbett Ltd. The company was absorbed by Royal Doulton in 1969 and in 1986 the Webb Corbett name was dropped altogether. The company continues in production today under the name Royal Doulton Crystal.
The primary Webb Corbett product has always been cut and engraved lead crystal, particularly stemware. Most pieces are marked by sandblasting or acid stamping. In the 1970s, Webb Corbett brought back a limited line of cameo glass called "air carved," another name for sandblasting. These pieces had a single layer of colored glass over a thick clear glass body.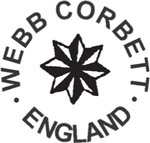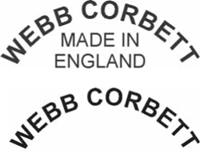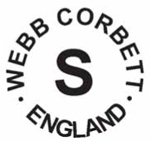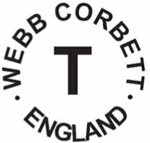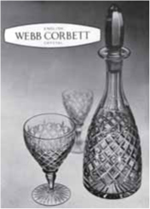 Real Or Repro is an industry resource powered by
a vetted marketplace of dealers and winner of numerous
Ecommerce Bytes Sellers Choice awards
for Quality, Usability, Customer Service, Communications and Most Recommended Selling Venue
---
So now,
Our Ruby Lane Shop Owners
invite You
to shop with them for the
Real Deal
on Ruby Lane ...
View More Similar Items