Giclee Process turns Posters, Artwork, Photos into Life Like Oil on CanvasBy
Mark Chervenka
Giclee turns Posters, Artwork, Photos into
Life Like Oil on Canvas
Giclee (pronounced jhee-CLAY) is a relatively new term used to describe high quality images produced by advanced inkjet printers. Giclee images can be placed on almost any flexible surface including canvas. Widths up to 40 inches or more are common.
Although this is a legitimate field of printing, the process can lead to problems if the works appear in the secondary market. Images can be taken from reference books on well-known artists and illustrators, for example, and printed on canvas. The canvas can then be misrepresented as the "original" art on which vintage paper posters were made.
Ink jets capable of producing Giclee images are much more advanced than ink jets used in home and office. Images produced on even the best general purpose office inkjets can be identified by tiny blurred dots, seen under 10X magnification, which form the image. Giclee images are produced by ink droplets so small as to be nearly indistinguishable even with a 10X loupe. Without a microscope or advanced training, most viewers mistake Giclee images for continuous tone images such as photographs or original art. This makes Giclee images very difficult for the average dealer or collector to identify if these images are deliberately misrepresented.
So how do you protect yourself? Probably the best defense is to be aware that simply because an image is on canvas it is not automatically old nor valuable.
Here are some very broad guidelines:
1–Beware of the image if the canvas is stapled to the stretchers. Staples have been used only since about the 1940s. A canvas represented as 19th century would have never have been originally fastened with staples.
Keep in mind, though, that collectible illustration art on canvas created for magazines, book covers and advertisements since the 1940s may be found stapled. (Older staples are flat in cross section; newer staples are round in cross section.)
2–Original illustration art on canvas from the middle of the 20th century rarely includes lettering. Lettering, such as brand names, book titles, etc., was added photomechanically in the press room. It does not generally appear in the original image.
Examples of Giclee images on canvas.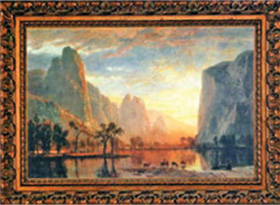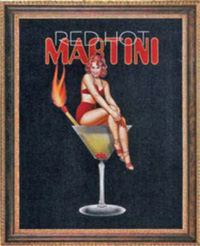 Real Or Repro is an industry resource powered by
a vetted marketplace of dealers and winner of numerous
Ecommerce Bytes Sellers Choice awards
for Quality, Usability, Customer Service, Communications and Most Recommended Selling Venue
---
So now,
Our Ruby Lane Shop Owners
invite You
to shop with them for the
Real Deal
on Ruby Lane ...