Giant Staffordshire Dogs on the LooseBy
Mark Chervenka
Giant Staffordshire dogs on the loose
The Hound of the Baskervilles looks like the runt of the litter compared to these new monsters! These mutts are a towering 24-inches tall. Their gigantic size makes them more suitable for setting on bridge beams than Victorian mantels.
But logic and common sense never discouraged reproduction wholesalers and importers. Matched pairs of these ceramic canines were sold for $125 a set. Two colors are available: brown over white and black over white.
These huge dogs are among the many shapes associated with 19th century potteries of the Staffordshire district in England being mass produced in China. Almost all of the Chinese-made pieces have deep black crazing lines fired-in at the factory to suggest age.
Most, but not all new Chinese pieces, are also coated with a dull drown mist of paint or lacquer which looks like accumulated dirt and grime. Unlike natural dirt and grime which can be washed off with soap and water, the applied mist can only be removed with acetone or mineral spirits. The mist, applied over the glaze, leaves a very rough surface on most new items. It is relatively easy to detect.
The gold trim on most new pieces is a bright shiny gold very often with mirror-like reflections. Original vintage gold trim is usually dull with virtually no shine, certainly no mirror-like reflections.
Original Victorian-era Staffordshire dogs came in a variety of heights generally from about 5 inches up to around 15 inches. It is very rare to encounter a pair of originals over 18 inches. Any piece over 20 inches should be considered suspicious.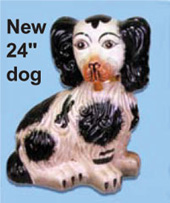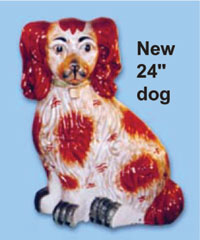 Real Or Repro is an industry resource powered by
a vetted marketplace of dealers and winner of numerous
Ecommerce Bytes Sellers Choice awards
for Quality, Usability, Customer Service, Communications and Most Recommended Selling Venue
---
So now,
Our Ruby Lane Shop Owners
invite You
to shop with them for the
Real Deal
on Ruby Lane ...
View More Similar Items