Galle Reproductions LiquidatedBy
Mark Chervenka
Galle Reproductions Liquidated
During December 2004, Rosso Wholesale Glass liquidated a large group of reproduction cameo glass marked Galle.
The group was primarily composed of 13 styles of vases and 14 styles of lamps and one pitcher. Designs featured Art Nouveau subjects such as flowers, insects, fruit, marine life and various animals such as frogs and lizards.
Designs are similar to a group of new cameo first reported in January 2003. Unlike many cameo reproductions, pieces in this particular group of reproductions are based on vintage original designs and themes. As far as is known, all the Rosso pieces were made in China and are marked only Galle. However, other pieces in this group reported earlier have been found with a variety of marks including Daum and other names, not only Galle.
So far, none of the pieces in this new group – the Rosso pieces or pieces in the earlier reports–have a ground pontil. Almost without exception, all vintage French cameo of these sizes and general designs have a ground pontil. Many pieces, but far from all, of this particular group of new cameo also have top rims which are ground flat. The great majority of top rims in comparable vintage pieces are rounded over, not flat. Overall quality of the new group is far inferior to originals, but that is not always obvious to beginning buyers.
Throughout 2003 and most of 2004, wholesale prices for pieces in this group averaged $100 to $250. Rosso offered their pieces at close out prices from $20 to $70. Most items liquidated by Rosso were in fairly limited quantities. The flyer advertising the Rosso sale advised buyers that only 12 to 24 pieces of most styles of vases were available and only four pieces of each of the lamps. By the end of December, all the lamps and many styles of vases were sold out.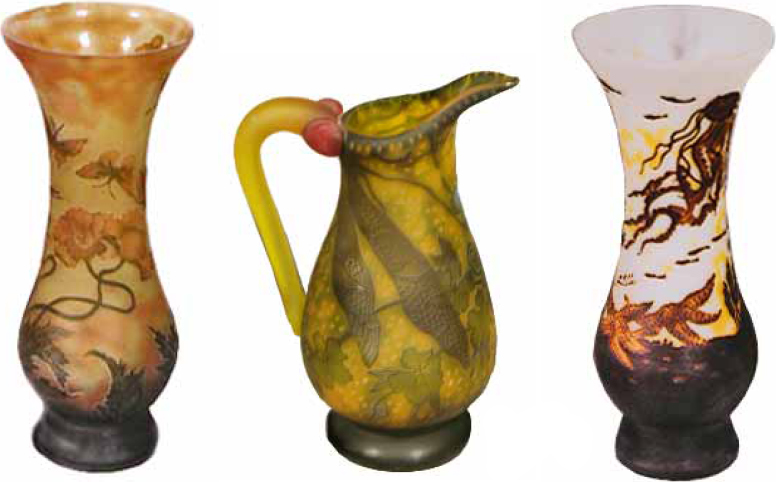 Photos courtesy Rosso Wholesale Glass
Three examples from a group of Galle-signed cameo glass reproductions liquidated by Rosso Wholesale Glass. Left to right with prices: 15-inch vase with butterflies, $40; 11-inch dragonfly pitcher, $50; 15-inch vase with under water scene, $40.