Furniture Reproductions from IndonesiaBy
Mark Chervenka
Furniture Reproductions from Indonesia
Indonesia has the two essential ingredients for manufacturing reproduction furniture: cheap labor and cheap wood. Furniture manufactures use the low cost labor to attempt to duplicate the hand carved details found on original antique furniture such as elaborately carved legs, detailed ornaments and intricately shaped forms.
The entire output of almost all the Indonesian furniture shops is antique reproductions. Their catalogs, often 100+ pages, show antique styles only; no contemporary styles are made. These reproductions have been appearing in the American market in ever increasing numbers since the 1990s.
Basic Differences
There are three fairly obvious construction clues you can use to identify the Indonesian reproductions that require no prior furniture experience and can be observed by the naked eye. These telltale signs are: 1.) a single species of wood is used throughout; 2.) many wood-to-wood joints are hot-glued only; and, 3.) widespread use of common nails.
Photos in this article are from a variety of sources including factories and shipping facilities in Indonesia. Some images were transmitted electronically and suffered some loss of detail.
MADE OF A SINGLE WOOD There are few legal restrictions on how wood is marketed and advertised. As a result, trade names have been developed to help promote little known wood or to make common woods sound more valuable.
The wood in Indonesian reproduction furniture, for example, is from the groups Shorea, Parashorea, and Pentacme which grow in the Eastern Hemisphere and are not true mahogany at all. All three woods, however, can be and are legally advertised and sold as "mahogany". Two other generic trade names for these woods are Philippine mahogany and Lauan mahogany. The genuine mahogany used in fine antique furniture--and even good quality reproductions--is from entirely different groups whose names are Swietenia, from Central and South America, Cuba, Honduras and the West Indies and Khaya from Africa. But (thankfully) it is not necessary to be able to identify these woods to detect the new furniture.
Why? It's because genuine mahogany, like all other prized woods like black walnut, cherry, etc., have always been expensive and therefore used sparingly in furniture as primary woods. Primary woods are used on the most visible surfaces of furniture such as drawer fronts, table tops, etc. The common woods used in parts hidden from view such as the bottoms of drawers, glue blocks and other structural supports are called secondary woods. This means you should normally and logically find more than one type of wood in virtually all old furniture attributed to cabinet makers, workshops and factories (excepting home made "country" furniture). It would have been illogical and impractical for furniture makers of the 18th or 19th century to use expensive Honduran mahogany for a glue block that no one would ever see .
In marked contrast, the Indonesian pieces are made of a single wood, the so-called Philippine mahogany. The same type of wood is used for all surfaces whether hidden or visible.
HOT GLUED JOINTS Typical joints in old furniture are reinforced with dowels, splines or with special cuts (such as mortise and tenon, rabbet, etc.). Many wood-to-wood joints in the Indonesian furniture are simply hot glued without even nails for support. As the furniture dries, the weak joints split leaving substantial gaps visible to the naked eye. You can test a suspected joint by passing a slip of paper through it. Production grade hot glues generally dry white and can usually be seen without difficulty. These same glues also usually fluoresce under long wave black light; older glues rarely fluoresce.
COMMON NAILS Common nails have round shanks and very obvious flat disc-shaped heads. They are normally used where strength is more important than appearance. Such nails were never used in exposed surfaces of furniture of any reasonable quality, new or old, because it is difficult to hide the head. Common nails are used in exposed surfaces of many pieces of new Indonesian furniture leaving 1/4″ diameter areas of filler material.
The nail most commonly used in furniture is the finishing nail whose small heads are driven below the surface of the wood. The hole above the head is filled in and the nail is almost invisible. Flat shank finishing nails with flat T-shaped heads were used, ca. 1800-1880s; modern round shank finishing nails have been used from ca. 1890s.
Types of Furniture Reproduced
All styles of furniture from classical English to Louis XV and from Early American to Victorian are being reproduced. Most are available in a wide range of shapes from simple side chairs to large highboys and massive canopy beds. Reproductions also include child and doll sized furniture and unusual pieces like the three dimensional bear furniture. Painted pieces are also made in the country style. Regardless of the style, all the new Indonesian pieces can be identified by the three general guidelines discussed above.
Recommendations
The quality and value of furniture is based on how it is put together rather than what it is made of. Don't be influenced by advertising descriptions or names on price tags. Politely insist on thoroughly inspecting any furniture you're thinking of buying. This means pulling drawers out of chests and asking that dust covers be removed or lifted from upholstered pieces. Always ask the seller's permission before you move, tip or remove parts of a piece of furniture.
CAUTIONS
Never rely on any one test to determine age. Remember, this article is specifically on the so-called mahogany furniture from Indonesia. Other fakes that are more cleverly made exist. As with anything handmade, there are bound to be exceptions to broad general rules.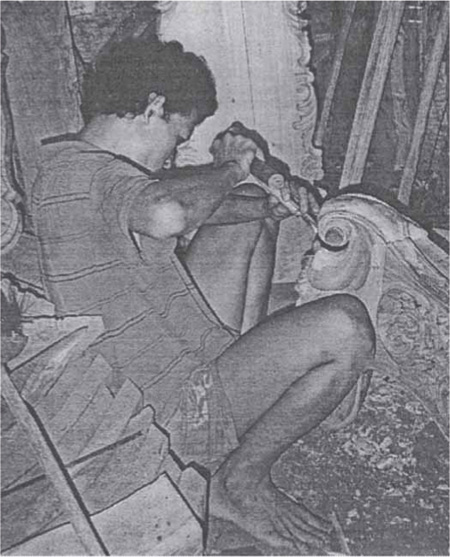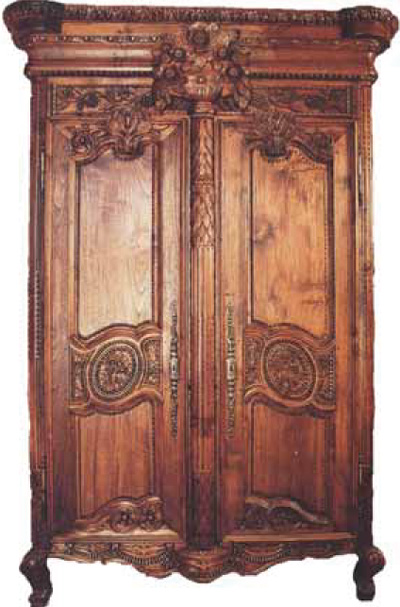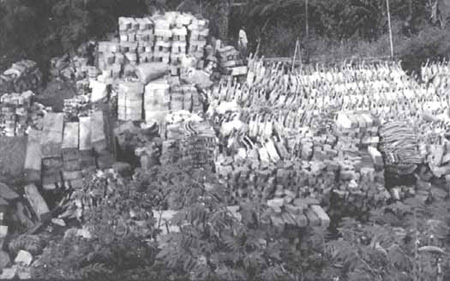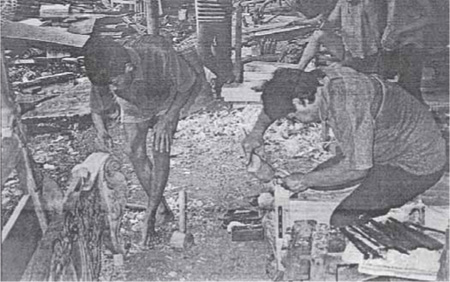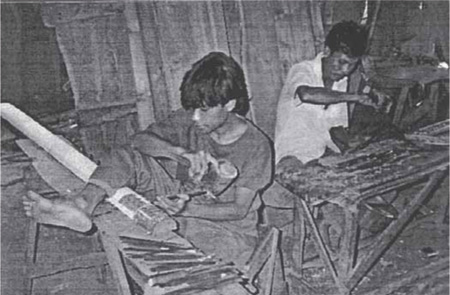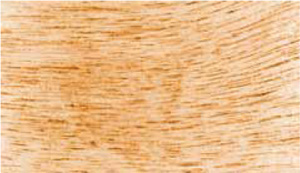 Primary & Secondary Woods
In antique furniture, glue blocks, drawer bottoms and other pieces hidden from view are made of common inexpensive wood called secondary woods. Higher quality woods, or primary woods were used only on exposed surfaces. Virtually 100% of the new Indonesian furniture including glue blocks and other hidden surfaces is made entirely of one species of wood.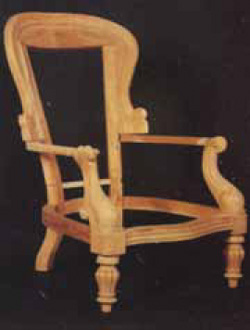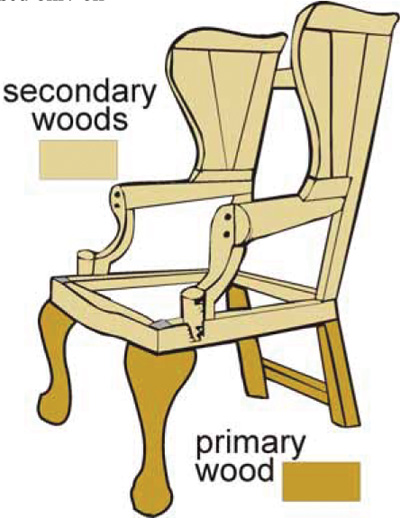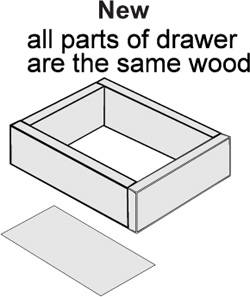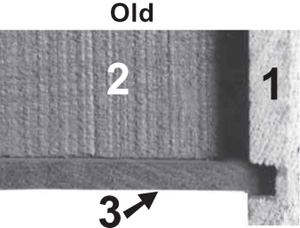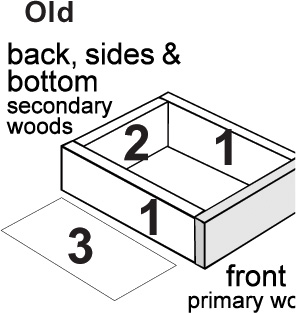 Glue Blocks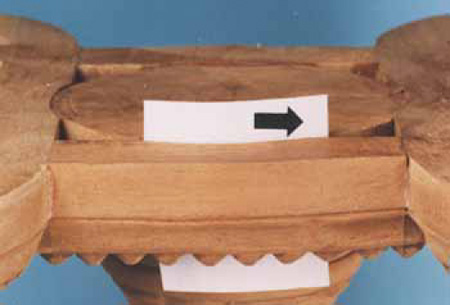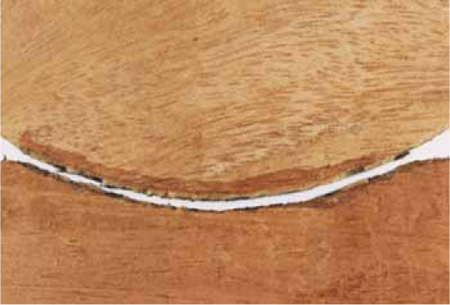 Finishing nails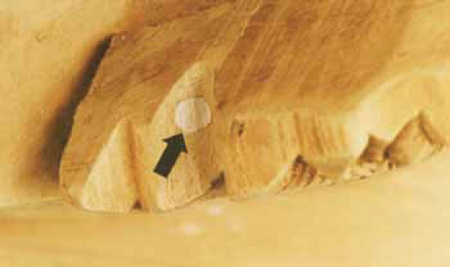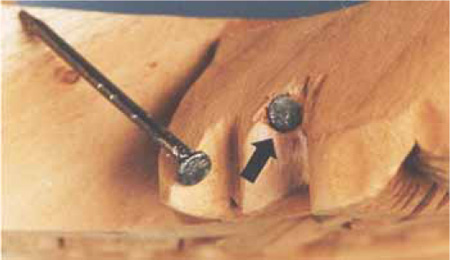 Learning More About Wood
To learn more about identifying woods, we suggest the following authors and titles. If you can't find the books at your local library or bookstore, check with stores that sell wood working tools and supplies.
1) Edlin, Herbert L. What Wood is That? 1977. New York, Viking Press. Includes 40 actual samples of wood. The samples can be placed side by side with the wood you are trying to identify.
2) Hinckley, F. Lewis. Historic Cabinet Woods. 1960. New York, Crown (out of print) A guide and background of all hardwoods used in furniture making up to 1900.
3). Hoadley, R. Bruce. 1990. Identifying Wood Newtown, CT. Taunton Press. An excellent book, many illustrations, well written. Identifies 180 hardwoods, softwoods and tropical woods.
4). Hoadley, R Bruce. 1990. Understanding Wood Newtown, CT. Taunton Press. How trees grow, cellular, structure, how to finish and shape, technical specifications.
Laboratory testing of wood available
The Forest Products Laboratory operated by the United States Department of Agriculture analyzes up to two samples of wood for the general public. For more information contact: USDA Forest Products Laboratory, One Gifford Pinchot Dr, Madison WI 53726. phone (608) 231-9200; FAX (608) 231-9592; web site: www.fpl.fs.fed.us
New Doll or Child-Size Furniture
The new furniture from Indonesia is also available in doll/child sizes (which are sometimes represented as "salesmen's samples" in the antiques market). Not shown are Windsor and country styled chairs and Victorian styled beds. The small-sized pieces are identified by the same clues as the full sized reproductions. Wholesale prices for the smaller sizes have sold generally around $20-$125, depending on size, type of finish and upholstery.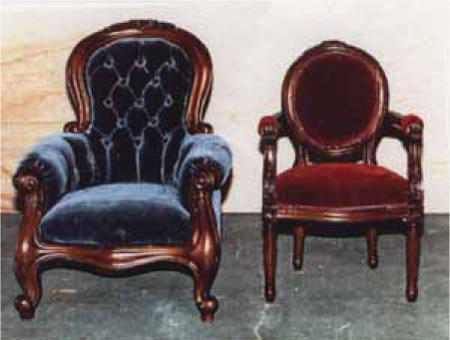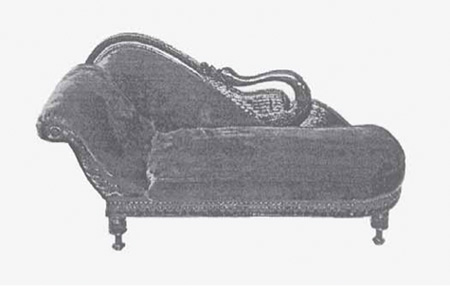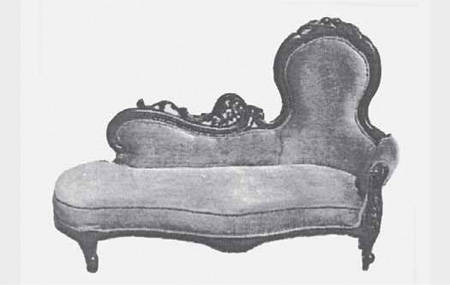 Samples of New Furniture
Shapes shown below are only a sample of what is available. These pieces are unfinished but are also available with a variety of finishes and upholstery.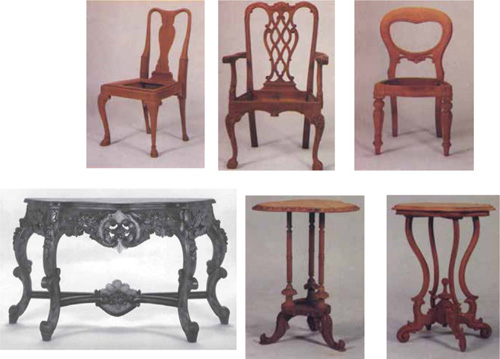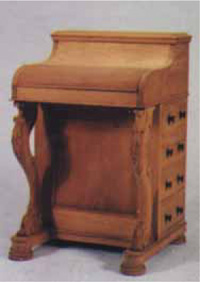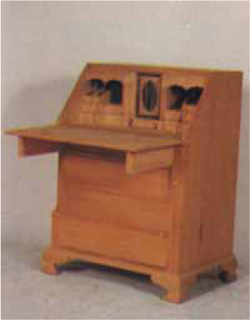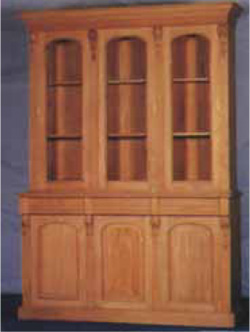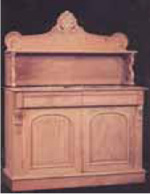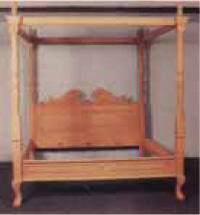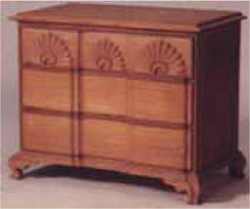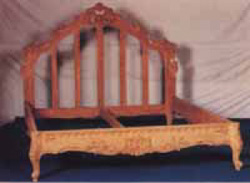 New Figural Bear Furniture
Original bear furniture was made ca. 1880-1910 in the Black Forest region of central Europe. The reproductions are made in Indonesia entirely of the so-called Philippine mahogany. Old pieces show finer detail particularly in the carving of the bears' fur. New pieces come with old appearing glass eyes. Other new pieces available but not shown include: a 6' 2″ hall tree with two bears at base and one above; 6'5″ hall tree with one bear below and one above; 27″ standing bear holding dish (smoking stand); and a 3' wide X 26″ tall bench/small table.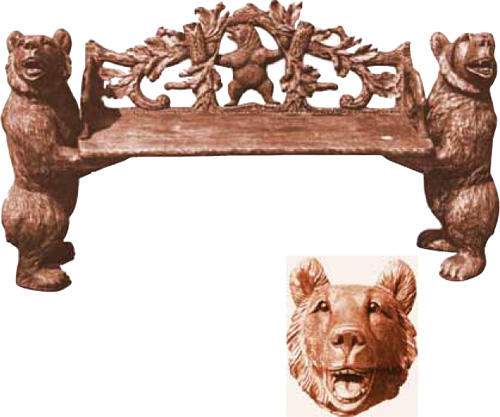 New Painted Furniture
Most of the new Indonesian pieces with paint are in a "country" or folk style. Like the other new pieces discussed in this article, the new painted furniture is made entirely of so-called Philippine mahogany.
Glue blocks, hidden supports, drawer bottoms, knobs, etc., are all made of a single wood; no secondary woods are used. All the new painted pieces we have seen have a "distressed" finish. That is to say that the finish is scraped, dented and scratched to simulate the look of age.