Forged Winchester Chain Prints Bring Big BucksBy
Mark Chervenka, editor ACRN
Forged Winchester Chain Prints Bring Big Bucks
A particularly ambitious series of fakes can be found in on-line auctions, shows and malls. Some enterprising forger created chain prints featuring Winchester products and advertising. The fakes have been bringing $150 to over $500 each.
The term "chain print" is loosely applied to prints on paper under glass edged with decorative chain. Chain prints were at the height of their popularity during the first quarter of the 20th century. Many of the first chain prints were round flue covers. Virtually all original chain prints are full color stone lithographs.
ACRN was able to obtain two of the fakes for firsthand examination. The buyer paid $1000 for the pair. The story that went with these particular prints was that they were a "warehouse find" from an old print shop in Iowa. Other stories with similar prints have been as wide and varied as the sellers. Some have been advertised as from "a century old farm" and "found in basement of old gun shop."
But stories are just that: stories. The real evidence of age is in how any object is made. A careful inspection of any of these Winchester prints proves they are deliberately made fakes.
How The Fakes are Made
All but one of the new prints ACRN has seen pictures of, examined firsthand or received reports on from others, have been made from copies of Currier and Ives prints. The only exception has been a print based on an original Winchester advertisement which featured cartridges arranged in circles around the Winchester factory.
The first step is to make a digital scan of any Currier and Ives print from a reference book (or any other subject from any other book). Figure 1, for example, was copied from Catching a Trout, first published in 1854 by Nathaniel Currier. The original image area is 18½" x 25". Figure 2 is copied from Taking the Back Track first published in 1866 by Currier and Ives. (same image also appears as The Life of a Trapper, A sudden halt.)
Then, using any photo manipulation software, the Winchester advertising phrase and phony merchant name are added to the image. Of course, any other famous brand or message is possible. The combined image and text is then output in full color on a digitally controlled printer (inkjet or laser).
Unlike traditional printing methods which lay down ink on the entire image area all at once, most digital printers can only lay down ink one line at a time. These fine horizontal lines are clearly visible under 10X magnification (Figs. 4 & 5). Text, or lettering, is also produced a single line at a time almost always leaving digital letters blotchy, speckled or with a "halo" around along the edges of the letters.
The quality of digital printing depends on the quality of the printer. Most small office and home ink jets are capable of producing these new Winchester prints. More expensive laser printers found in commercial print shops or computer service centers such as Kinkos can produce better quality. However, both laser and ink jets can be detected under 10X magnification using the guideline discussed here.
Virtually all original chain prints were stone lithographs and do not show these regular horizontal lines.
Next, the digital image is mounted face first on a sheet of ordinary window glass. This can be done with transparent decoupage glue or transparent glue spray commonly used to mount photos and art prints.
A new backing is then glued on. New backs are nothing more than common matte board. Original backs are seldom more than the thickness of one piece of paper (see Figs. 9-12).
Finally, a chain is fastened around the glass. This particular style of link commonly called "ladder" chain. It is the same style as used in many original chain prints. New ladder chain is widely available in lamp supply shops and restoration catalogs. It comes in solid brass or brass plated steel. New ladder chain in solid brass runs about $2 per foot retail.
Look closely at the chain used in suspect print. The new prints have an obvious point where the chain was joined around the edge of the glass. This is obvious from the unskilled way the links are joined (Fig. 13). Old chains, joined by specialized tools, are virtually impossible to detect on original chain prints.
Also inspect the chain from which the print hangs. In every original print ACRN examined for this article that had a ladder chain border, the hanging chain was only a simple link chain, not a ladder chain. The hanging chain on all the fakes are ladder chains the same as the border (Figs. 7 & 8).
Although the thicker backing and hanging chain may seem like minor points, they are typical clues to a reproduction. Keep in mind that any original object – print, piece of art glass, lamp, etc.,– was produced to make the manufacturer a profit. Why use more expensive ladder chain when simple chain would work? Why use thicker, more costly matte board when ordinary paper would work? Logically, original makers used the less expensive materials whenever appearance or strength would let them.
Forgers, on the other hand, aren't concerned about unit cost. They don't mind using another foot of $2 chain instead of $1 chain or 50 cents worth of matte board instead of 5 cents worth of paper. They aren't selling cheap giveaway advertising signs to hardware stores; they're selling "antiques" to collectors.
Not only are the components of these prints new, the business names on the prints also appear to be complete fabrications. ACRN took the business name "Hopkins & Burke Hardware, 415 Main St, St. Louis, Missouri" which appears on one of the new prints to the History and Genealogy Department of the St. Louis Public Library. The library staff searched by surnames, business name and street address.
"We found no business or persons connected to a business by that name in St. Louis," reported library staff member Cynthia Millar. "In 1930, city directories also begin listing businesses by street address. At that time, the closest street number match was a 418 Main Street which was a vacant lot. No listing was ever found for a 415 Main Street."
Although having a documented name appear on a print does not prove it is authentic, the appearance of a fabricated name is certainly guarantee that something isn't right.
Another problem with each of the new chain prints we tested is their strong fluorescence under long wave black light. The new paper used in laser and ink jet printers, especially the "photo-quality" papers fluoresce a bright bluish-white. Areas printed in lighter colors fluoresce brighter than areas printed in darker colors. Vintage papers made before 1940 virtually never fluoresce.
Don't be fooled by the overall appearance of these new prints. The glass of our examples was smeared with glue and grease to give the iridescence that often appears on old glass.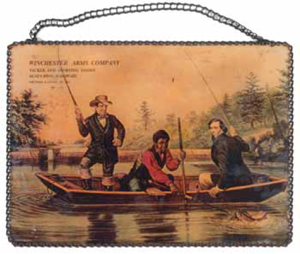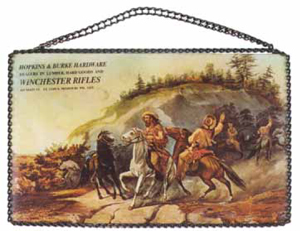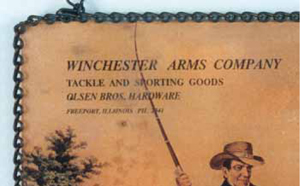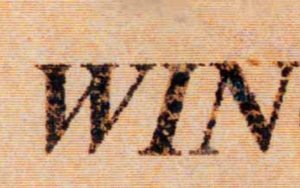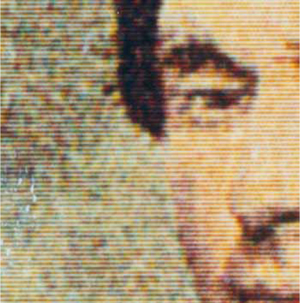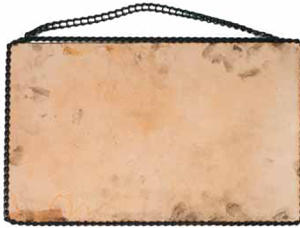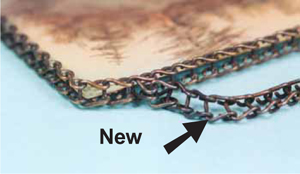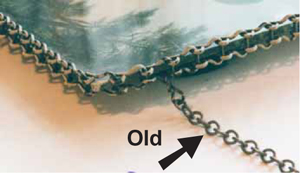 Backing


Backing