Florentine #2 ReproducedBy
Mark Chervenka
Florentine #2 Reproduced
AKA - Poppy #2
A large antique reproduction wholesaler made a water pitcher and tumblers in the Florentine #2 pattern (also called Poppy #2). The specific shapes are the 7 1/2" cone footed water pitcher and the 4" footed tumbler. Both of these original shapes were made only in crystal, green (lighter than the new) and yellow. New pieces were made in cobalt blue, pink and a green that is so deep it is almost opaque.
New tumblers can be detected by the complete absence of any pattern in the very center of the foot (Fig. 2). Originals have a well defined portion of the pattern in the center of the foot (Fig. 3).
The age of the cone footed water pitcher can be judged by looking at the mold seam under the spout. In the new, the pattern meets at the seam; the pattern in old pitchers crosses over the seam.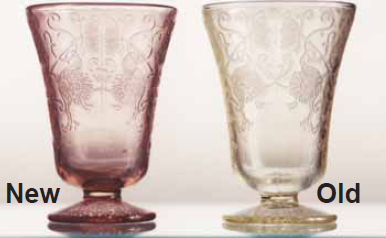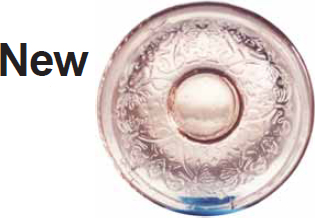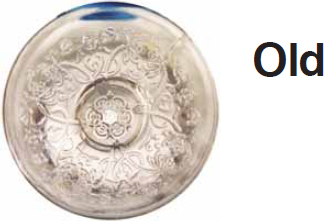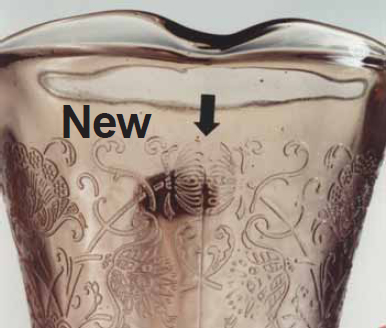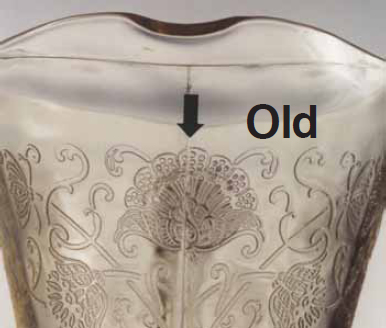 Real Or Repro is an industry resource powered by
a vetted marketplace of dealers and winner of numerous
Ecommerce Bytes Sellers Choice awards
for Quality, Usability, Customer Service, Communications and Most Recommended Selling Venue
---
So now,
Our Ruby Lane Shop Owners
invite You
to shop with them for the
Real Deal
on Ruby Lane ...
View More Similar Items