Figural candy containers need careful lookBy
Mark Chervenka
Figural Candy Containers Need Careful Look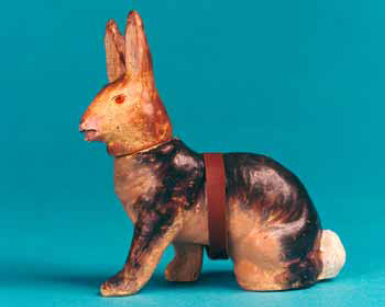 This new candy container is entirely hand painted with the look and feel of pressed cardboard or paper mache. But guess what...it's made of plastic.
The paint is exceptionally well done. At arm's length it looks like an old German original. It is about 6" head to tail; the head removes.
There are a couple of clues to its recent manufacture. First, the plastic body is white. Any scratches in the paint will show the white underneath. It is particularly noticeable under long wave black light. Second, the heads in the majority of old containers are hollow. As shown at the arrow, the new plastic heads are solid. The base of the head in our sample was not painted and it is the easiest place to see the white plastic.