Figural Match Safes ReproducedBy
Mark Chervenka
Figural Match Safes Reproduced
Several figural match safe reproductions have been causing confusion in shows and online auctions. All three–known as Ally Sloper, banded Havana cigars, and Japanese dragon–began appearing about the middle of 2004. All three new safes are copies of vintage originals.
The original Ally Sloper (Fig. 2) safe is a figural of the head of the first comic strip character in England. Created in the 1860s, the character's name comes from the English expression for slipping away from creditors by "sloping down the alley."
There are several original versions of this safe, but the model in Fig. 2 is most common. It is nickel plated brass; the reproduction is sterling. So far, no original sterling Ally Sloper has ever been found. Almost all originals have a stamped English registry number; the fake does not. The original in Fig. 2 opens with a push button (Fig. 3); the fake does not. The striker of the original is applied; the striker in the fake is made as part of the safe.
The original banded Havana cigars safe (Fig. 5) is nickel plated brass; the reproduction is unplated brass. The striker on the original is applied; the striker on the fake is made as part of the safe. This is obvious from the mold seam running through the new molded striker (Fig. 6, left); there is no seam on the applied striker. The push button on the original is much larger than the button on the reproduction (Fig. 7)
The original figural dragon (Fig. 9) was made in Japan of a brass alloy; the reproduction is sterling. No original sterling versions of this dragon are known. The silver reproduction has a ring attached to the side. Virtually no vintage Japanese brass match safe of any design is found with such a ring. The teeth of the original dragon are narrow and pointed; teeth in the fake are thick and blunted (Fig. 12). On the vintage safe, sharply molded scales cover the entire body of the dragon. The poorly made reproduction has numerous areas without scales that are perfectly smooth.
All three of the new pieces shown here share features common to almost all reproduction match safes. The insides, for example, have been chemically treated to create a uniformly black surface. This surface is almost always a certain sign of a reproduction. Further, all three show very weak shallow detail. Detail on originals is generally very sharp and well defined. New safes also commonly have very sharp and obvious seams. Vintage safes were generally hand finished and rarely have prominent seams. Finally, both new silver pieces shown here are marked .925 only. This is a modern silver mark arranged by treaties in the late 1970's to increase international trade. The .925 mark, with or without other words or symbols, rarely appears in marks on vintage sterling match safes.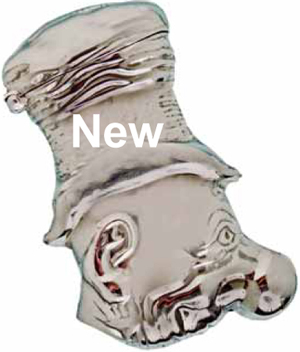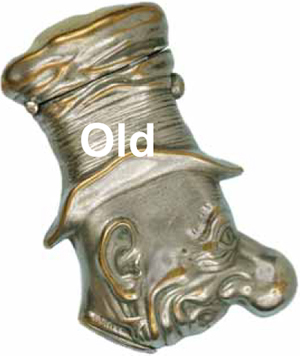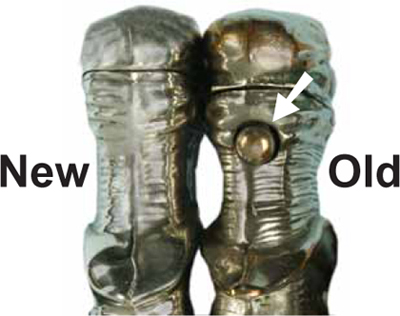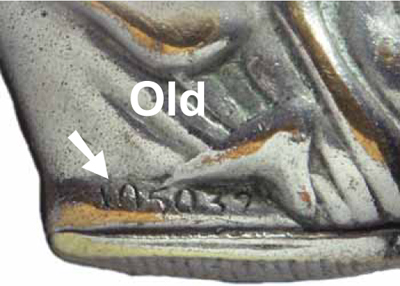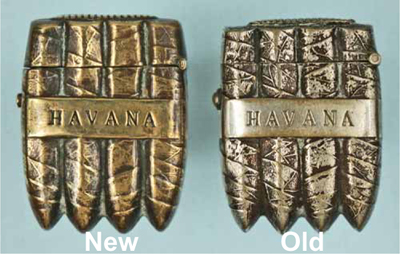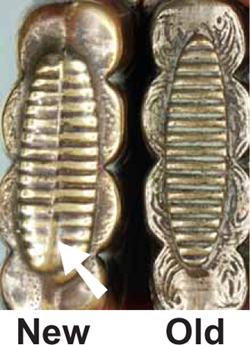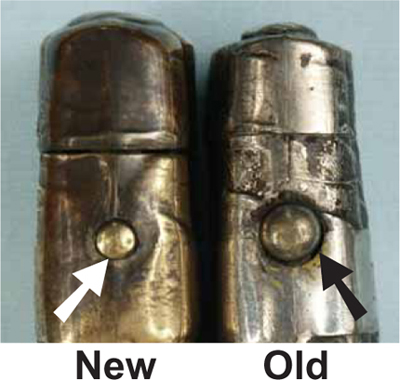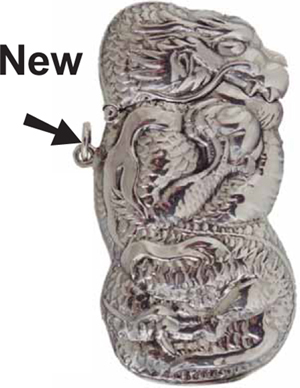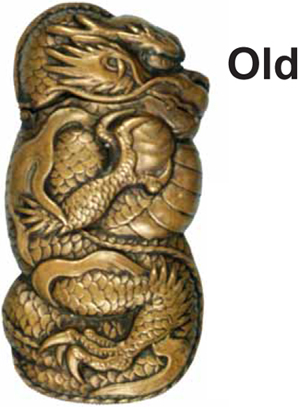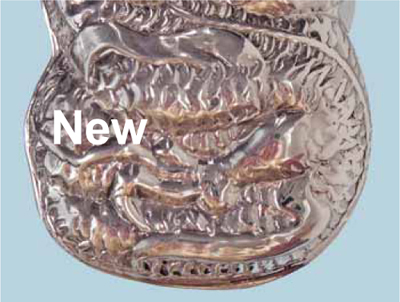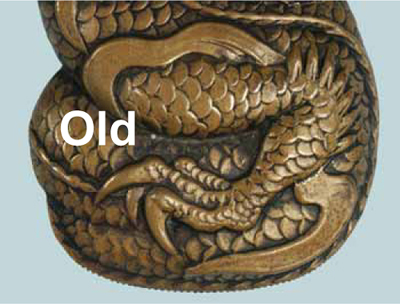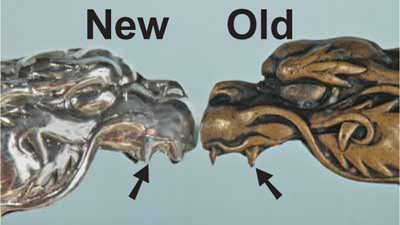 Special thanks to George Sparacio for loaning examples for photography and his expert advice. Meet other match safe collectors through the International Match Safe Assn.; visit their web site at www.matchsafe.org