Faked, Reproduced and Look-alike American Art PotteryBy
Mark Chervenka, editor
Faked, Reproduced and Look-alike American Art Pottery
American art pottery, with the exception of Roseville, has generally escaped widespread commercial reproductions. As prices of originals rise, however, it becomes more and more profitable to produce fakes as one-of-a-kind items or in relatively small batches. The growing popularity of Arts and Crafts themes in modern decorating has also created a demand for art pottery from that period. Legitimate Arts and Crafts pottery reproductions with altered marks end up in the antiques market represented as period originals.
Here are some general tips to help avoid most of the fakes, copies and reproductions:
#1–Know how originals were marked. Simply knowing what marks were used during what years on what patterns and styles will eliminate 90% of bad pieces. Can't remember a mark? Most honest sellers are happy to share their reference books to make a sale or hold a piece a short while until you locate a book.
#2–Check the base for glaze and decoration. Generally speaking, bottoms of hand decorated one-of-a-kind originals like Newcomb, etc., are almost always plain or at least a different color than the decorated body. Reproductions pretending to be one-of-a-kind pieces very often have the same decoration and glaze on the base as the body because a one-step process is used to create the entire piece.
#3–Will this piece hold water? Although all art pottery was made "to look at" it was virtually all functional. Many reproductions and fakes are not. In other words, vases must be able to safely hold water. Is the entire inside adequately glazed? Do lids fit properly on humidors? Are bases squared and flat so a piece sits without tipping? Check the piece for firing flaws, inside and out. Most originals had strict quality controls to maintian company prestige and commercial success.
#3–Maintain a healthy skepticism. Be logical and use common sense. Don't convince yourself that a piece with the wrong marks, wrong finish and wrong shape is a "rare experimental piece".
Fake Rookwod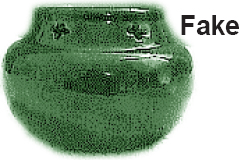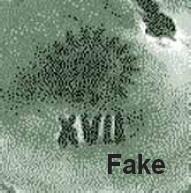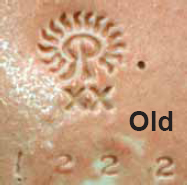 Confusing Tiles
These new tiles have a thick mottled dark green hand-dripped glaze virtually identical in appearance to original Grueby and other original turn of the century potteries. Three different flowers were available on 2" X 7½" vertical tiles. New price was $24 each retail. The new tiles can be identified by a cast-in notch for wall hanging not found in originals. Unglazed porous bisque backs.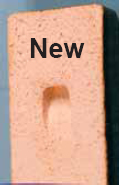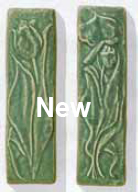 Fake Weller
Below is a new faked Weller 7" vase found in 1999. It has the Weller Pottery script mark molded on the bottom along with the painted monogram of Weller artist Frank De Donatis. The pear and apple decoration are in a light brown paint over an off-white background all under a high gloss glaze.
The forger was apparently trying to copy a Bonito line shape originally made 1927-1933. This line is characterized by small protruding handles and off-white backgrounds with floral decorations. De Donatis' monogram does appear on many old Bonito pieces.
Compared to originals, almost everything about the fake is wrong. First, virtually all original Bonito is matte finish, not high gloss. It's probably not a coincidence that the one shiny finish Bonito vase shown in a reference book just happens to be signed De Donatis (see Fig. 11). Most bonito was made 1927-33 and was marked Weller Pottery by hand, not molded. The molded Weller Pottery script mark, like that used on the fake, wasn't introduced until 1933. It is contrary to known records that it would appear on piece of Bonito signed by De Donatis.
Although the Bonito line did use off white backgrounds, the fake decoration in no way resembles original Bonito decorations. Original Bonito designs were quite intricate with many colors applied with small brush strokes (Fig. 9). The simple bold design painted in broad obvious brush strokes on the fake is more similar to Red Wing 1950-60s dinnerware than anything Weller ever made.
An unsuspecting buyer paid $500 for this fake. It was sold in Zanesville, Ohio.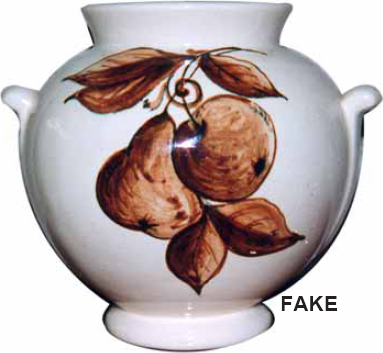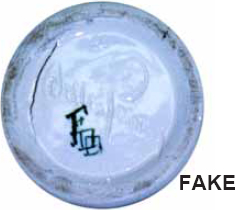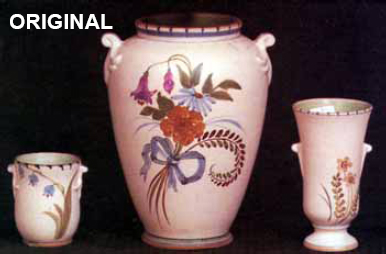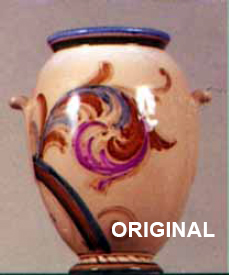 Look-alike Arts and Crafts Pieces
Arts & Crafts potteries with incised or modeled decorations – such as Newcomb, Saturday Evening Girls (SEG/Paul Revere) and others – are among the more desirable and expensive originals. Almost any Newcomb vase, 4"-6" sells for $1,000-$3,000; larger pieces can bring $5,000+. A small studio in Wisconsin, Ephraim Faience Pottery, is now making incised pieces very similar to Newcomb and SEG originals.
All the new pieces leave the studio marked but the marks are very shallow. ACRN has received three reports of suspected (but not proven) Ephraim pieces with altered marks sold as old. Keep in mind that all original Newcomb marks are impressed below the surface. A painted Newcomb mark would obviously be suspicious. Original SEG/Revere marks were commonly painted and generally more easily forged.
Bottoms on the new Ephraim pieces are painted the same color as the body decoration. The great majority of original Newcomb, SEG/Revere and other one-of-a-kind pieces usually were bottoms were white, neutral colored or otherwise plain and generally do not match the decoration on the body.
The incised Ephraim decorations are relatively shallow. The surface within the incised bands is also fairly rough to the touch although the main body feels normal. Don't be mislead by signs of hand finishing. Ephraim pieces are wheel thrown so they have many of the same turning and shaping marks as period originals.
Other Ephraim pieces available but not shown include a 13" vase decorated with a band of white flowers with a yellow body and a 9" vase with oak leaves in a multicolored band on a pale brown body. Prices for the new Ephraim pieces range from $145 to $195. No record of an old pottery of this name has been found. Any pieces with this mark are new.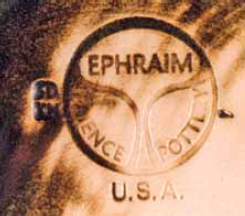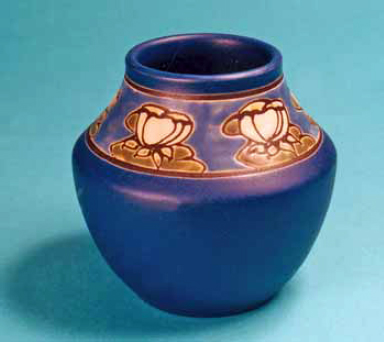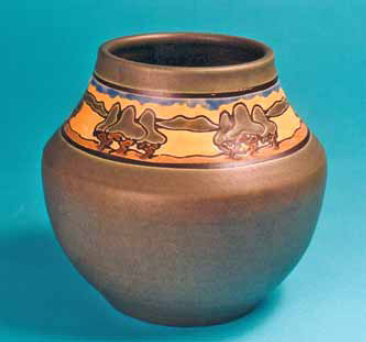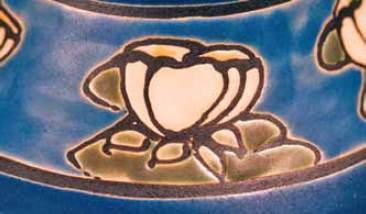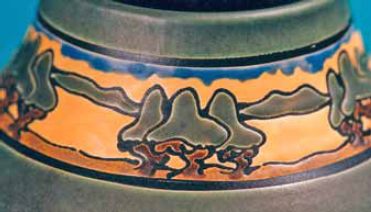 Real Or Repro is an industry resource powered by
a vetted marketplace of dealers and winner of numerous
Ecommerce Bytes Sellers Choice awards
for Quality, Usability, Customer Service, Communications and Most Recommended Selling Venue
---
So now,
Our Ruby Lane Shop Owners
invite You
to shop with them for the
Real Deal
on Ruby Lane ...
View More Similar Items