Fake and fantasy bags of marblesBy
Mark Chervenka
Fake and fantasy bags of marbles
Bags of new marbles with faked paper headers first began appearing in the market during the mid to late 1990s. Initially there were thought to be around 50 different new bags. Since then the number of new bags in the market has probably tripled or quadrupled. New bags appear regularly.
The most frequent victims of the new bags are buyers interested in the subject matter shown on the new paper headers. Disney collectors, for example, are more likely to buy a bag of marbles with Mickey Mouse on the header than a marble collector. Fishing lure collectors are more likely to buy a bag of marbles with featuring Winchester sports gear than a marble collector.
Before 2000, most new paper headers were printed in only one or two colors (two or three single colors are referred to as multicolored in this article). The majority of new headers made since 2000 have been in full color, the complete range of colors seen in real life or a photograph.
Al Rasmus, an advanced collector of vintage bags of marbles, has over 1500 original examples. He tracks the new bags and has acquired about 150 examples of fakes and fantasies for study. According to Rasmus, the great majority of new bags are fantasy items.
"Fantasy bags are the ones in which there never was a vintage bag like the new piece. Someone just finds an old advertisement or other image from a well-known company or brand name, copies it and prints out a bag header." he said. "Faked bags are copied from a genuine old vintage bag. Many fake headers are very well done on high quality printers and can sometimes be difficult to separate old from new." So far, only a few original headers have been copied, primarily those of soft drinks makers such as 7-Up, Pepsi and Coca-Cola.
The new bags are fairly well known among marble collectors but often go undetected by other collectors and general line dealers. Marble collectors aren't generally duped by the new paper headers because they recognize the marbles are new. The following guidelines will help you identify the majority of bags with fake and fantasy headers:
*virtually all full-color paper headers are new. If the header includes a complete range of colors like a color photo, it is almost certain to be new. Original headers were very rarely printed in more than one or two single colors
*almost all original plastic marble bags have a wide vertical seam (Fig. 6) New bags do not have the vertical seam (Fig. 7) Generally, most old bags appear dulled, almost cloudy, from age. Most new bags have a bright, shiny surface that feels slick.
*clear plastic bags were not used to package marbles until the early 1950s. In the 1940s, the great majority of bags used to package marbles were made of mesh, not a continuous sheet of plastic.
Products, brand names, events or personalities of the 1930s or earlier years featured in packages which were not invented until 1950 are clearly illogical and should be viewed with suspicion. How could the 1932 Mickey Mouse cartoon Klondike Kid (Fig. 24), for example, be featured on a type of packaging not invented until the 1950s?
*most, but not all, vintage ca. 1950-60s headers are fastened with flat staples. Fake and fantasy headers are almost always fastened with round staples, not flat staples (see Figs. 13-14) Beware of artificially rusted new staples. Don't let new rusted flat staples persuade you into thinking the headers are old.
*virtually all paper used in the new headers fluoresces bright white under long wave black light. Most paper in most vintage headers does not generally fluoresce. Many new inks used in inkjet and laser printers also fluoresce; most vintage 1950-60s inks do not fluoresce.
*the great majority of new headers are printed on inkjet and laser printers. Vintage headers were generally either silk screened or printed on a printing press. Full color images created on inkjet and laser printers are formed by a series of fuzzy dots of many colors randomly arranged. Full color images printed on presses are formed by equal-sized dots of only black, blue, yellow and red arranged in repeating patterns.
*virtually all known new headers have been made on computers with image editing software. Artwork, trademarks and logos are generally scanned from old advertisements, catalog reprints or reference books. Those elements are sized, cropped and otherwise manipulated including adding or deleting text, changing color and other changes to make a digital image. Low resolution digital images can often be identified by jagged, angular or ragged edges on letters and art work (Fig. 12) Any of those features indicate a new header.
Similarly, poorly edited or cropped images also indicate a likely fake. The heads of Eisenhower and Nixon in Fig. 15, for example, are unnaturally elongated. Any illogical, poorly formed, or out of proportion image should immediately raise suspicions.
*many new headers have obvious mistakes in spelling and grammar. Several new headers made by one forger–purportedly for giveaway bags–are marked "complements," spelled with an "e." The correct usage to indicate a giveaway is "compliments," spelled with an "i." Such mistakes are common in the fakes, but virtually never seen in vintage pieces.
*does a bag from a supposedly "local" business include a street address? Virtually all authentic give-aways–--whether it's a ball point pen, calendar or bag of marbles–--include a local street address of the business giving the product away. After all, that's the point of a promotional giveaway, to be remembered. The only exceptions would be promotional items of national brands. But if even a national brand is linked to the local supplier or dealer a local address should generally be included in the header.
*so far, no vintage marbles have been found in new bags with fake and fantasy headers. All the new bags have been filled with new marbles. Describing how to tell new from old marbles is beyond this article. Non-marble collectors would probably be best advised to use the other guidelines regarding the headers to catch the fakes, not the marbles in the bag.
Special thanks to Al Rasmus for his assistance with this article and loaning his new examples for photography.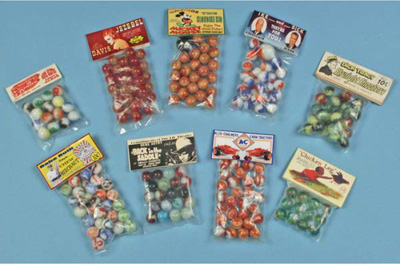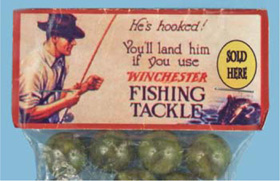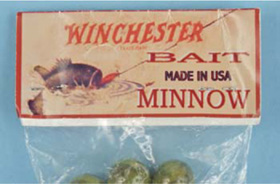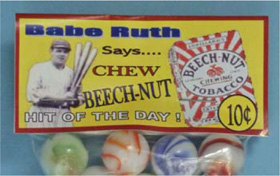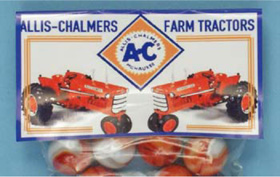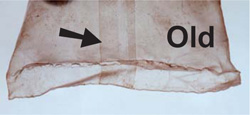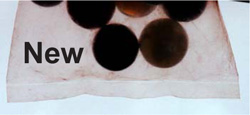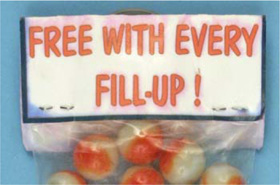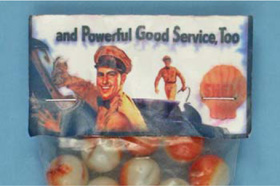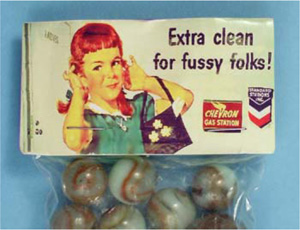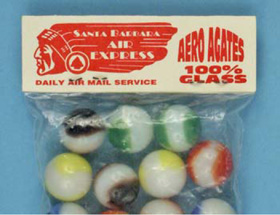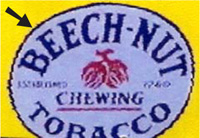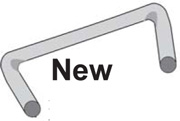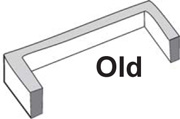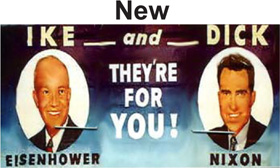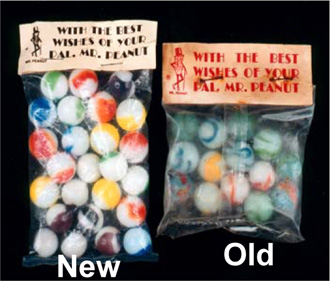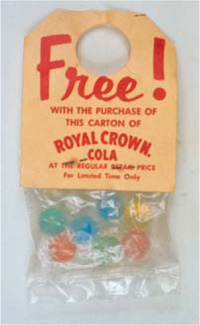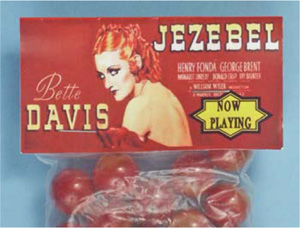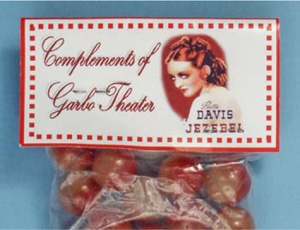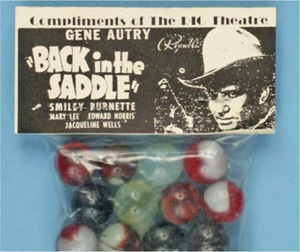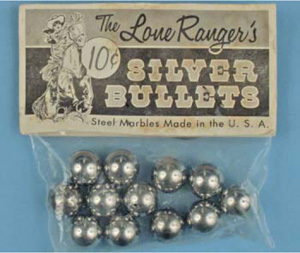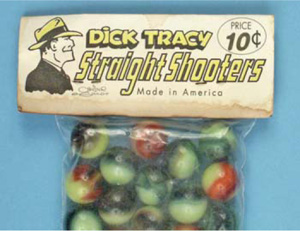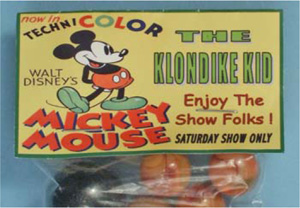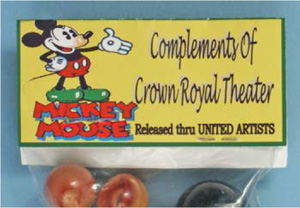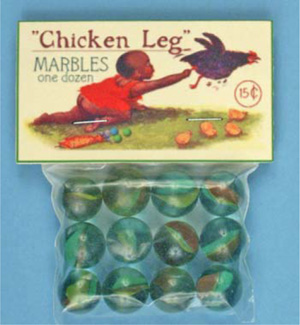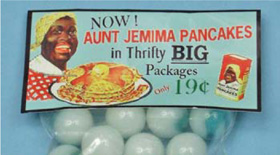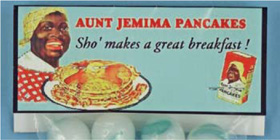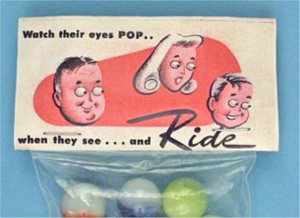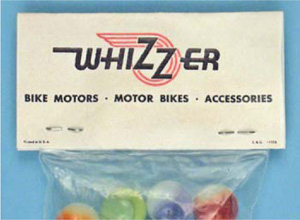 Making a fantasy bag of marbles
It took ACRN only about one hour to make the fantasy bag shown below. New fake and fantasy bags of marbles can be made by almost anybody with even moderate computer skills. This example was put together using an original 1948 magazine advertisement, new marbles bought at a toy store and an office computer with image editing software. The header was printed on an office-quality inkjet printer.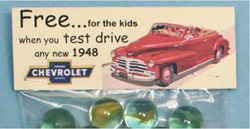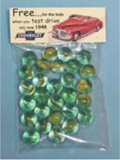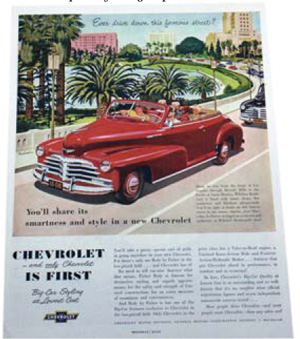 The first step in creating a new fantasy header was to locate some believable artwork. We used this original 1948 magazine advertisement.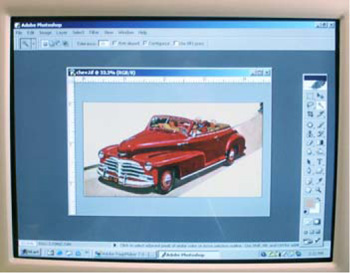 After scanning the advertisement into our computer system, we cropped out the background with image editing software.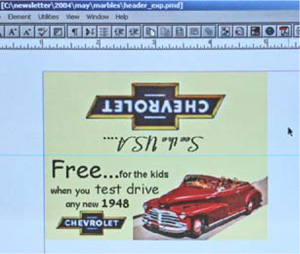 Next, the general header layout was created and the artwork dropped in place. Some creative text suggests the bag of marbles was free with any test drive.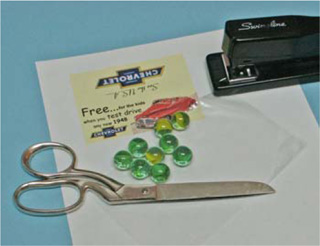 The full color header is then output on a good quality inkjet printer. It's simply a matter of cutting out the header and stapling it to a new plastic bag filled with new marbles.