Fake Advertising Plate with Buffalo Pottery marksBy
Mark Chervenka
Fake Advertising Plate with Buffalo Pottery Marks
A new 10″ porcelain plate advertising cigars features hand-painted decoration with a black pilot in an early airplane. New plates have fake marks on the back similar to original marks used by Buffalo Pottery Co. of Buffalo, New York, a highly collectible American pottery.
At least two fake marks have been found on these plates. One mark featuring a buffalo (Fig. 3) is a crude facsimile of an original mark. The other new mark is the single word, "Buffalo" (Fig. 5) a mark never used on authentic Buffalo Pottery. Both new marks are hand-painted underglaze. Original Buffalo Pottery marks were almost always underglaze printed transfers. The animal on new marks (Fig. 3) is an Asian water buffalo. Authentic Buffalo Pottery marks use an American bison, quite a different beast (Figs. 4 & 6).
The original Buffalo Pottery was one of the few American potters to consistently place permanent date marks on virtually all products. This policy was begun at the start of production in 1903 and continued until handwork was entirely replaced by mechanization during the 1940s. Dates on virtually all original pre-1940 production were applied as part of the larger printed transfer company mark. The new date in Fig. 3 is hand-painted.
No cigar maker or any brand of tobacco under the names J.P. Alley or Hambone was found. The American source of the new plates is unknown. They have been seen in the market priced $90-$125.
The Buffalo Pottery Co. was begun by the Larkin Company, a 19th century firm selling soap and other household goods by mail. Buffalo Pottery was first used exclusively as Larkin sales premiums but later the pottery was run as a separate business.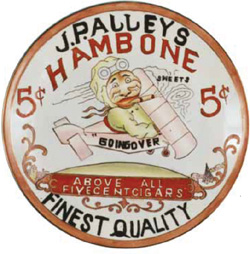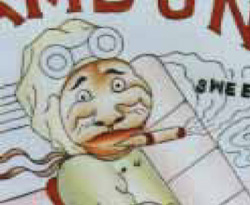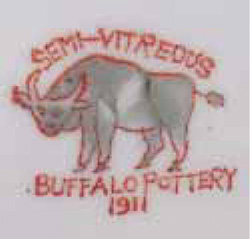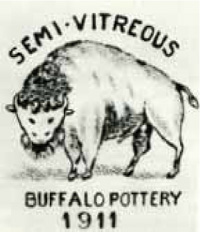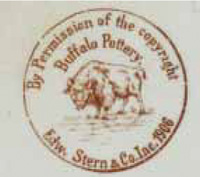 Real Or Repro is an industry resource powered by
a vetted marketplace of dealers and winner of numerous
Ecommerce Bytes Sellers Choice awards
for Quality, Usability, Customer Service, Communications and Most Recommended Selling Venue
---
So now,
Our Ruby Lane Shop Owners
invite You
to shop with them for the
Real Deal
on Ruby Lane ...