Fake Tiffany paper labels on glassBy
Mark Chervenka
Fake Tiffany paper labels on glass
Several pieces of new iridescent glass were found at an auction gallery with faked Tiffany paper labels (Figs. 1-2). The two pieces with the paper labels were among a group of four pieces, all of which had faked and forged Tiffany marks. The group was attempting to be consigned by one person. All items were rejected by the auction gallery. How can you tell old from new? Here are some hints and clues.
Original labels
By far the most often found original Tiffany paper label is the type shown in Fig. 3. It has embossed gold lettering on a green background. The center is formed by the letters LCT flowing together in an Art Nouveau curvilinear style. Around the edges appear the words "Favrile Glass" in the 1 to 3 o'clock position; "Registered Trademark" in the 8 to 4 o'clock position and "Tiffany" in the 10 o'clock position.
This trademark was first used on a paper label after 1902. Originals are fairly small measuring about 3/8" to 7/16" in diameter; they are never more than 1/2" diameter. Originals were machine punched (die cut) and have perfectly circular, perfectly smooth edges. Even when placed in a concave pontil and with minor edge wear, all originals virtually always maintain their smooth symmetrical edge.
Virtually all fake paper label have been hand cut with scissors or razor blade. Hand cutting practically always leaves a wavy outside edge. The fake paper labels are usually on sheets of modern paper printed on photocopiers or laser printers connected to home computers (Fig. 5).
Circular original paper labels were almost always placed in the center of a smoothly ground pontil. If the label appears on any other part of the piece, be suspicious. Also be suspicious if the label appears over an open or rough pontil (i.e. not ground out). Virtually all Tiffany glass is carefully hand finished and has ground out pontils. The appearance of any type of Tiffany paper label on any piece with an open or rough pontil is a definite warning sign.
The original LCT curvilinear paper label never appeared on a piece alone. It was a secondary mark always used in addition to an engraved mark. Although authentic engraved marks usually appear in or around the ground out pontil, they can appear almost anywhere on the base. All engraved marks should generally include a model or shape number. There are some legitimate exceptions but for the average buyer, the lack of an engraved model or shape number should raise concerns.
Lesser known labels
Whether the paper was stronger or better glue was used, the majority of authentic Tiffany paper labels in existence today are the green and gold variety. But the same label was also made with black ink printed on white paper. It was used during the same time period as the green and gold version.
Prior to 1902-04, a paper label with a different trademark was used. A monogram made of the letters TGDCO was used from about 1892 to around 1902. The letters represented Tiffany Glass and Decorating Company. This label was also round. It was printed in black ink on white paper.
Generally, the same guidelines apply for all three types of authentic labels. All were die cut by machine and should have near perfectly round edges. All should appear with engraved marks that include model or shape numbers. All should be on pieces with ground, not open, pontils. If you encounter a white paper label, test it under black light. Modern papers (unless intentionally discolored) generally fluoresce brightly; old paper usually looks dull.
Use several tests when evaluating a suspected paper label. The fakes almost always fail more than one test. Certain exceptions do exist with genuine Tiffany paper labels, but beginning buyers would do well to get expert advice before making a purchase based on a paper label alone.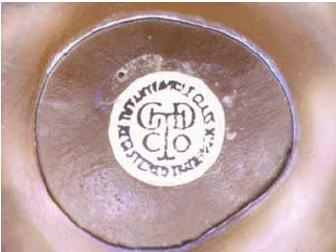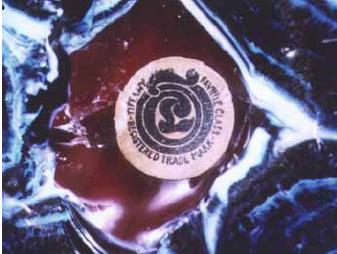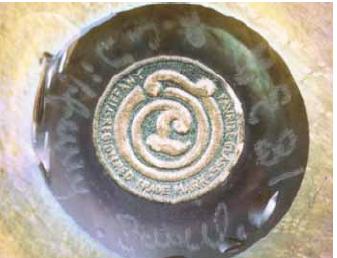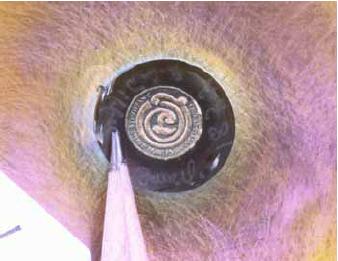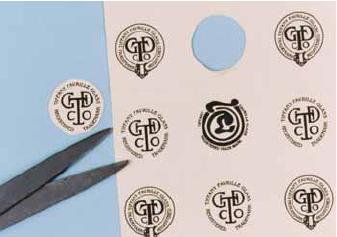 Real Or Repro is an industry resource powered by
a vetted marketplace of dealers and winner of numerous
Ecommerce Bytes Sellers Choice awards
for Quality, Usability, Customer Service, Communications and Most Recommended Selling Venue
---
So now,
Our Ruby Lane Shop Owners
invite You
to shop with them for the
Real Deal
on Ruby Lane ...
View More Similar Items