Fake Royal DuxBy
Mark Chervenka
Fake Royal Dux
This 16″ vase with Art Noveau nude is back in the market this time with a fake Royal Dux mark. It first appeared in 1997 with a fake Roseville mark.
The fake Dux mark is cast as one piece with the vase; authentic marks were made separately and applied. The fake mark is painted pink; original applied marks are pink clay, not painted.
The fake mark does read correctly but note the irregular and poorly formed lettering. White clay shows through the pink paint.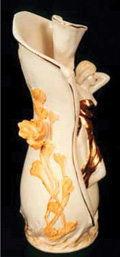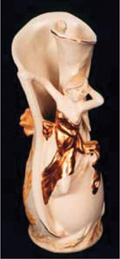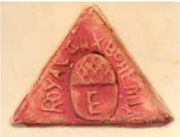 Photos courtesy Terry Stern