Fake Royal Doulton Babes in the WoodsBy
Mark Chevenka
Fake Royal Doulton Babes in the Woods
Babes in the Woods plates marked Royal Doulton have been seen in online auctions, flea markets and antique malls. All the ones offered so far have been mounted in gold-colored plate frames about 12" in diameter. So far, only the framed plate in Fig. 1 has been found. No other new shapes are known.
Background of Originals
In today's antiques market, "Babes in the Woods" has almost become a generic name collectors use for any decoration of Victorian children in outdoor settings. Probably the most sought after Babes in the Woods pieces are those made in cobalt blue. There were two major producers of blue Babes in the Woods pieces: Royal Doulton in England and Royal Bayreuth in Germany.
Although completely different companies, the Royal Doulton Babes in the Woods and Royal Bayreuth Babes in the Woods patterns are very similar. Royal Bayreuth's most common Babes in the Woods pattern is probably the one of two little girls whispering shown on a pitcher in Fig. 6. This is virtually identical to the Royal Doulton version shown on the faked plate in Fig. 1 and the Royal Doulton original in Fig. 2.
The principle difference between the two company's products is Royal Bayreuth is porcelain and Royal Doulton is earthenware, or pottery. Porcelain is thinner and translucent; pottery is opaque and heavier. Most, but not all, original Royal Bayreuth was marked. The great majority of original Royal Doulton was marked.
The actual name of the Royal Doulton pattern collectors now refer to as Babes in the Woods was the "Blue Children" line. The only pattern ever sold under the name "Babes in the Woods" by Royal Doulton was the rather simple Aesthetic Movement design shown in Fig. 5. Throughout this article, though, we'll follow the common usage of the pattern name. Any mention of Babes in the Woods will refer to Royal Doulton's Blue Children decoration, not the decoration in Fig. 5.
Royal Doulton made 24 different Blue Children, or Babes in the Woods, scenes. All the scenes are done in blue and white and feature children–usually small girls–children with women, or a single woman, placed in naturalistic or "wooded' surroundings. The decorations appear on a variety of shapes including plates, oval and round plaques, a variety of vases, biscuit jars, jugs, pots and toilet sets.
All Royal Doulton Babes in Woods decorations were applied as printed transfers with handpainted details and backgrounds. The series was made from 1890 to 1930. Pieces made before 1902 are sometimes, but not frequently, signed by the artist who painted the background. Earlier pieces generally have more hand-work than later examples.
Both Royal Doulton's and Royal Bayreuth's Babes in the Wood pieces were introduced at about the same time, ca. 1890. Royal Doulton made the pattern up until 1930, with the majority of pieces produced between 1890 to 1915. Royal Bayreuth's production appears to have all but stopped during WW I, ca. 1915.
Transfers of Babes in the Woods look-alike decorations were also available to turn-of-the-century china painters. You may find these decorations on a wide variety of vintage china blanks made by various manufacturers.
Detecting the fakes
If you're going to fake a Babes in the Woods piece, it makes sense to mark it Royal Doulton. Marked Royal Doulton Babes in the Woods pieces typically bring three to four times the price as similar decorations with the marks of other makers.
So how do you catch the fakes? The most obvious problem with the new fake in Fig. 1 is the mark. Virtually all original Royal Doulton Babes in the Woods pieces are marked with a transfer under the glaze (Fig. 9). The most common color of transfer mark found on Royal Doulton Babes in the Woods is probably green, but the mark can also be other colors. The color of the mark is not a reliable test of age. The most common general exception is original Royal Doulton wall plaques which were left unglazed on the back. These pieces are typically marked on the unglazed bisque surface with an ink-stamped mark, not a transfer.
The typical Royal Doulton underglaze transfer mark is virtually without exception perfectly legible. You should see a crown on the lion's head; prongs of the crown are tipped with globes "ROYAL DOULTON" and "ENGLAND" are clear and obvious.
By contrast, the faked plates have crude, poorly formed, deliberately illegible marks. England, for example, is completely smudged and distorted. Like other faked marks, this example is carefully crafted to suggest a famous mark without being an exact copy. If "England" was clearly legible, it would legally represent the country of origin. Assuming the new plates are made either in Asia or America, the use of England would be in violation of U.S. customs laws.
This tactic has been used on many recent faked marks such as new brass scientific instruments, new Dazey churns and various types of art glass. Trademarks on new Dazey churns from overseas, for example, are exact copies of original trademarks except where "St. Louis, U.S.A." appears in the old mark. This area is carefully and deliberately smudged to make U.S.A. illegible. That way, Customs rules can be met by listing the true country of origin, either China or India, on removable paper labels.
The other major difference between new and old is the ceramic body. Original Royal Doulton Babes in the Woods decorations are on an earthenware, or clay, body fired at high temperature. This is a hard, dense body. The new plate, as shown in Fig. 1, is made of a soft-bodied slip similar to the lightweight bodies used in hobby-grade ceramics classes.
The flat part of an authentic Royal Doulton plate, the area encircled by the raised rim, is almost perfectly flat. The back of the new plate is wavy and almost bubbly. This is an indication the piece was created by pouring liquid slip in a mold. The new rim is also unusually high and strangely concave, forming a distinctive overhanging ledge (Figs. 13 and 14).
Authentic Royal Doulton Babes in the Woods plaques were made in two shapes, round and oval. An authentic oval example is shown in Fig. 15 . True plaques differ from plates in that plaques are perfectly flat on the back, without any rim (Figs. 16 and 17). True plaques are much rarer than plates and sell for three to ten times the amount of plates.
The frames on all the new plates found so far have been particularly low quality. Most buyers assumed the frames were wood, but they are not. They are cast resin, or plastic, carefully molded with wood "grain" to resemble painted wood. Examine the frames carefully, and you'll see various pits, holes and casting flaws typical of molded plastic, not painted wood.
Another unusual feature of the new frames is how the new plates are attached. The new plates are permanently attached with a quarter-inch wide bead of glue (Fig. 18). Plates and plaques of any quality, new or old, are virtually never permanently attached to a display frame. The most practical, and logical, way to secure a plate or plaque is with mechanical fasteners or clamps which allow easy removal of the frame (Fig. 16). But if you're making fakes, you aren't particularly interested in logic or practicality. Your main concern is high-speed production, so you use industrial glue guns.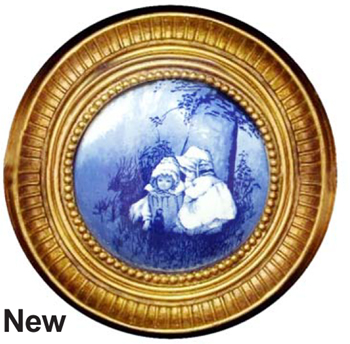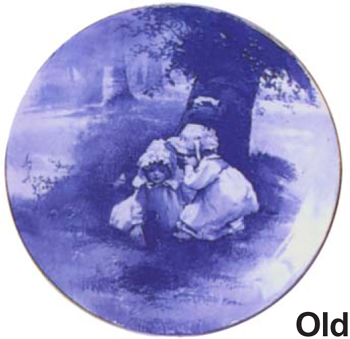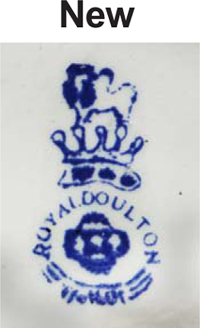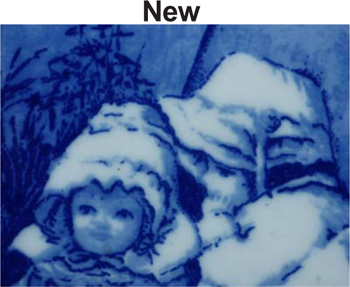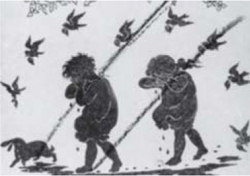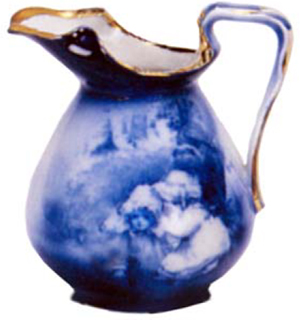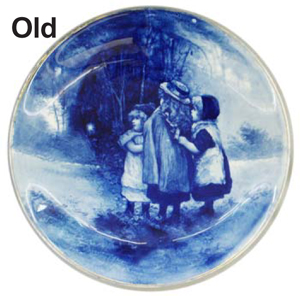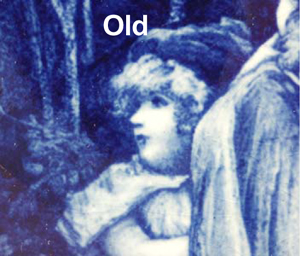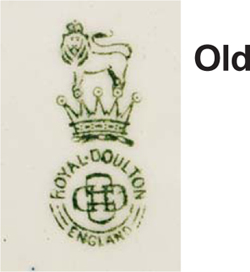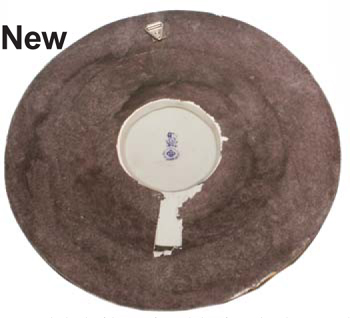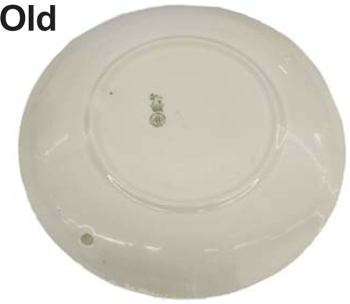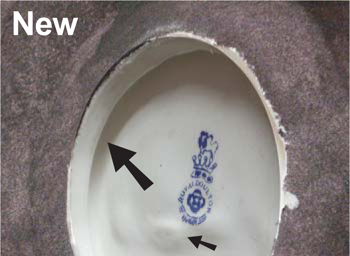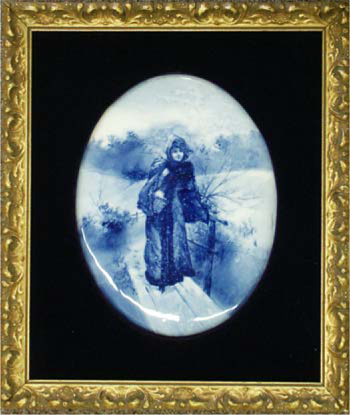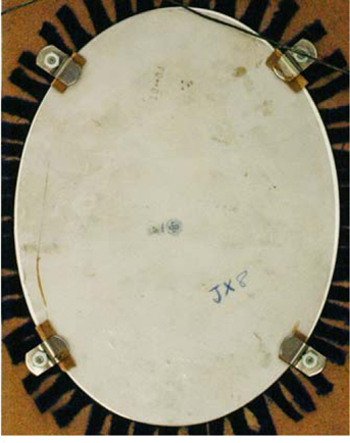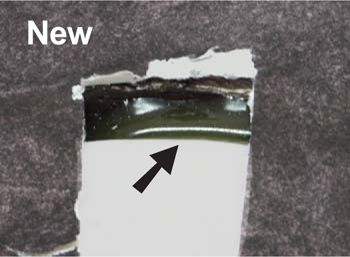 Real Or Repro is an industry resource powered by
a vetted marketplace of dealers and winner of numerous
Ecommerce Bytes Sellers Choice awards
for Quality, Usability, Customer Service, Communications and Most Recommended Selling Venue
---
So now,
Our Ruby Lane Shop Owners
invite You
to shop with them for the
Real Deal
on Ruby Lane ...