Fake Roseville PotteryBy
Mark Chervenka
Fake Roseville Pottery
This 16" vase with figural Art Nouveau nude has an incised Roseville mark. The piece is white with gold on the woman's robe and brownish gold on the raised flowers in back.
Sharon Huxford (author, Collector's Encyclopedia of Roseville) received three reports of this piece in widely separated states. One sold in Florida, another in New York and a third in Indiana. The New York example, shown here, was purchased at a local flea market for $75.
No comparable piece was ever made by the original Roseville Pottery company. The style of this reproduction is more similar to European Art Nouveau pieces by Royal Dux, Teplitz, etc., than Roseville or any other American pottery company.
Nudes on original Roseville products were molded in low relief and did not appear as 3-D figures. The only original Roseville lines that featured nudes as a main pattern were Panel (ca. 1920) and Silhouette (ca. 1952). Panel was marked only with the RV ink stamp. All Silhouette has a raised model number in the 700's. Gold trim was rarely used on authentic Roseville pottery. It is generally found only on rims or other minor trim on cream ware pieces with transfer decorations before 1916. The raised Roseville U.S.A. mark was not used until ca. 1935.
This same new vase has also been found with a forged Royal Dux mark.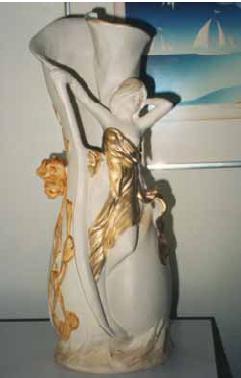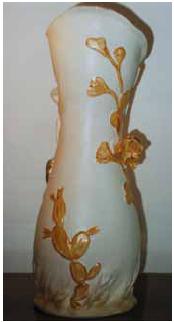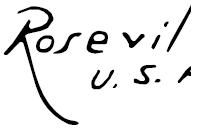 Real Or Repro is an industry resource powered by
a vetted marketplace of dealers and winner of numerous
Ecommerce Bytes Sellers Choice awards
for Quality, Usability, Customer Service, Communications and Most Recommended Selling Venue
---
So now,
Our Ruby Lane Shop Owners
invite You
to shop with them for the
Real Deal
on Ruby Lane ...
View More Similar Items