Elaborate Reproductions of Garden OrnamentsBy
Mark Chervenka
Elaborate Reproductions of Garden Ornaments
The increasing popularity of garden and lawn ornaments has created an expanded market for reproductions of those items.
Shown here is a reproduction Victorian era cast iron pedestal with gazing ball. Three Art Nouveau-styled mermaids are equally spaced around a 30" tall base. Other decorations include tridents, sea weed and shells. A bronze colored paint with an artificial patina covers the metal surface. The base supports a 10″ diameter glass silver mirrored ball.
Vintage gazing, or reflecting, balls were used as lawn and garden ornaments from the late 18th century to the first third of the 20th century. Balls were made of blown glass and a mirror finish was applied. The spherical shape provided a unique 360 degree reflection view of sky, garden and surrounding buildings. A revival of interest in garden ornaments has renewed interest in gazing balls among other reproductions.
Careful examination shows that the metal has been fastened with Phillips head screws, a modern fastener. No vintage pieces were ever attached with this type of screw. The mirrored ball is made the same way as the originals: blown glass with applied silver mirror finish inside.
New wholesale price was $68. Comparable vintage stands in cast iron run $1,000-$3,500.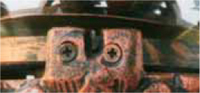 Real Or Repro is an industry resource powered by
a vetted marketplace of dealers and winner of numerous
Ecommerce Bytes Sellers Choice awards
for Quality, Usability, Customer Service, Communications and Most Recommended Selling Venue
---
So now,
Our Ruby Lane Shop Owners
invite You
to shop with them for the
Real Deal
on Ruby Lane ...