Dugan "Mary Ann" Vase Reproduced from Original MoldBy
Mark Chervenka
Dugan "Mary Ann" Vase Reproduced from Original Mold
A vase originally made by the Dugan-Diamond Glass Company, ca. 1915-1920s, has been reproduced with the original molds.
The new vase is clear crystal with an opalescent edge around the top rim and tops of the two handles. It is 6¼″ tall and has ten scallops around the top rim.
All originals of this vase have an iridized carnival finish (amethyst, marigold and purple). Some of the new clear glass vases have already been offered as "undecorated" or experimental pieces.
Some original vases are known with only eight scallops around the top. So far, only the ten scallop version has been reproduced.
The Dugan business ended in 1931 and many of their molds were acquired by L.G. Wright Glass Co. in 1939. When the Wright molds were auctioned in 1999, the mold was sold to Mosser Glass. The vase is named after a sister of two prominent Dugan brothers.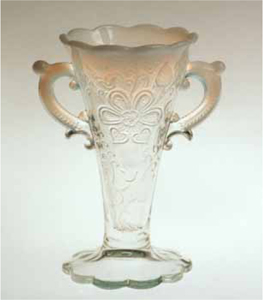 Real Or Repro is an industry resource powered by
a vetted marketplace of dealers and winner of numerous
Ecommerce Bytes Sellers Choice awards
for Quality, Usability, Customer Service, Communications and Most Recommended Selling Venue
---
So now,
Our Ruby Lane Shop Owners
invite You
to shop with them for the
Real Deal
on Ruby Lane ...