Doll and Toy-Sized FurnitureBy
Mark Chervenka
Doll and Toy-Sized Furniture
Many buyers well aware of full-sized reproductions of antique furniture may not know of many new doll and toy-sized versions of period styles.
There are several ways to identify these smaller pieces. First, as a general rule, approach any small sized examples with a healthy suspicion. While there are some old examples of doll and toy-sized versions of 18th and 19th century furniture, the great majority of pieces in the market today are modern products.
Begin your examination with the species of wood. Virtually all the small pieces of new furniture versions–like the full-sized reproductions–are made of Philippine mahogany. This species, growing only in the Eastern Hemisphere, was virtually never used in 18th and 19th century American or English shop-made furniture. The mahogany used in authentic period furniture was from the Western Hemisphere, mainly from Central and South America.
Even if you can't identify the particular species you can catch the imitations by how the wood is used. Authentic furniture, even toy and doll sizes, were virtually never made of a single species of wood. Hidden areas, especially in upholstered pieces, would be made of a less costly wood than woods used in the exposed surfaces. Common woods used in structural framing members, glue blocks and other pieces concealed from normal view are referred to as secondary woods. Choice woods exposed to view in table tops, chair backs, legs and arms are called primary woods. Any time you see the hidden frame and glue blocks made from the same species of wood as the exposed legs and arms, it is generally a reproduction.
Upholstery on the new smaller pieces generally shows no normal wear. The synthetic fabrics used in the new upholstery frequently has a noticeable odor. Some new fabrics and thread fluoresce brightly under black lights.
Old pieces, of course, can be recovered. But when a piece is made of a single species of wood, is primarily Philippine mahogany and has questionable upholstery, the piece is probably a modern reproduction.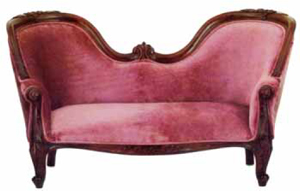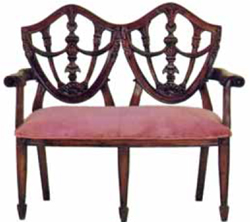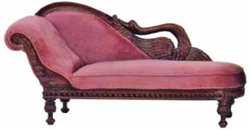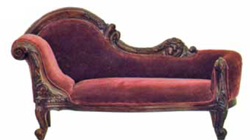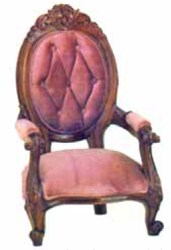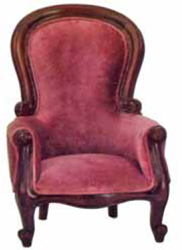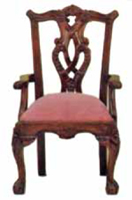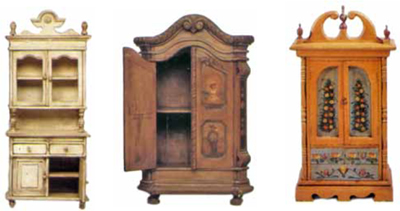 Real Or Repro is an industry resource powered by
a vetted marketplace of dealers and winner of numerous
Ecommerce Bytes Sellers Choice awards
for Quality, Usability, Customer Service, Communications and Most Recommended Selling Venue
---
So now,
Our Ruby Lane Shop Owners
invite You
to shop with them for the
Real Deal
on Ruby Lane ...