Delft Plaques and Plates - Created for Decorators and Reproducton WholesaleBy
Mark Chervenka
Delft Plaques and Plates - Created for Decorators and Reproduction Wholesalers
The so-called "Delft" plaques and plates like the ones in Figs. 1 & 2 can be found everywhere. From booths in "quality controlled" paid admission antique shows to displays on the hoods of pickup trucks near goats and pumpkins at flea markets. Usually, the only difference is the asking price. Prices at "better" shows were generally around $250 to $500 for the large plaques; open air entrepreneurs seemed to be content with a more modest $35 to $50. Why the difference?
Because all such pieces are NEW and have cost around $16 each wholesale. That's why. They all began life under $50. But after changing hands several times through pickers, estate auctions. etc., they are eventually offered as "antiques" in better shows, shops and malls. The fact is, that all "Delft" items shown in this article (except where noted) have no old counterparts at all. They are entirely fantasy pieces invented for interior decorators and antique reproduction wholesalers.
The new "Delft" has been offered in antique reproduction wholesale catalogs virtually unchanged for over 30 years (Fig. 3). To add to the confusion, these new pieces have carried a number of backstamps and marks similar to those found on ca. 1900 originals. Most new marks, however, are fantasy marks, no old counterparts ever existed. See the marks at the end of the article for a comparison of new and old.
The Original Meaning of Delft
"Delft" was originally the term used to describe earthenware coated with a white tin glaze, hand painted with blue decoration and fired at a low temperature. This type of ware was first made in Italy in the 15th and 16th centuries as an attempt to imitate the white bodied porcelain then being imported at great cost from China. Early decorations were similar to those on Oriental samples. Over time, this technique eventually moved north into Europe.
Separating Old From New
Telling new from old is fairly simple. First, as a general rule, any mark that includes the word "Delfts" with an "s" is new, that is, less than 30 - 40 years old. Such marks are shown in Figs. 7, 8 and 11. Other examples of both new and old marks are also shown for comparison.
Another way to separate new from old is based on how the pieces are decorated. All old pieces of Delft - ca. mid 19th century to ca. 1920s - have hand painted decoration with obvious brush strokes. The imitations made for interior decoration and reproduction trades are transfer decorated and do not show brush strokes (Fig. 6). Examining the decoration with a 10X loupe will clearly show what method of decoration was used.
The fact that new "Delft" has been in catalogs for over 30 years is a good indication of its profitability with sellers. Don't be mislead by high prices or fancy settings--these pieces are all new.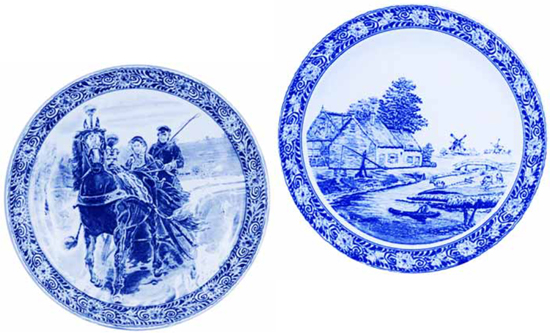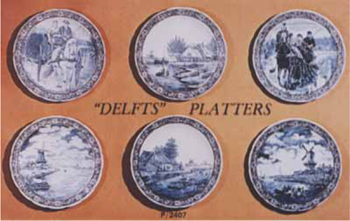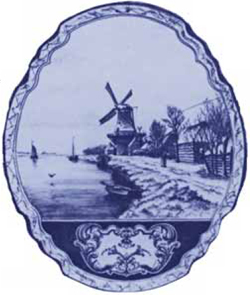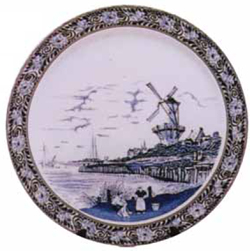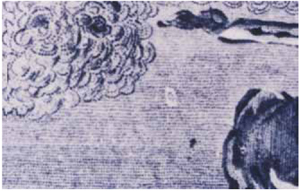 New Marks
Always be wary of generic names used in marks such as Delfts (and Staffordshire, Flow Blue, etc.). These words are terms used by present day antique collectors to describe categories of wares, not specific companies. Manufacturers try to capitalize on that name recognition with marks incorporating those words. With the exception of Fig. 7, none of the new marks has any old counterpart. Marks in Figs. 7-10 are found on the platters primarily sold by reproduction wholesalers and shown in Figs. 1-3 & 5.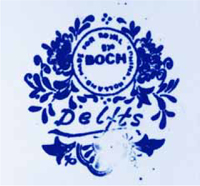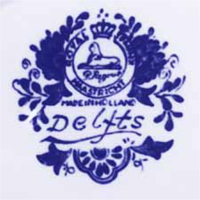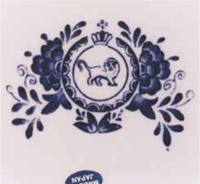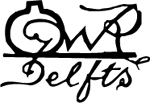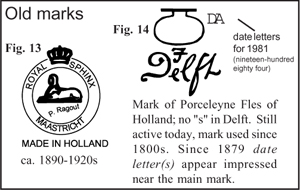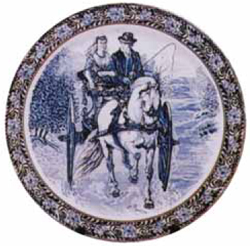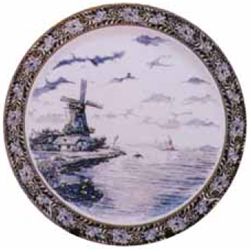 Real Or Repro is an industry resource powered by
a vetted marketplace of dealers and winner of numerous
Ecommerce Bytes Sellers Choice awards
for Quality, Usability, Customer Service, Communications and Most Recommended Selling Venue
---
So now,
Our Ruby Lane Shop Owners
invite You
to shop with them for the
Real Deal
on Ruby Lane ...
View More Similar Items