Cruets in jaditeBy
Mark Chervenka
Cruets in jadite
Two new cruets in jadite are available in the market. The largest size, 6¼″ to top of clear glass stopper, is shown here. A similar 5″ jadite cruet with clear glass stopper is also available.
Both sizes of cruets are available with "Oil" or "Vinegar" in black lettering or plain with no lettering. Price for 6¼″ cruet with lettering is $17.75 wholesale; 5″ size with lettering is $16.50. Unlettered versions sell for slightly less than pieces with lettering.
The only known vintage cruet in jadite is a flatsided design made by McKee. Confirmed McKee originals are known with "Vinegar" in black lettering. Originals with different names may eventually be discovered but are not currently known. All original McKee cruets were produced with matching jadite stoppers.
Jadite is the common, or generic, name most collectors use when speaking of any pale green opaque glass. Jade-ite with a hyphen is the specific brand name of pale green opaque glass made by Anchor Hocking.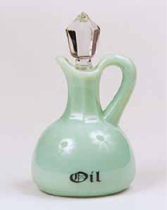 Real Or Repro is an industry resource powered by
a vetted marketplace of dealers and winner of numerous
Ecommerce Bytes Sellers Choice awards
for Quality, Usability, Customer Service, Communications and Most Recommended Selling Venue
---
So now,
Our Ruby Lane Shop Owners
invite You
to shop with them for the
Real Deal
on Ruby Lane ...