Cowboy China: Old Patterns CopiedBy
Mark Chervenka
Cowboy China: Old Patterns Copied - Vintage Look Imitated
Public interest in the American west and southwest "look" brought old patterns with those themes back into production.
Rodeo pattern - Westward Ho
One of the most popular of the old collectible patterns being reproduced is a multicolored design called Rodeo. Original Rodeo was made by Wallace China Company of Los Angeles, California for the M.C. Wentz Company of Pasadena, California. Wentz marketed the china in their full line of western-theme housewares called Westward Ho.
Patterns on new and old Rodeo are, for all practical purposes, identical. The easiest way to tell old from new is from the backstamp. Old marks include California and Wallace China (see Fig. 9); the mark on the new Rodeo copies does not (Fig. 6). A facsimile signature of the pattern's designer, Till Goodan, appears on most, but not all, of the old pieces. But don't use the Goodan signature as a test of age. Goodan's name also appears on some of the new copies (Figs. 3-4).
New Rodeo has been sold nationally through mail order catalogs and retail locations mostly in the southwestern United States. Retail price for a new five piece place setting is been around $135; large serving pieces $65-130. Place settings of original Westward Ho Rodeo have sold as high as $400. Original dinner plates range from $75-$100, more for large serving pieces.
Look-alike Patterns
In addition to reissues of original Western-theme patterns, there are also new look-alike patterns. That is to say not exact copies of old patterns, but new patterns specially created to generally resemble the style or "look" of old patterns. The plate shown in Fig. 11, for example, is a vintage pattern made in the 1940s-1950s by Wallace China Company. The name of the pattern is El Rancho which was also designed by Till Goodan, the same designer who created Rodeo. Original El Rancho dinnerware is decorated with drawings of typical western images such as brands, spurs, cattle, etc., in a deep maroon on a tan background. All vintage pieces are marked Wallace China.
A typical look-alike new western pattern called Skyranch is shown in Fig. 10. Like old El Rancho, new Skyranch is also decorated in western line drawings on heavy dinnerware. Skyranch is just one of several lookalike patterns recently introduced. The best way to tell any of the new from the old is by the backstamp. Most old patterns generally carry marks of companies no longer in business such as Wallace China. Keep in mind that some new backstamps, like Westward Ho, are very similar to the originals. In those cases, you need to match original factory marks very carefully.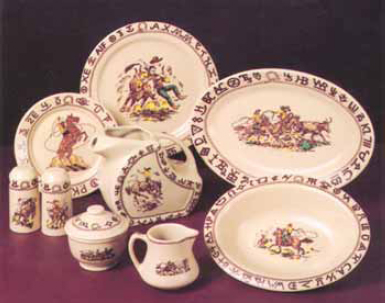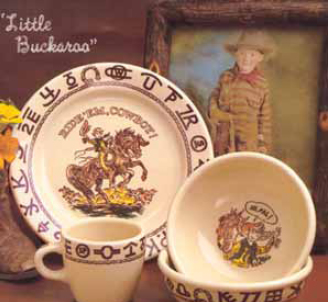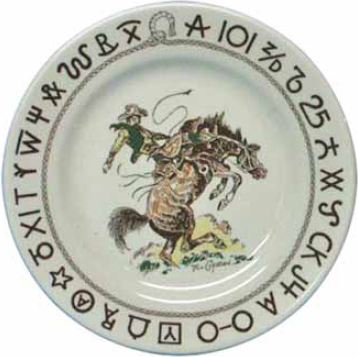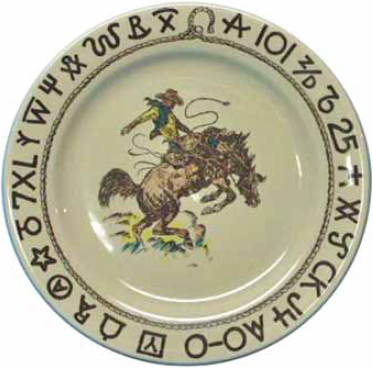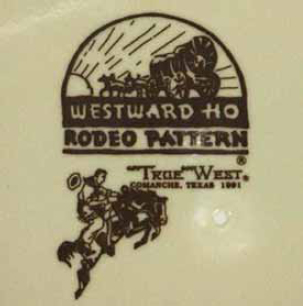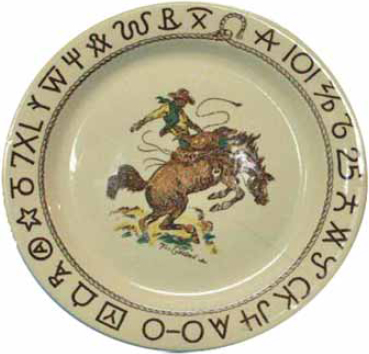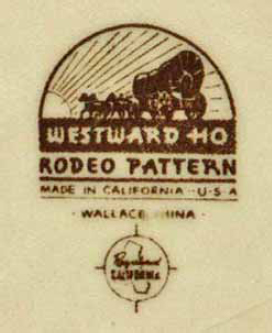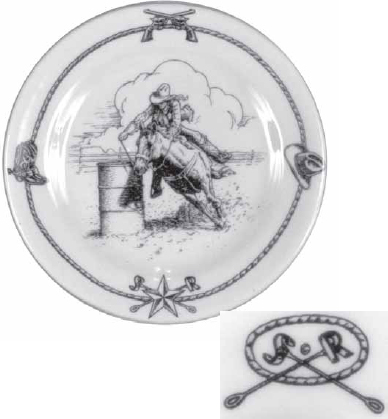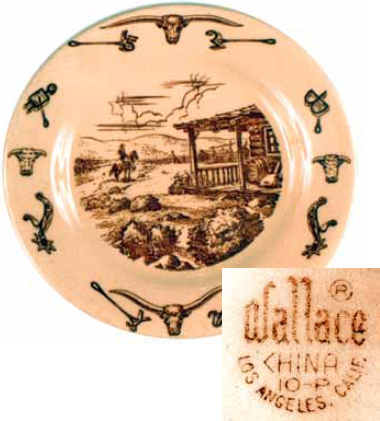 Real Or Repro is an industry resource powered by
a vetted marketplace of dealers and winner of numerous
Ecommerce Bytes Sellers Choice awards
for Quality, Usability, Customer Service, Communications and Most Recommended Selling Venue
---
So now,
Our Ruby Lane Shop Owners
invite You
to shop with them for the
Real Deal
on Ruby Lane ...
View More Similar Items