Cow Jumped Over the Moon Cookie JarBy
Mark Chervenka
Cow Jumped Over the Moon Cookie Jar
The rapidly escalating prices of cookie jars has brought many reproductions on the market. This is especially true of the harder to find, more expensive jars like the popular Cow Jumped Over the Moon jar (also called, Hey Diddle Diddle). The body of the cookie jar is a ball-shaped moon; a figural cow forms the handle of the lid. Looking at the jar from the front, a raised figure of a cat with fiddle is on the viewer's right; raised dish and spoon figures appear in the center.
The original jar was made by Robinson Ramsbottom Pottery (RRP) of Roseville, Ohio. On the base is an impressed mark as shown in Fig. 2. RRP remains in operation today but has discontinued making cookie jars. RRP produced cookies jars beginning around 1935 with most of the major production during the late 1940's through the 1960's. Original RRP Cow Jumped Over the Moon jars sell for $300-400 and up depending on decoration and whether the jars have any gold trim.
There are at least two new versions of the Cow Jumped Over the Moon jar which may be confused with the original. One is made here in America (Fig. 6) and the other in China (Fig. 3). These new jars probably wouldn't confuse a cookie jar collector but could well create some problems for general line dealers who aren't aware of how original jars should be marked or decorated.
The captions with the photos and marks explain the differences between new and old. The new jars are worth about $25-$30 each.
ORIGINAL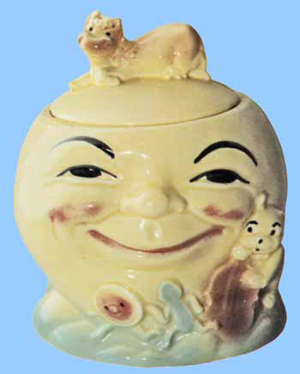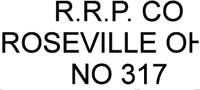 NEW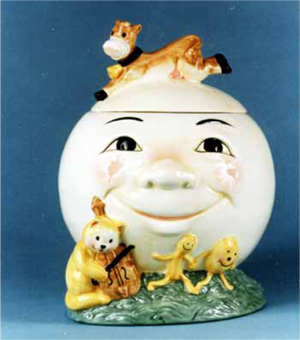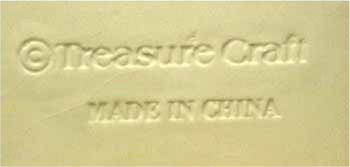 NEW