Copper Base Lamp with Mica ShadeBy
David Rago
Copper Base Lamp with Mica Shade - Van Erp Lamps
Dirk Van Erp was the premier metalsmith of the Arts and Crafts Period. Van Erp, who worked mostly in copper, is best known for his holloware and lighting which he made from about 1908 until about 1930. His San Francisco, California workshop set the standard not only for quality work but for bold Arts and Crafts period design as well.
Original Van Erp lamps with copper bases and mica shades sell for prices in the four to five figure range. The limited supply and hefty price tags of originals have brought out reproductions--some are mass produced commercially, others are made individually by "serious" artists in small studios. The following information will help you separate new lookalikes from old originals.
Dirk Van Erp marked nearly all of his lamps, though a few authentic pieces have appeared without marks. A die-stamped windmill appears in all of his shopmarks which are almost always found on the underside of the lamp base.
The earliest examples of his work, ca. 1908-1910, bear both Van Erp's name and that of D'Arcy Gaw, a short-time associate (Fig. 4). After Gaw's departure, the shopmark had only Van Erp's name and the windmill, ca. 1910-1915, though faint traces of Gaw's name were still visible (Fig. 5). Next, ca. 1915-1920, was the so-called "broken box" mark with the rectangle enclosing Van Erp's name opened along the right side (Fig. 6). The latest mark, after ca. 1920, is a variation of the open box with "San Francisco" above the Van Erp name (Fig. 7).
One of the most distinctive features of Van Erp's copper lamps are their shades--the solid copper frames are inset with panels of translucent mica. The mica panels were attached to the shades with short, folded over copper tabs.
Mica, also known as isinglass, is a heat resistant mineral. Thin sheets of mica are translucent, meaning they allow light to pass through. Thicker pieces of mica, or isinglass, are used in doors of stoves. Mica is a type of silicate that can be separated into relatively thin sheets making it adaptable to such uses as Van Erp's lamp shades.
The number of panels in a shade usually equals the number of lamp sockets in the lamp fixture: i.e., three panel shades had three light sockets, four panels had four sockets. Lamps, both old and new, almost always come in four and three panel versions.
The oldest mica was often a rich, burnt orange color. In later lamps, the mica tends to be more yellow than orange. One way to tell new mica from old is to examine the edges of the mica panels on the inside of the lamp. Newly cut mica has very sharp, rigid edges. Also, the copper tabs that hold the mica panels in place will often show signs of having been bent more than once. This tampering usually shows up on the surface of the tabs as lines in the original patina or as fine cracks extending down into the copper itself. Finally, older mica often shows the collection of dust, wax and grease from 80 years of exposure.
The most common size for an original Van Erp lamp is 20" tall by 20" in diameter. Smaller boudoir lamps measure about 15" by 15; taller table lamps might reach 28" in height. Size alone is not a reliable indication of age.
Period lamps also show an all-over hammered, or planished, surface. Many reproductions are spun on a lathe rather than hand formed and have smooth surfaces with no signs of hammering. Another sign of hand raised originals are dovetailed seams.
Also look for an original finish. Van Erp's original patinas are rich, deep and durable. New finishes have a superficial, waxy look. Original lamps have the patina on the entire lamp including the light sockets; reproductions frequently do not have a patina on the electrical fixtures. Most original pull chains ended in a distinctive acorn shaped pull; most new lamps have a round, ball shaped pull.
David Rago specializes in Arts and Crafts period items and American art pottery.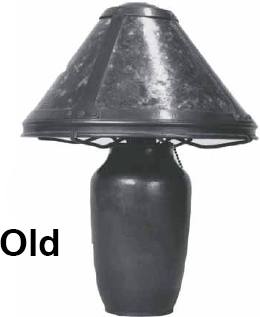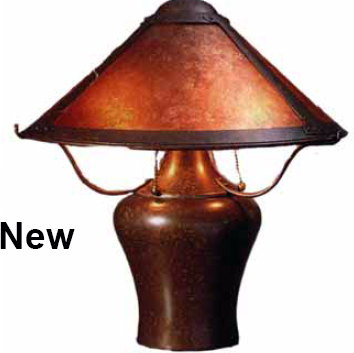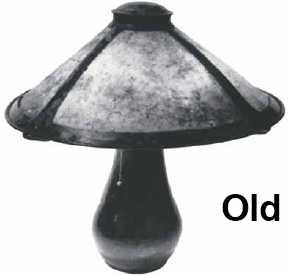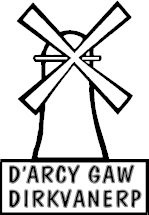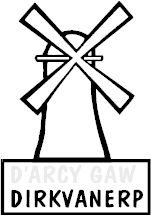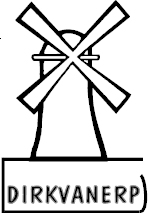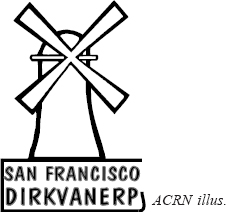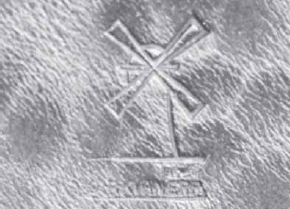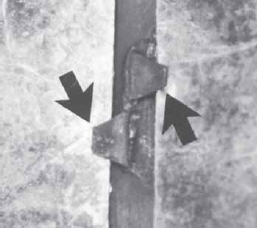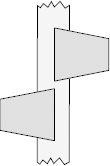 Original surface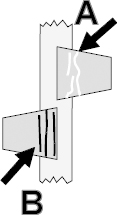 Disturbed surface