Coon Chicken Inn ItemsBy
Mark Chervenka
Coon Chicken Inn Items
faked and reproduced
New Coon Chicken Inn decorations are being applied to restaurant china with confusing back stamps. In some cases, the new decorations have been applied to genuinely old objects.
The Coon Chicken Inn restaurant chain was founded by Maxon Lester Graham in the Salt Lake City area around 1924. The restaurants, which featured fried chicken, soon expanded into Seattle, Washington and Portland, Oregon. The last remaining Coon Chicken Inn location closed in 1957. The company's grinning bell boy trademark was originally used on many items including restaurant china, menus, matchbooks, toothpick holders, cups, bowls and many other pieces all of which are highly collectible.
Some of the most confusing new Coon Chicken Inn items are pieces of faked restaurant china (Fig. 1). There are two ways to catch such fakes: first, by determining whether the decoration is overglaze or underglaze; and, two, checking the back stamp.
Decorations on all original Coon Chicken Inn restaurant china–and virtually all other restaurant china–are underglaze. Overglaze decorations would be scratched by utensils and subject to wear by continuous washing. How can you tell if a decoration is overglaze or underglaze? Underglaze decorations are applied directly on the fired bisque. The glaze that covers the bisque seals the decoration. The entire surface appears glassy smooth. Underglaze decorations may have a slight swelling, but rarely show sharply outlined borders or design details.
Overglaze decorations are applied to china bodies which have already been glazed. The typical overglaze decoration generally shows obvious edges and borders (Fig. 3) around the design. This is often best seen by tilting the china at an angle under a bright light. The well defined edges of most overglaze decorations can also be easily felt with your fingernail.
The fake dinner plate in Fig. 1 has an overglaze decoration. The decoration is not glazed over; the edges of the decoration can be felt with your fingernail. Once you determine a decoration is overglaze, there is really no need to look at the back stamp.
The fake oval plate in Fig. 1 and a companion round plate, are causing considerable confusion, though, because they have a Syracuse China back stamp (Fig. 2) date marked "P-3" representing March, 1935. At this point it's not clear whether someone simply found a stock of old undecorated blanks and applied new decorations or if both a new decoration and a new back stamp are being applied to new china. It really doesn't make any difference. The decorations on pieces with the Syracuse "1935" marks are applied overglaze. They are fakes regardless of the back stamp.
At least twice in previous years new Coon Chicken Inn decorations were also applied to china with the Shenango back stamps shown in Figs. 5-6. Although both marks are authentic marks of Shenango China, no pre-1957 Coon Chicken Inn china ever has these marks. Any pieces of Coon Chicken Inn china with either of these marks are not authentic. The marks were first used in 1968 and 1979 respectively, both long after Coon Chicken Inn went out of business in 1957. In these cases, it is irrelevant whether the decoration is overglaze or underglaze. Since both marks never existed until well after the company went out of business, any Coon Chicken Inn piece with these marks is automatically a fake.
Another mark being faked on new Coon Chicken Inn china is "Made in Occupied Japan." That mark is found on all three pieces of the set shown in Fig. 8. The faked example mark in Fig. 9 is quite sharp but many new marks are very crude and nearly illegible. All the new Occupied Japan marks seen so far are stamped in red ink.
Both the shapes and the mark are pure fantasies. No similarly shaped authentic sets with the Coon Chicken Inn trademark are known. No authentic Coon Chicken Inn ceramic items have ever been found marked Made in Occupied Japan. The three-piece set in Fig. 8 is used by the reproduction wholesale trade for a wide variety of faked names and designs including railroad china.
New Coon Chicken Inn decorations are also being applied to stoneware and crockery. One of the regularly appearing items is a 5-inch diameter crockery "lard tub" being sold as Roseville. Around the side of the new crock is the bell hop trademark (Fig. 10) with "Coon Chicken Inn, Seasoned Lard For Frying." The Roseville attribution comes from the mark of Robinson Ransbottom Pottery Co. of Roseville, Ohio in business today. Their molded mark is "RRP CO Roseville, Ohio." Sellers either deliberately or mistakenly imply that "Roseville, Ohio" indicates the piece is a vintage product of Roseville Pottery. Roseville Pottery was made in Zanesville, Ohio and has no connection with Robinson Ransbottom Pottery made in Roseville, Ohio.
The new RRP crocks are appearing with a variety of black related advertising including Aunt Jemima products. As far as we could determine, Robinson Ransbottom is not applying the new advertising at the factory. Someone else is buying the new crocks and adding the advertising. There are no old counterparts to any of the RRP lard tubs with black-related subjects. All such pieces are modern fantasy products.
At least one, and maybe more, online seller is applying new Coon Chicken Inn decorations to genuinely old brown and white stoneware from the 1920s and 1930s (Fig. 11). This includes items like covered jars, pitchers and jugs. There are no old counterparts to these items. No authentic pre-1957 Coon Chicken Inn bell hop decorations are applied to such stoneware. All the new decorations are applied overglaze. Almost any old piece of crockery of stoneware may turn up with the new decorations. It is hard to predict what shapes might be in the market.
Glass Items
All glass items with the Coon Chicken Inn trademark should be purchased with extreme caution. ML Graham, grandson of the restaurant's founder, has flatly stated that all glass tumblers, for example, are fakes. "In all the original artifacts that we have of my grandparents' inns," said Graham, "there are no glass tumblers or glass ashtrays. I have seen many of them offered for sale, but they are all reproductions."
Several variations of new Coon Chicken Inn glass tumblers have been in the market for a number of years. Some of the restaurant trademarks are simple black outlines with yellow trim. The new example shown in Fig. 12 is blue with red trim. Some new tumblers are marked with various glass company names such as Anchor Hocking. Sellers sometimes claim such company marks indicate age, but those marks have no bearing on age. Anchor Hocking, Libbey and other manufacturers all commonly mark their new table glass. All glass tumblers are new.
Other new glass with Coon Chicken Inn decorations include salt and pepper shakers in clear glass and colored glass, individual clear glass creamers about 1¾-inches tall, half-pint clear glass milk bottles and round clear glass ashtrays (Fig. 13). Like new tumblers, other shapes in glass may also be marked with names of various glass makers, but again those marks are no indication of age.
Paper Items
New paper items are one of the most frequently faked of all Coon Chicken Inn pieces. The new paper fakes fall into two broad categories: mass produced pieces made on printing presses and sold by reproduction wholesalers; and the smaller run do-it-yourself fakes composed on home and office computers and printed on inkjet and laser color printers. Reproduction wholesalers have mass produced menus in various forms for years. Postcards have also been mass produced.
Do-it-yourself paper fakes appear in almost limitless forms. The example in Fig. 16 is a faked paper header for a bag of "advertising" marbles. Other common computer generated fakes printed on paper include clock and watch dials, letterheads and envelopes, paper inserts inside glass paperweights and backs of pocket mirrors.
Novelty Items
Modern copies of the bell hop trademark are applied to many new objects. Two of the most commonly seen new pieces in online auctions are a money clip (Fig. 17) and a ring. The large man's ring uses the same image as the money clip. The lettering on this image varies slightly reading "Coon Chicken Club Cotton, Famous Coast to Coast." Both are fantasy items; no pre-1957 originals exist. Like other fantasy items, there is no way to list all the various novelties in the market. They range from light switch covers (Fig. 18) to neon clocks, illuminated signs and thermometers.
Summary
New transfers may be found applied to all types of glass, china and pottery shapes. In some cases, those shapes may well be old. Just remember that all authentic items made for daily use will have underglaze decorations, not overglaze. Some china with new decorations may be genuinely old.
Generally, all authentic Coon Chicken Inn items have an obviously logical use related to the restaurant business. Authentic pieces are generally divided into pieces actually used in the restaurants, like china, and pieces used in promotion and advertising. It's often helpful to stop and think if you have ever seen similar pieces used by other ca. 1920-1950s restaurants.
If you see a piece offered in an online auction, search completed auctions for similar pieces. If the same sellers repeatedly offers the same item or offers multiple pieces of the same items, chances are the piece is new. Many sellers who sell reproductions conceal bidders' identifications so bidders cannot be contacted and alerted items they are bidding on are new.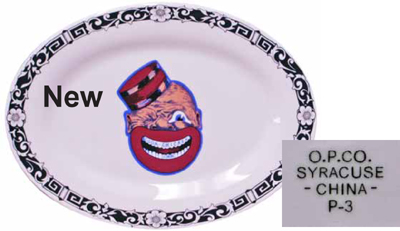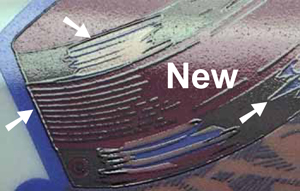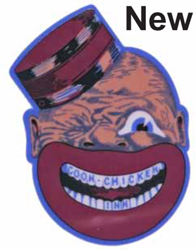 Marks on China Found with New Coon Chicken Inn Decorations