Hillbilly Frog Cookie Jar NotesBy
by Mark & Ellen Supnick, authors of "The Wonderful World of Cookie Jars"
Hillbilly Frog Cookie Jar Notes
The original Hillbilly Frog cookie jar was made by Brush Pottery Company in 1969. It is believed less than 100 were made which are valued at around $4,000. The original mold was sold in 1992 to a potter who made 75-80 jars. These reissues are also highly sought after and were valued at $650-$750. A third version is a low quality reproduction made since 1992 which sold for about $25.
Original jars can be identified by several features produced during the making. The most obvious is size. Original jars are approximately 13 ¼″ high; the re-issue jar, about 13 ¾″ high. The reproduction is considerably smaller at only 12 ¾″ high (Fig. 2).
Another clue to age is in the lid. All the original jars we have ever examined have a small firing hole up inside the lid (see Fig. 3, arrow). The reproduction jar does not have this hole and is smooth up inside the lid.
Color and finish of the jars is also different. On originals, the body is a light green and the hatband and lily pad are dark green (Figs. 5 and 6). On both the reissue and the reproduction jars, only one color of green is used for the body, hatband and lily pad (Fig. 4). The surface of the original Hillbilly frog is a matte (dull) finish; reissue and reproduction jars have a high gloss (shiny) finish. Since finishes can vary from jar to jar, a positive identification based on this test alone may be difficult.
Some, but not all, of the original jars were marked "43-D". The reissues are marked "Re-issue Pottery by J.D." Reproduction jars are unmarked. Jars have been found with scratched bottoms indicating that reissue markings were removed in an attempt to get a higher price. Buyers should be very wary of any signs of tampering on the base.
One of the subtle differences between originals and later jars is the type of pottery used to make them. Originals were made of stoneware; the reissues and reproductions are made of earthenware. This difference is most easily seen by comparing the bottoms of the bases. The original stoneware jar fires to a darker color; the newer jars fire to a bright white color (Fig. 6). Although this is easy to see when new and old are side by side, color is more difficult to judge when viewing single jars.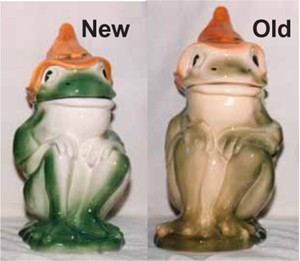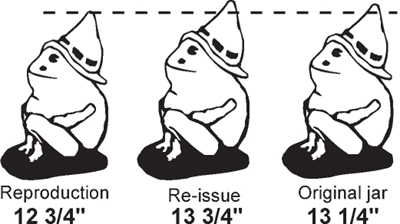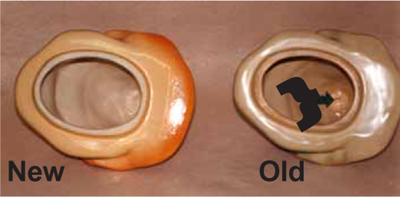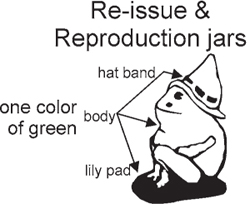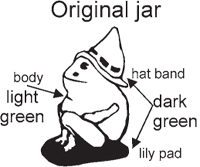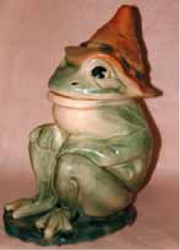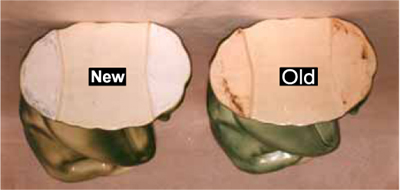 All photos by Mark & Ellen Supnik
Real Or Repro is an industry resource powered by
a vetted marketplace of dealers and winner of numerous
Ecommerce Bytes Sellers Choice awards
for Quality, Usability, Customer Service, Communications and Most Recommended Selling Venue
---
So now,
Our Ruby Lane Shop Owners
invite You
to shop with them for the
Real Deal
on Ruby Lane ...
View More Similar Items