Confusing New Art Glass from Sweden, France and GermanyBy
Mark Chevenka
Confusing New Art Glass from Sweden, France and Germany
Several lines of new art glass from overseas were introduced in 2001 that could be confused with highly sought vintage American-made art glass such as Steuben, Libbey, Nash, Cambridge and other well known makers.
Perhaps the new glass most closely resembling 1910-1930 American originals is a line called Annemone made by Transjo Studio, Transjo, Sweden. This particular line features vertical stripes of powdered glass in contrasting colors. Very similar pieces with powdered glass vertical stripes were made by American glass makers at Steuben, Libbey and by A. Douglas Nash who was granted a patent for this type of decoration in 1934.
Powdered glass was widely used many years before Nash was granted his patent. Frederick Carder at Steuben was making a version in the late teens he called Cintra. Nash made similar pieces he called Chintz at Tiffany Furnaces in the late teens and early 1920s. Chintz wasn't made in any quantity until Nash took over the Tiffany glass shops in 1924 and ran it under his own name, A. Douglas Nash Co. until 1931. By 1931, Nash's business had failed. He was hired by Libbey as a designed and was working there when his patent was granted in 1934. Although Chintz was never made in any numbers at Libbey, Nash designed an entirely new line for Libbey which included many pieces with stripes of powdered glass.
Authentic Cintra is marked with an acid stamp of the Steuben fleur-de-lis trademark (Fig. 10). Authentic Chintz made by Nash at his own company was hand engraved NASH with or without groups of letters and numbers. Pieces from Nash's Libbey series, if marked, were acid stamped with the single word Libbey inside a circle (Fig 7-A.). Another authentic but rarely seen acid mark on Nash-Libbey, is Libbey Crystal in reverse lettering on a solid background (Fig 7-B).
Using Powdered Glass for Decoration
The illustration below is the patent drawing filed by A. Douglas Nash for his Chintz glass, a line of glassware with vertical stripes of powdered glass in contrasting colors. Although Nash was the first to patent this process, it shows essentially the same steps used by all the glass makers who produced this type of glass.
Here are the basic steps. First, a slightly expanded gather of glass (Fig. 1) is shaped in a ribbed pattern mold (Fig. 2) creating raised vertical ribs on the gather (Fig. 3). The hot gather is now rolled over powered glass (Fig. 4) with the powder sticking only to the raised ribs (Fig. 5). At this point, a second pattern mold (Fig. 6) may or may not be used to create additional designs such as horizontal lines, decorative shapes, etc. leaving the final gather (Fig. 7) with one or more patterns. The final gather is then covered in clear crystal sealing the powdered glass and filling in the low areas between the raised ribs. The gather is now read for final shaping and finishing.
Although a plate is shown in the patent application, other shapes such as vases, bowls, etc., can just as easily be made. The plate is formed by simply twirling a cylinder-shaped gather (Fig. 8) which flattens into a plate (Fig. 9).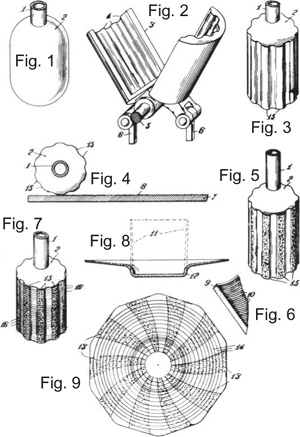 A second new line by Transjo Studio named Flame is also similar to the pre-1932 Steuben lines known as Oriental Poppy and Oriental Jade. The original Steuben pieces feature wide white opalescent vertical stripes often with pointed ends similar to flower petals (Figs. 8 & 9). Steuben pieces with white petals in red bodies are called Oriental Poppy; those in green bodies are Oriental Jade.
The Transjo lookalikes of Steuben's Oriental lines sell for $125-$135. Authentic Oriental Jade and Oriental Poppy can bring $800-$2000 depending on size and shape. Authentic Oriental is marked with an acid stamped Steuben fleur-de-lis trademark (Fig. 10).
Some new lines not only copy designs and techniques of vintage wares but also copy pattern names. Glass Atelier of France, for example, brought out a line decorated with bits of colored glass in clear crystal bodies named Mardi Gras. That was the same name used by Cambridge Glass Co. of Cambridge, Ohio for a similar line that company made in the late 1950s. Both the Cambridge Mardi Gras and the French Mardi Gras feature blown glass in unusual body shapes. Neither original Cambridge or new French pieces are permanently marked. Both lines of Mardi Gras also resemble spattered art glass made in Czechoslovakia, ca. 1920-1938. The new Mardi Gras line includes various shapes of stemware and several sizes of pitchers, 28-54 oz. New pitchers,$39-$46; stemware and tumblers, $17-$20.
Eisch Glass of Germany introduced a slightly more ambitious new line reminiscent of French Art Nouveau techniques developed by Galle and Daum. The examples shown in Figs. 13 and 15, for example, include three-dimensional applied glass figures and all over enameling. The glass figures are reasonably well done and the enameling is first rate and highly detailed. The mosquitoes and lacy foliage on the frog vase are especially well done (Fig. 14). Although these new creations are relatively high–$360 for the frog, $290 for the dragonfly–they are a fraction of Gallé or Daum originals which would be in the thousands.
Any time you're buying without firsthand examination–either online or by absentee bid in a cataloged auction–ask detailed questions to establish age and authenticity. Anyone with a digital camera can create images of any of these new pieces which can appear virtually identical to vintage originals by Steuben, Nash, Libbey, Cambridge and other well known American glass makers.
Both of our Eisch samples had hand-engraved marks in polished pontils. Original Art Nouveau period enameled pieces with applied glass figures were virtually always signed in fired enamel or in acid cutback raised glass. Virtually no similar pieces made during the Art Nouveau period were signed with raw-edged, hand-engraved marks.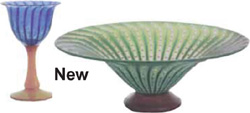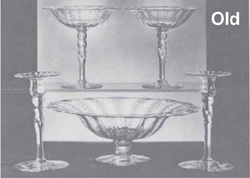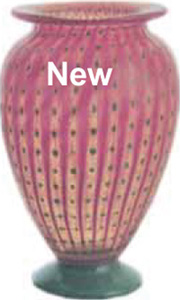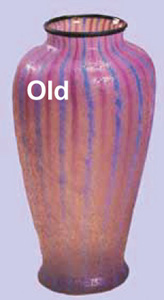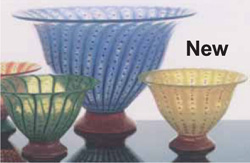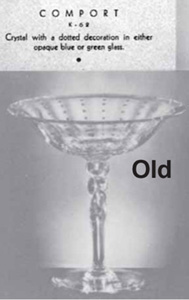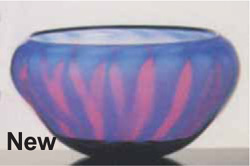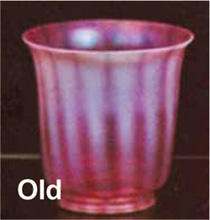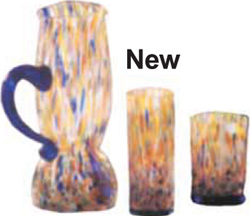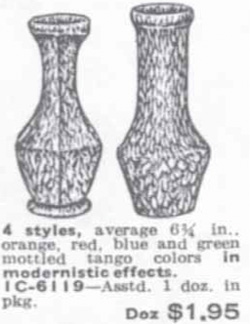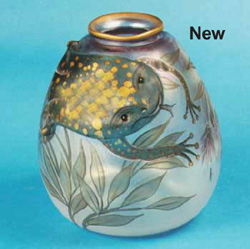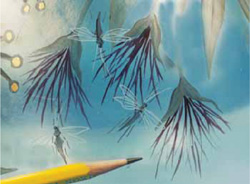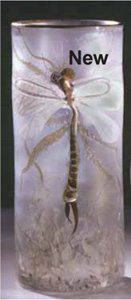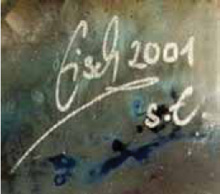 Real Or Repro is an industry resource powered by
a vetted marketplace of dealers and winner of numerous
Ecommerce Bytes Sellers Choice awards
for Quality, Usability, Customer Service, Communications and Most Recommended Selling Venue
---
So now,
Our Ruby Lane Shop Owners
invite You
to shop with them for the
Real Deal
on Ruby Lane ...
View More Similar Items