Confusing look-alikes of the Libbey's Maize PatternBy
Mark Chervenka
Confusing Look-Alikes of Libbey's Maize Pattern
Joseph Locke was one of America's most creative glass designers. He patented many of today's most highly prized Victorian art glass including Amberina, Wild Rose (peachblow), Pomona, and Agata and a unique blown molded ware named Maize--whose surface resembles an ear of corn.
Original Maize was a single layer of opaque to semi-translucent glass in white, ivory (cream), crystal and pale yellow. The husks were decorated (stained) in contrasting colors, generally green but also blue or yellow; stains of all colors are subject to wear. Some, but not all, pieces have details outlined in gold.
Locke filed for and received a 3 ½ year design patent for his Maize Art Glass in 1889. He then assigned the patent to his employer, W. L. Libbey Glass Company of Toledo, Ohio1, which made original Maize in 23 shapes.
One of the characteristics of original Maize is the tapered profile which resembles the natural shape of a real ear of corn. Only the lamp bases and shades have shapes which do not taper. The other prominent feature is that the husk always appears on the bottom half of the piece. The exceptions to this rule are the three pieces in the condiment set--the mustard pot, salt and pepper--which are huskless and the large lamp shade with the husk around the chimney hole in the top. Standard sized salt and peppers have the husk as do all lamp fonts and lamp bases.
New Maize Pattern Glass
A modern look-alike Maize pattern was created by the L.G. Wright Glass Company in the mid-1960s and sold through at least the 1970s and probably early 1980s. Although the pattern itself is nearly identical--with ears of corn with husks on the bottom half--the shapes, type of glass and colors are unlike any of the Victorian originals.
The most obvious difference between Wright's new Maize and Libbey's is in the type of glass. Original Maize is a one color glass with walls seldom more than 1/8″ thick (see top rim, Fig. 1). except for lamps. Wright's new Maize glass is made of two colored cased glass which can reach nearly 1/4″ in thickness. Interior casings on Wright's pieces are pure white to chalky white; exterior colors are pastel pink, yellow, blue and white. None of the husks on Wright's Maize are stained; they are the same color as the exterior body.
Wright made at least 10 known pieces in Maize. The shapes and 1970 wholesale prices are: rose bowl, $8; shaker, $3.80 (listed as sugar shaker in catalogs); 7″ vase $6.20; 9″ vase, $6.75; pickle jar, $15; covered candy jar, $9.75; 25″ banquet lamp, $26; 21″ table lamp, $31; tumbler, $3; water pitcher $8.
Another possible case of mistaken identity are the various carnival glass corn patterns like the Northwood and Imperial pieces in Figs. 3 & 4. None of these carnival patterns were made as serving pieces. No original Libbey Maize was ever iridized.
1 Joseph Locke was a long time employee of the New England Glass Company (NEGC) of East Cambridge, Massachusetts which was operated by Edward Drummand Libbey. In 1888, Libbey moved his operation to Toledo, Ohio and changed the company name to Libbey.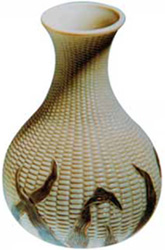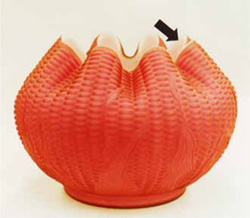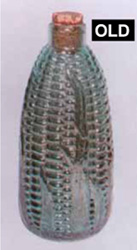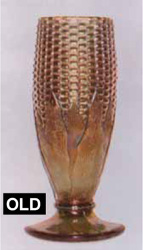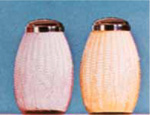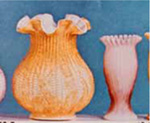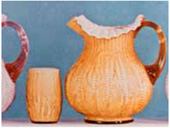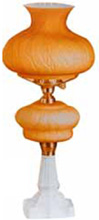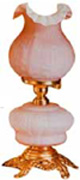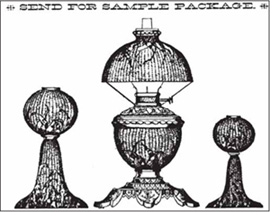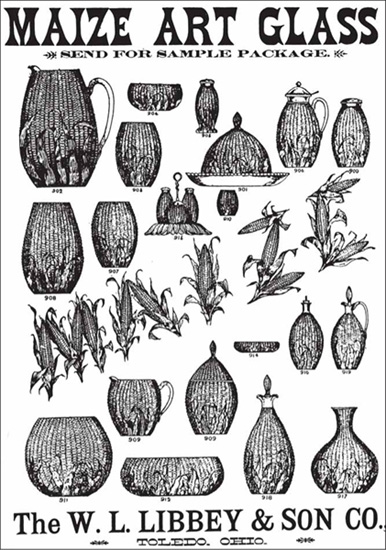 Real Or Repro is an industry resource powered by
a vetted marketplace of dealers and winner of numerous
Ecommerce Bytes Sellers Choice awards
for Quality, Usability, Customer Service, Communications and Most Recommended Selling Venue
---
So now,
Our Ruby Lane Shop Owners
invite You
to shop with them for the
Real Deal
on Ruby Lane ...
View More Similar Items