Confusing Fruit JarsBy
Mark Chervenka
Confusing Fruit Jars - Hand finished $25 reproductions similar to $24,000 originals
Millville Atmospheric Fruit Jars are among the rarest and most expensive glass jars. In the summer of 1998, a cobalt blue quart-size Millville brought $24,200 at a Norman C. Heckler auction in Connecticut. Another Millville at the same auction, an amber half-gallon, sold for $11,000. New jars very similar to the original Millvilles have been reproduced and sold for $25.
The Originals
Original Millville jars were produced from around 1862 to 1870 by Whitall-Tatum & Co., of Millville, New Jersey. Atmospheric Jars are best known from their distinctive clamp-like closures. Original closures are made of cast iron with a thumb screw in the center. Two original styles of clamps are known: the curved style shown in Fig. 2 and a flat style shown in Fig. 3.
The front side (obverse) of original jars is embossed with raised letters "Millville Atmospheric Fruit Jar" as shown in Fig. 4. On the back side (reverse) is embossed "Whitall's Patent June 18th 1861." Original lids are glass and read "Whitall's Patent June 18th, 1861" arranged in a circle. A heavy glass rim is applied around the top rim. The most common color is aqua; other colors are rare.
The Reproductions
Reproductions are similar in shape and have the curved style of lid clamp with an operating thumbscrew. Clamps on new jars chrome plated brass and artificially darkened to create the look of age. New jars have an applied glass ring around the top rim similar to originals. A half-gallon size has been found. New colors include clear, amber, ruby, cobalt blue and green. The new jars were made in India.
Fortunately, new jars and new lids are NOT embossed. But given their similarity to the high priced Millvilles, they have the potential to be offered as "unmarked" or "prototype" originals.
Since the new jars are hand-finished, many buyers may not be suspicious enough to conduct a thorough examination. Auction prices are bound to entice some buyers on taking a chance on new bottles sold on Internet auctions and other outlets.
Thanks to Tom Caniff for alerting ACRN to the new jars.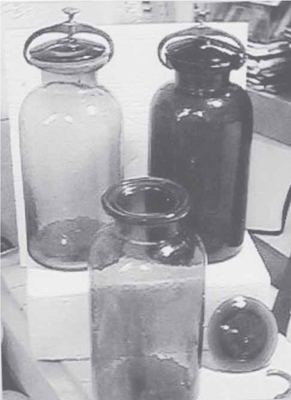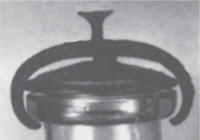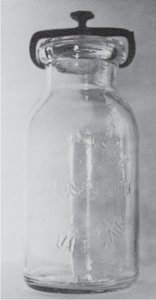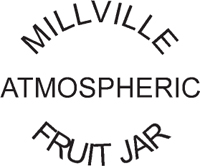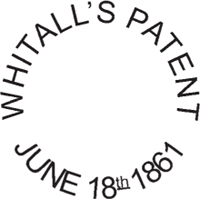 Real Or Repro is an industry resource powered by
a vetted marketplace of dealers and winner of numerous
Ecommerce Bytes Sellers Choice awards
for Quality, Usability, Customer Service, Communications and Most Recommended Selling Venue
---
So now,
Our Ruby Lane Shop Owners
invite You
to shop with them for the
Real Deal
on Ruby Lane ...
View More Similar Items