Confusing Apothecary Style Bottles and Jars with Dated LabelsBy
Mark Chervenka
Confusing Apothecary Style Bottles and Jars with Dated Labels
A group of confusing new apothecary bottles and jars are on the market. Not only are the new pieces hand finished like old examples, but also carry artificially aged paper labels with simulated pen and ink handwriting and 19th century dates.
Disregarding the presence of labels, originals of some copied shapes can bring $150-$300. ACRN bought the set of nine new bottles and jars shown here for $140, an average of $15 each. There are no permanent marks on the new bottles and jars; the only mark is a paper label reading "Made in India".
The new bottles and jars copy very specific types of glassware common to late 19th to early 20th century drugstores. Display or sample jars, as shown in Fig. 1, were used to show customers small selections of different types of products available. The narrow neck tincture bottles, Fig. 2, held liquid preparations. Bottles with wide openings called saltmouth bottles, Fig. 3, held various chemical compounds (no association with ordinary table salt).
Original jars and bottles in these styles from the time period listed above generally have ground glass stoppers. Original grinding is smooth and even around both stopper and inside rim and generally appears as a straight sided horizontal band. All of the new pieces in this article have very crudely ground stopper and rims with wide dips and bends in the margins of the ground bands (Fig. 7).
None of the new pieces have pontil marks but pontil marks are not a reliable feature to date these styles. At the end of the 19th century, pontil marks had about disappeared from this type of original glassware. In a 1902 catalog of one of the largest producers, Whitall Tatum, for example, tincture and saltmouth bottles with pontil (punted) are only available by special order and at a 30% price surcharge.
The new bottles do, however, show a large amount of hand tooling. Mouths on the tincture bottles and display jars, for example, are all hand formed. Further, the bases of the display jars are applied as separate pieces of glass. There are no seam marks in either the bodies or the necks of any of the new pieces.
The main clue to the new glass is the low quality: there are many flaws and air bubbles. Original jars and bottles in these shapes were professional tools with very specific purposes and manufactured with strict controls. The original glass was well made of very high quality, virtually flawless and optically clear.
Although paper labels were commonly used on original jars and bottles like these, the new labels are complete fantasy creations. Most of the new labels are based on specimen or collection labels, not chemical or pharmaceutical labels. Simple logic can catch most labels. A label for a large bulky substance on a narrow necked tincture bottle makes no sense. How would anything material other than liquid fit through the small neck?
The labels are only minor points. Ignore them and focus your attention on the ground stoppers and rims and quality of glass.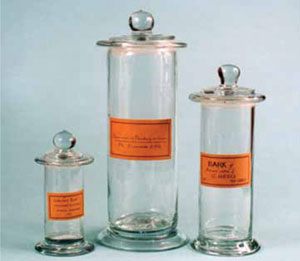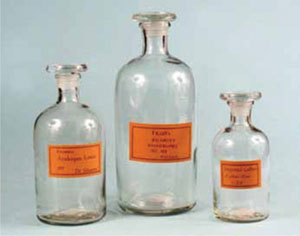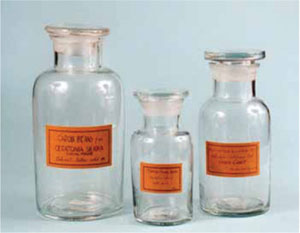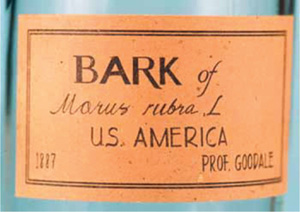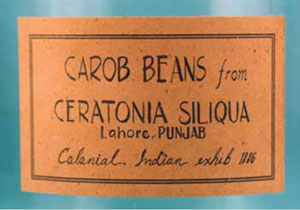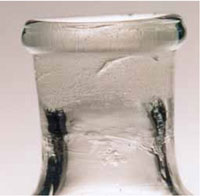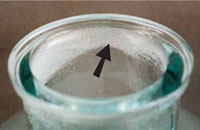 Real Or Repro is an industry resource powered by
a vetted marketplace of dealers and winner of numerous
Ecommerce Bytes Sellers Choice awards
for Quality, Usability, Customer Service, Communications and Most Recommended Selling Venue
---
So now,
Our Ruby Lane Shop Owners
invite You
to shop with them for the
Real Deal
on Ruby Lane ...
View More Similar Items