Confusing New Reamers in China and PotteryBy
Mark Chervenka
Confusing New Reamers in China and Pottery
There are a number of new ceramic reamers on the market that could easily confuse uneducated collectors and dealers. The new Hall China and new Red Wing Pottery reamers could prove especially troublesome if they have been slightly altered by unethical sellers.
China Specialties of Strongsville, Ohio has produced three new ceramic reamers in cooperation with the Hall China Company (Fig. 1). The new reamers are decorated with collectible Hall China dinnerware patterns including Red Poppy, Autumn Leaf, and Silhouette. These three patterns were never used on original Hall China reamers. Original Hall China reamers were made only in solid colors and one floral pattern. The shape of the new and old reamers is also slightly different. Sides on the original are ribbed; the new reamer has smooth sides.
The Red Poppy reamer was released first and had a production run of 450. It is gold stamped on the bottom "1993 China Specialties Exclusive Limited Edition by Hall" (Figure 2). Autumn Leaf, with a run of 1,550, is stamped "Special 60th Anniversary Autumn Leaf, 1933-1993, China Special Exclusive Commemorative Limited Edition by Hall." The last release featured the Silhouette pattern. Issue price for all three reamers was $59.95. China Specialties reported that they planned to issue additional patterns including the widely collected Crocus. Although all three reamers were marked, there is some concern that unethical sellers may have altered or removed the gold stamp on the bottom. Be alert for signs of tampering such as scratch marks or an irregular surface.
Hall China's Autumn Leaf pattern also appeared on another new ceramic reamer by C. & C. Collectable Creations of Colorado Springs. Their new reamer is copied from an old glass reamer made by Federal Glass. This reamer is also marked with a gold backstamp. It was introduced in 1992 and discontinued in 1994; less than 90 were produced. It was issued with other Autumn Leaf items and sold for $52.50.
Another new reamer based on an old style is the reproduction Red Wing reamer shown in Fig. 4. This pattern is called Gray Line or Spongeband. The new reamer was introduced by Locust Industries in 1993, with a production of 939 pieces. It is clearly marked on the bottom with a permanent, fired on decal. It is 4 1/2" in diameter compared to the original's 6 1/4" diameter. Again, although the new reamer is marked, be alert for possible removal or alteration. Original Red Wing reamers are rare and sell from $500 up.
Figure 7 shows a variety of blue and white china reamers. Those stamped Thailand or Italy make it easy to distinguish new from old but the unmarked examples can be confusing. Several old patterns such as Blue Onion and Flow Blue-type styles appear on new pieces which may be mistaken for their older counterparts. Only one of the four reamers shown in Fig. 7 is old; the old reamer is on the far right. In distinguishing old from new, be wary of any ceramic reamer with a high gloss, oily feeling or a smoothly glazed bottom. Most of the old china reamers were not glazed on the bottom.
There are also some confusing figural reamers in the market. One of the known manufactures is California Classics. They have made a pig and duck which first appeared in 1989. Our examples were purchased for $5.99 each. Unfortunately, these reamers have no markings to indicate origin or age. Unless they are found with the modern original box, they could be mistaken as old. The glossy finish, however, is a good indication of their recent vintage.
Perhaps the most important of the new issue figurals were made by ceramic artist Terry Dunn of Scottsdale, Arizona and distributed by John Liles of Las Cruces, New Mexico.
Production of these reamers first began in 1981-82 and included 25 sets of 14 reamers. Included are such unique figures as a bulldog, snowman, turtle and snail. Mr. Liles was also responsible for other whimsical characters such as a three-piece fish (1985), Grandma Pig (1985), Fisherman Toby (1982), Large Elf (1984), a set of three mice (1983) and others.
Due to popular demand, Mr. Liles had additional reamers made in 1994 (with the exception of the elf). A total of 32 Dunn/Liles issues have now been made with plans for an additional five to six in 1995. Samples of the Dunn/Liles reamers are shown in Fig. 9. All these reamers are marked and numbered and should not easily be mistaken for old.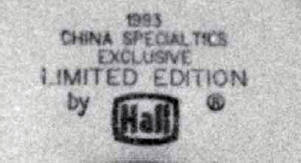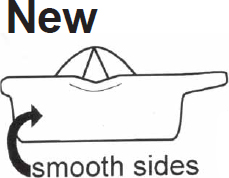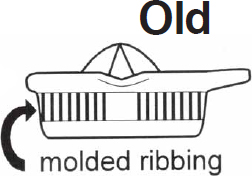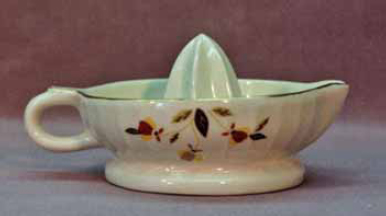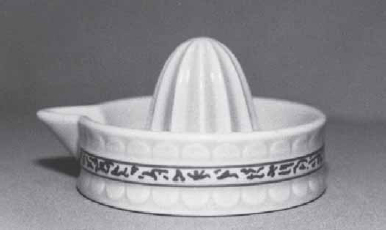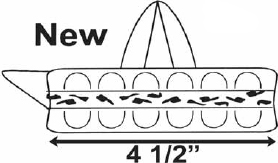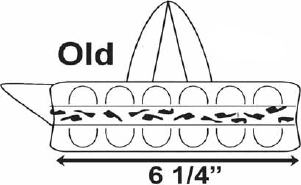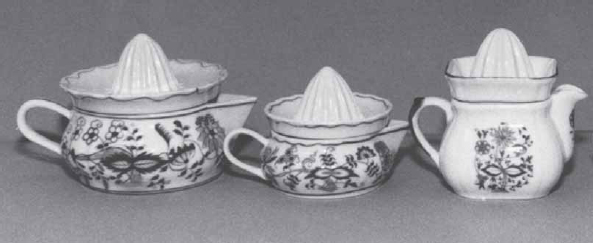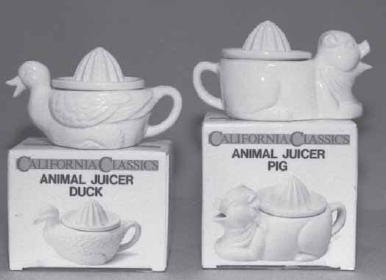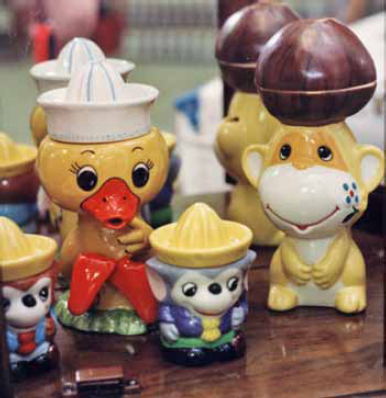 Real Or Repro is an industry resource powered by
a vetted marketplace of dealers and winner of numerous
Ecommerce Bytes Sellers Choice awards
for Quality, Usability, Customer Service, Communications and Most Recommended Selling Venue
---
So now,
Our Ruby Lane Shop Owners
invite You
to shop with them for the
Real Deal
on Ruby Lane ...
View More Similar Items