Cloverine Salve tinsBy
Mark Chervenka
Cloverine Salve tins
Cloverine Salve is a patent remedy for chapped and dry skin. The product is of interest to many depression glass collectors because depression glass was one of the premiums you could receive for selling Cloverine Salve door-to-door.
In the 1944 Cloverine premium catalog shown below, for example, Fire King ovenware is featured in a one-half page layout. The entire 17 piece set, in either blue or green, was offered free to anyone selling 12 boxes of Cloverine Salve (at 25¢ a box). Cherry Blossom by Jeannette Glass Co. was another depression glass pattern available as a premium during the 1930s.
Because of this relationship to depression-era glassware, Cloverine tin containers are considered a "go-with" and included in many depression glass collections. Unfortunately, many buyers of the tins don't realize Cloverine Salve is still being manufactured and sold today in essentially the same tin container. You can frequently find new tins being offered as old in online auctions, malls and shows.
Dating the tins
Once you know that modern versions of the Cloverine tin do exist, separating old from new is relatively easy. Although the brand name Cloverine Salve has remained unchanged for almost 100 years, the names of the companies actually manufacturing the salve has undergone frequent changes.
The original manufacturer was Wilson Chemical Company of Tyrone, Pennsylvania. This name with the Pennsylvania address is printed on the lid of original tins. Sometime in the 1950s or early 1960s, (we couldn't determine exactly when), the brand name was sold to a distributing firm in New York. Tins from this period have the New York address which includes a modern zip code.
The brand name was sold again in the late 1960s or 1970s (exact date not known) and brought back to Tyrone, Pennsylvania by Hillcrest Products. Cloverine Salve is today owned and sold by Medtech Inc. of Jackson, Wyoming.
Tins have always been sold in individual boxes. An original box couldn't be located for this article but a ca. 1960-70s box is shown in Fig. 8. Boxes can be dated by company names the same way as tins.
The main point is that vintage tins sold to receive depression glass as premiums and earlier ALWAYS INCLUDE Wilson Chemical and NEVER INCLUDE a zip code. Most genuinely old tins do not have the salve inside; many new tins sold as old still contain the salve. Prices printed on old tins varies.
Original authentic 1 oz. tins sell for $20-$25. Retail price today for a 1 oz. tin of Gloverine Salve ranges from $4-$7. Cloverine Salve is readily available on internet drugstore sites.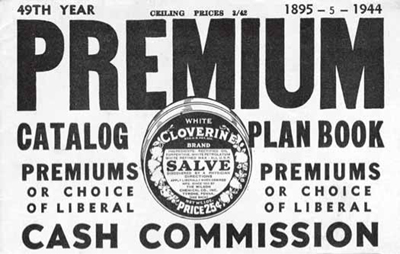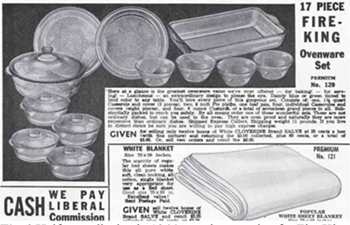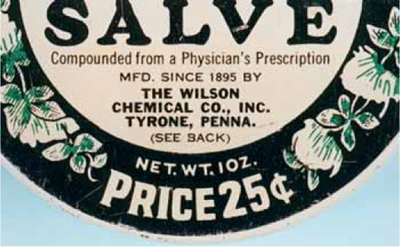 Old style: Wilson Chemical Co, Penna.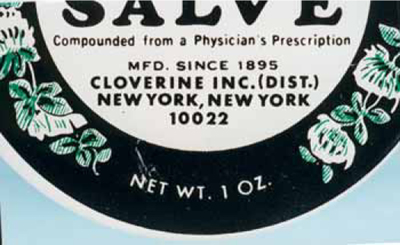 1960-70s: Cloverine Inc, NY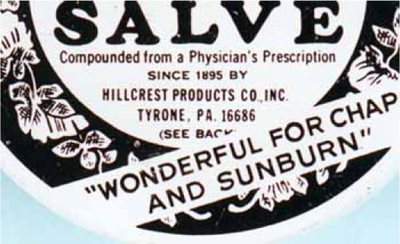 Mid 1970s: Hillcrest Products, PA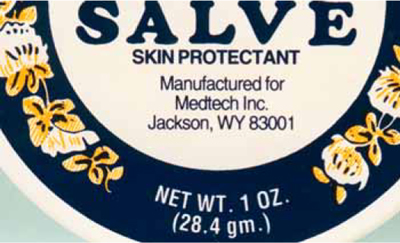 1999: Medtech Inc, WY