Clarice Cliff PotteryBy
Mark Chervenka
Clarice Cliff
Pottery
As you probably know from articles in antiques publications, pottery by Clarice Cliff has brought record prices. In auctions, teapots have sold for over $3,000; plates, up to $3,300; vases and jugs, $975 to $1,800. Cliff figurines have sold for over $6,000; vases have brought over $10,000.
The increasing popularity of Cliff's work-- plus the scarcity and high price of originals-- has created a demand for reproductions and look-alikes and a temptation to sell the new reproductions as old. This article presents a brief history of Cliff's pottery and a list of known reproductions on the market.
Clarice Cliff: The potter
Clarice Cliff was born in Tunstall, England in 1899 and grew up in the Staffordshire pottery district. She began work at 13 years of age and by 1916 was a studio painter at Wilkinson Royal Staffordshire Pottery in Burslem, England.
In 1920, Wilkinson took over the nearby Newport Pottery which included a large amount of unsold plain white pottery. By 1926-27, Cliff had begun to decorate this unsold white ware with bright hand brushed paint in Art Deco designs. The designs were so successful that an entire new line was put into production in1928. New Art Deco ceramic shapes were added in 1929. In the late 1930s changing public tastes limited production and WW II ended it altogether. Some production was resumed after the War and continued off and on until 1963.
Interest in Cliff's work was renewed with an exhibit of her works in England at both the Victoria and Albert Museum and the Brighton Museum in 1972. Later, in the same year, Cliff died and prices of her pottery began rising. In 1982, the Metropolitan Museum of Art in New York placed a small collection on view. Another English exhibition was assembled by the Warwick Museum in 1987.
Original marks and backstamps
A great number and variety of marks were used on original Cliff pottery. That's why it is hard to show a "typical" mark or list general guidelines of original marks. Originals were hand painted, rubber stamped and lithographed; two or more methods were often used on one piece. Most rubber stamped and lithographed marks are in black ink but other colors of ink were used as well. A great deal of Cliff pottery is marked but many pieces are not. Entire sets of dinnerware, for example, that have survived the years intact will frequently have only one piece that is marked. Additional variations of marks appear on items made for large retail stores such as Harrods.
From 1928-1937, most marks included a line name, such as "Bizarre Line" and the name "Clarice Cliff". These pieces can also have either the Wilkinson or Newport Pottery names as well. Between 1937 to 1963, the line names were dropped and backstamps had only the name "Clarice Cliff." In 1963, the use of the Clarice Cliff name was ended when the Newport factories were sold to a company named Midwinters. Midwinters was in turn acquired by the Wedgwood Group in 1970.
Reproductions, fakes and forgeries
There are several potential problems with Cliff pottery: 1) New decorations on old undecorated blanks with original marks; 2) New marks on old unmarked decorated pieces; and 3) Application of forged old marks to new legitimate reproductions.
In 1985, Midwinters (which took over Newport in 1963), decided to produce limited editions of some Cliff pieces. These included: Conical shape teapot in Umbrellas and Rain pattern; Conical sugar shakers in six different patterns (at this time unable to verify pattern names); a Mei Ping shape vase in Honolulu pattern and a 13" diameter wall plaque (charger) in the Summerhouse pattern. Prices for the limited editions ranged from about $20 for the sugar shakers to around $200 for a vase. Most of this production was distributed in England but some was presumably purchased by tourists and could turn up anywhere. All the Midwinters pieces were originally dated 1985 and carried a special backstamp. If you encounter the above shapes and patterns, though, you might want to double check the mark. The Midwinter reproductions could carry forged old backstamps.
The first outright fakes began surfacing about one year later, 1986, in London, England. These were made as copies of a Lotus (shape) vase. The glaze and painting were described as very poor but the forged backstamp was said to be very convincing.
Since the mid-1980s a number of pieces of previously undecorated blanks with genuine backstamps have been newly painted in expensive old patterns such as Red Roofs, House and Bridge and others. These pieces were reported in England.
Next, a group of legitimate reproductions was introduced in 1993 by The Metropolitan Museum of Art (MMA) in New York. There were six new pieces made. Those included: a 6 1/2" Conical shape teapot of 20 oz. capacity decorated in Orange Autumn Cafe Au Lait pattern; a Conical shape 6 oz. cup and saucer in Orange Autumn pattern; a 4" Bonjour shape jam pot in Windbells pattern; a 6 1/4" vase Shape #278 in Melon pattern; and a 10 1/4" dinner plate in an early abstract design.
All the MMA pieces were painted by hand in the Philippines. They are all marked with an impressed copyright symbol, the year 1993 and the letters MMA (Fig. 2).
As an experiment, we were able to obtain some forged old backstamps and applied them to several new MMA pieces. We first filled in the impressed marks with a thick transparent glaze then applied the marks. The result in Fig. 3, even at twice actual size, shows that the impressed mark is all but invisible. If we can do this well, then a professional can surely do much better.
Separating new from old is not easy. Due to the large number of original backstamps used, it is hard to set down rules of how old marks should appear. The forged marks we used looked a little ragged under magnification but not much more so than the usual differences that appear among genuinely old marks. Original Cliff pottery is heavier than the reproductions but, again, this knowledge isn't much use if you haven't examined originals.
The shapes of the MMA pieces–the vase, jam pot, cup, saucer and plate–are unlikely to call attention because they are virtually exact copies of original shapes. The MMA teapot, however, is unique. It is very unusual for original Conical shape Cliff teapots to have open pierced handles; the majority of originals have solid handles. We were unable to examine any of the Midwinter pieces and can offer no advice on them.
How widespread the use of forged marks on the Midwinter and MMA reproductions isn't known. Good forgeries escape detection, it's the poor work that gets caught. If you encounter any of the reproduced shapes with an apparently old backstamp be sure to give the mark a thorough inspection.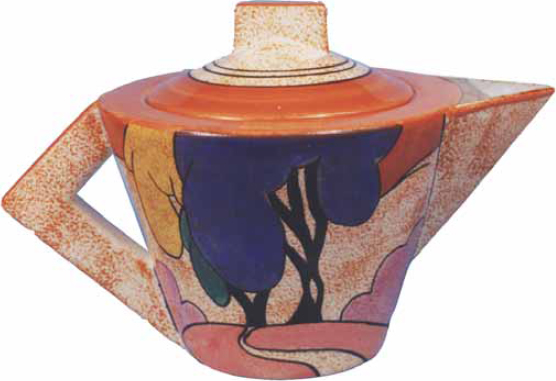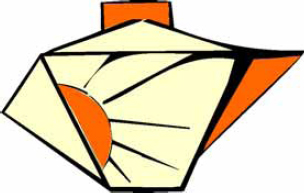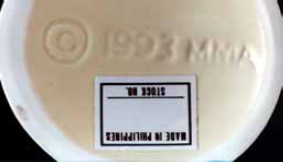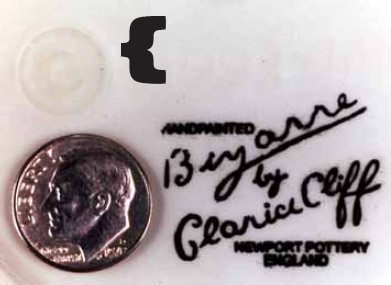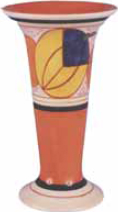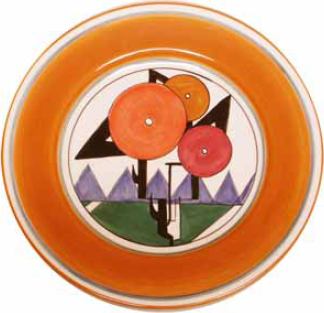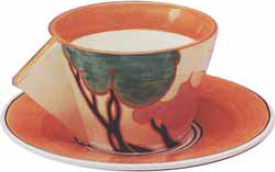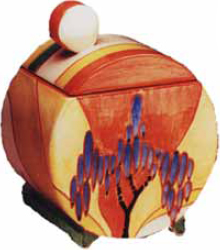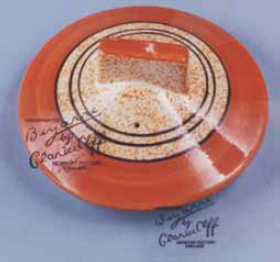 Real Or Repro is an industry resource powered by
a vetted marketplace of dealers and winner of numerous
Ecommerce Bytes Sellers Choice awards
for Quality, Usability, Customer Service, Communications and Most Recommended Selling Venue
---
So now,
Our Ruby Lane Shop Owners
invite You
to shop with them for the
Real Deal
on Ruby Lane ...
View More Similar Items