Cherry Blossom Depression GlassBy
Mark Chervenka
Cherry Blossom Depression Glass
Cherry Blossom is one of the most popular depression glass patterns. It was made by the Jeannette Glass Company ca. 1930-1939 and commonly produced in pink, green, Delphite (opaque blue) and clear. Red, yellow, Jadite (opaque green) and translucent green were also made.
Reproductions have been on the market since 1973. The majority of new pieces have been made overseas but some were manufactured in the United States. After an absence of a number of years, many pieces of Cherry Blossom were again offered by reproduction wholesalers in the 1990s. In preparing this article, reproductions from the 1970s as well as examples of the later reproductions were purchased.
Reproduction depression glass was sold by many reproduction wholesalers including AA Importing, Fred and Dotties, Castle Antiques & Reproductions, Upper Deck and others. It was also sold by many mail order catalogs such as Country House, Martha Stewart by Mail, Victorian Paper and Betty's Attic.
Some reproductions have been in the market for over 40 years and may be beginning to show signs of wear similar to vintage pieces from the 1930s. Differences between old and new are discussed in the captions, photos and illustrations below.
Reproduction Cherry Blossom has been made in the following shapes (others may exist):
berry bowl, 8 1/2"

butter dish, child's covered

butter dish, covered

cake plate (on 3 feet)

cereal bowl, 5 3/4"

child's cup & saucer

cup & saucer (full size)

pitcher, 36 oz., all over pattern (AOP) scalloped base

plate, 9" dinner

shakers

platter, 13" divided

tray, 10 1/2" two-handled sandwich

tumbler, (AOP), scalloped foot
New colors include pink, green, red, transparent blue, Delphite, cobalt blue and a variety of iridized finishes.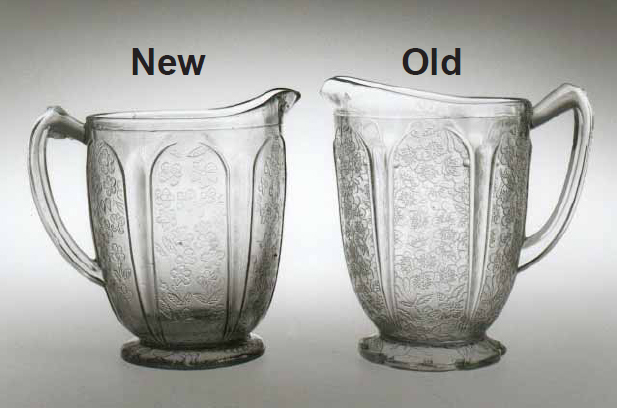 Some Basic Differences Between New and Old
As a broad general rule, most Cherry Blossom reproductions can be identified by poorly shaped cherries and leaves. Old leaves have a realistic appearance with serrated (sawtooth) edges and veins that vary in length and thickness. New leaves commonly have perfectly straight and uniformly even veins that form "V"`s (Fig. 2). Original cherries usually give an illusion of a rounded 3-D ball-shaped figure; many new cherries appear to be only a flat circle. Differences between old and new patterns are generally greater in earlier 1970s reproductions than in more recent reproductions.
Most new pieces also feel slick and greasy. This is due to a high sodium content in the glass formula and is a common warning sign of reproduced glass in general. There is also a lingering vinegar smell to the new glass that is not always easy to wash away. Since the smell wears away with time, it is generally not noticeable on new pieces a few years old but very obvious on pieces less than several few months old.
Several green reproductions do fluoresce. This includes a new butter dish, tumbler, cup and and several other shapes so don't use black light as your only test of age.
Some photos in this article may appear lighter or darker than another photo used for comparison. This is due to different colors--pink generally records darker than green, etc. Other than that, the photos are accurate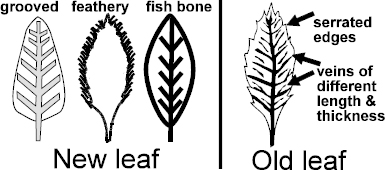 Berry Bowl 8 1/2"
Made new in pink, green and cobalt blue (cobalt was not an old production color). Turn the bowl over and look at the bottom. There are 9 cherries in the bottom of the old arranged in groups of 4, 2 and 3. The 9 cherries in the new bowl are arranged in groups of 4, 1 and 4. Edges of old leaves are serrated; new smooth.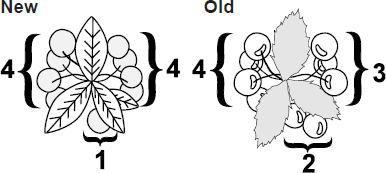 Butter Dish Child's Size.
This is a fantasy item; no authentic child's butter dishes in Jeanette's Cherry Blossom has ever been found. All pieces now on the market are new.
Butter Dish Full Sized
All new lids we have examined have a smooth band separated from the rest of the lid by a single line as in Fig. 4. On old lids, the band is separated by two lines as in Fig. 5.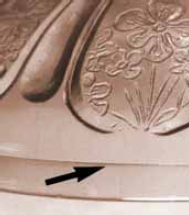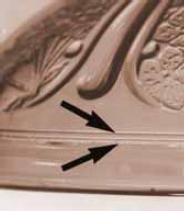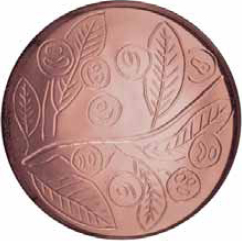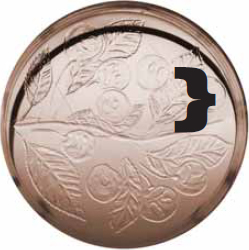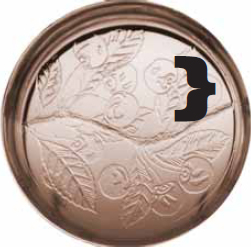 Cake Plate (on 3 feet)
There is a raised ring on the bottom side of the cake plates. On earlier reproductions, the pattern is misaligned where it crosses the ring (see Fig. 9). Current reproductions have corrected this problem and the pattern is now in alignment. However, the surface of the new cake plates is very pitted (Fig. 10) and leaves and cherries are still poorly formed. Old cake plate in Fig. 11.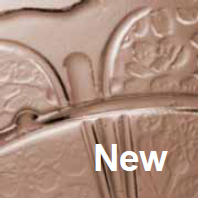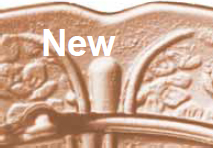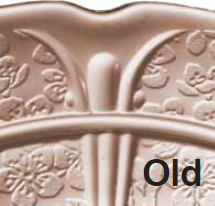 Cups (Full size)
In old cups, the design around the outside looks realistic with vertical twigs going off from a larger branch (curved arrow). Each old twig ends in a blossom (large arrows). In new cups, the branch and twigs look almost like an insect. The new twigs do not touch the blossoms--there is a gap between them. The pattern design fills the bottom of old cups; the design is faint and weak in the bottoms of new. (Saucers discussed with plates, next page.)
Cereal Bowl
The circle at the bottom of the new cereal bowls is 2" in dia.; the circle in the bottom of old bowls is 2 1/2".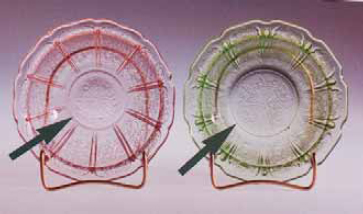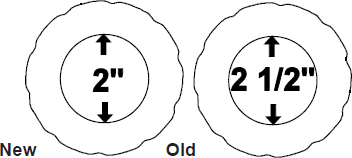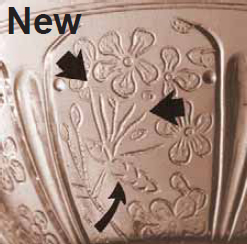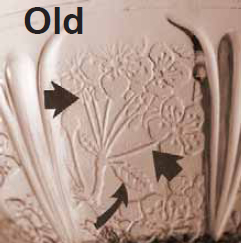 Pitcher 36 oz.
All over pattern (AOP), scallop foot as shown in Fig. 1. The easiest way to tell old from new is to turn the pitcher over and look at the design in the bottom (Figs. 15-16). Now, count the cherries: old pitchers have 9; new have only 7. The leaves and cherries on the new are also poorly designed with lots of open space. Leaves and cherries on the old are realistic and cover almost the entire bottom surface.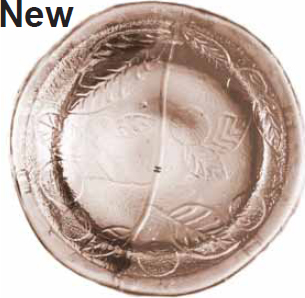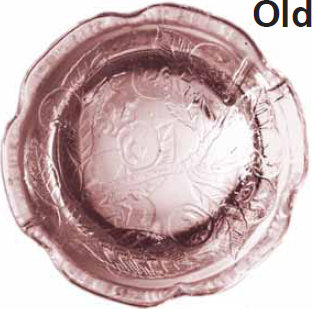 Plates (and saucers)
New dinner plates and saucers have a raised mold seam around their top rims. Seam lines in old were removed leaving a smooth surface. New saucers are about the same thickness as old. New dinner plates are about 1/4" thick which is about twice the thickness of old dinner plates.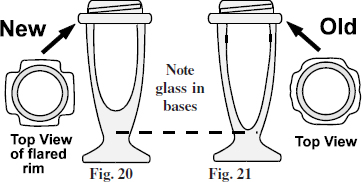 Shakers
New shakers have much more solid glass in the bottom than the old. The flared top rim of new shakers appears like four separate squared off tabs. Top rims of old shakers are scalloped with curves. Keep in mind that only a few original shakers are known--finding one at the local flea market would be very unlikely.

Sandwich Tray, Two Handled
Hold the tray with the handles at the sides. In all new trays, the branch in the center runs left to right (Fig. 22). In most, but not all, old trays the branch runs top to bottom.
13" Divided Tray
Although the design is better in this piece than on other Cherry Blossom reproductions, the new tray is much heavier than the original. Weight is difficult to test without a scale though, so look at the glass in the bottom. Glass in the bottoms of new trays is nearly 1/2" thick. That means if the glass is thicker than five nickels or six pennies tall, the tray is new.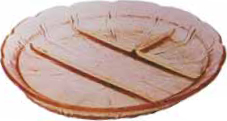 Tumblers (AOP-scallop foot)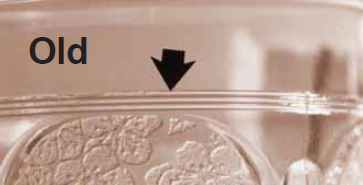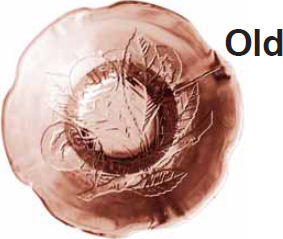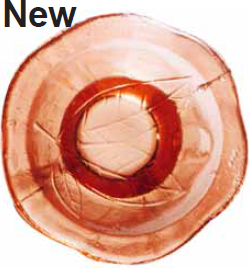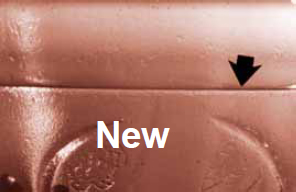 NEW TUMBLERS The first style, New Style "A", (Figs. 26-27) was introduced ca. mid1970's and continued to be made through at least the mid-1990's. This style is missing the three lines around the top rim that are found in the old. The design in the foot has the typical new leaves and cherries. The pattern in the foot is mostly in the center with lots of open space around the edge of the foot.
New Style "B" There is also another type of new tumbler which we are calling Style "B". This style does in fact have three lines around the top rim but the lines are not continuous. They are strongest above the design panels but disappear completely over the rib between panels (Fig. 28). The design on the foot is also very weak and usually found in the very center only (Fig. 29). This style was made in pink, green and Delphite Blue which are close matches for original colors. Style "B" was made around 1980 and is described by H.M. Weatherman in "Price Trends 1981" but not mentioned by other authors. ACRN located four samples of Style "B: tumblers: 2 had obviously fake wear applied (with sandpaper or concrete) and 2 showed no sign of any wear.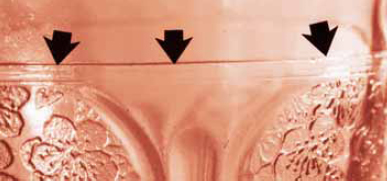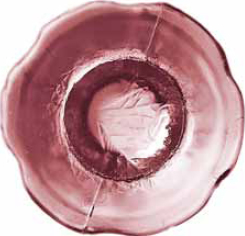 CAUTION: The only common link among new Cherry Blossom shapes is the poorly formed leaves and cherries. All other information applies only to the specific shapes being discussed unless noted. Information on a plate, for example, cannot be applied to a cup, etc.
Real Or Repro is an industry resource powered by
a vetted marketplace of dealers and winner of numerous
Ecommerce Bytes Sellers Choice awards
for Quality, Usability, Customer Service, Communications and Most Recommended Selling Venue
---
So now,
Our Ruby Lane Shop Owners
invite You
to shop with them for the
Real Deal
on Ruby Lane ...