Cheap new hatpinsBy
Mark Chervenka
Cheap new hatpins
There was a wave of cheap new hatpins initially offered in 1999 through mail order catalogs and import trade shows. Three of the various styles available are shown below. Retail prices ranged from $8-$10.
Authentic hatpins have three distinct parts— the head, the shank, and the finding. The head, also called the ornament, is the decorative part of the pin. The shank is the pointed metal shaft beneath the head. A finding hides the joint between the shaft and head.
The most obvious difference between original pins and this batch of reproductions is the shank. The new shanks are 22 gauge brass with a silver tone finish. New shanks are so weak, several were badly bent in normal handling for photography. Pick one up and you'll know instantly it could never pierce a hat.
Points on the vast majority of old shanks were mass produced in machines which would cut the end into a point leaving it smooth. Look closely at points on the new shanks and you'll find they are made by grinding. The grind marks are rough to the touch and easily seen with a 10X loupe (Fig. 4).
Quality of the work is also very low. The Nouveau pin, for example, is attached with an exposed half-inch blob of solder. Beside being unsightly, the new solder is bright and shiny without a trace of patina which would form over the years on an old solder joint.
The only confusing feature of the new pins is the finding (Figs. 5-6). All the pins examined for this article had a ball shaped finding closely resembling old original findings. There are two features that can be used as clues to date these new findings.
First, the finish of old findings virtually always matches the finish of the head. In this batch of new pins, the heads had a dull "antique" silver finish but the findings all had a bright shiny silver finish. Second, all new findings were exactly the same. Original findings were carefully matched to blend with the design of the head. Be suspicious if pins with different heads all have the same finding.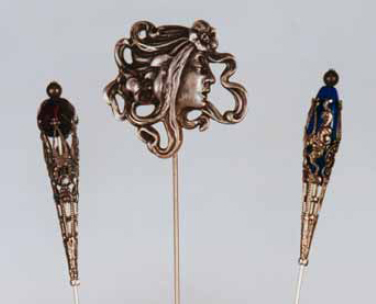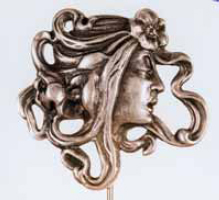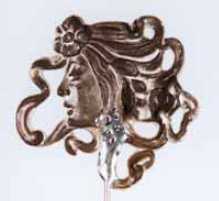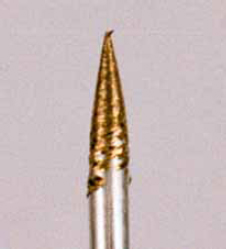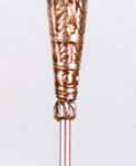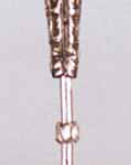 Real Or Repro is an industry resource powered by
a vetted marketplace of dealers and winner of numerous
Ecommerce Bytes Sellers Choice awards
for Quality, Usability, Customer Service, Communications and Most Recommended Selling Venue
---
So now,
Our Ruby Lane Shop Owners
invite You
to shop with them for the
Real Deal
on Ruby Lane ...