Cast Iron Mantel OrnamentsBy
Mark Chervenka
Cast Iron Mantel Ornaments
These new small cast iron figures are copies of Victorian era counterparts. Figures like these were typically used to decorate modest fireplace cottage fireplace mantels, gardens and occasionally grave sites.
Bodies of the new pieces are cast as single pieces and fastened into separate bases. They are held together with hex head bolts which are rarely found in pre-1920 ornamental cast iron.
The new pieces arrive from the factory with "antiqued" paint with numerous chips and rust showing through. The paint is a thin rubbery latex unlike the thick brittle enamel found built up over the years on most original cast iron used outdoors.
We bought these samples through a mail order source for $24 for the pair. The same figures were also available mounted on a small cast iron urn. Small pieces of new ornamental iron like these are increasingly being offered at plant nurseries and garden centers.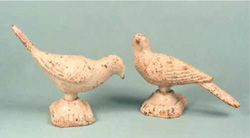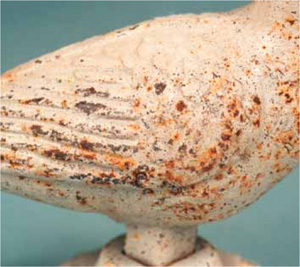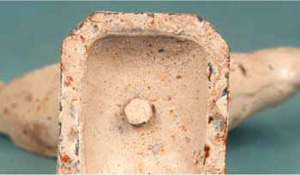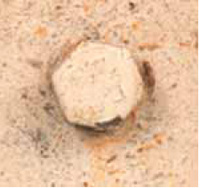 Real Or Repro is an industry resource powered by
a vetted marketplace of dealers and winner of numerous
Ecommerce Bytes Sellers Choice awards
for Quality, Usability, Customer Service, Communications and Most Recommended Selling Venue
---
So now,
Our Ruby Lane Shop Owners
invite You
to shop with them for the
Real Deal
on Ruby Lane ...