Hocking Glass Company's Cameo Pattern In Miniature ShapesBy
Mark Chervenka
Hocking Glass Company's Cameo Pattern In Miniature Shapes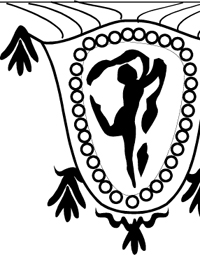 Hocking Glass Company made and sold original Cameo pattern glassware from about 1930 to 1934. Today, collectors and dealers also call this pattern Ballerina or Dancing Girl. The pattern is so named because in the center of the design is a female dancer with swirling veils.
All original pieces of this pattern are full size and were made for normal everyday use. The pattern became so popular, however, that it has now been made in child sized pieces in over 30 different shapes. Since child sizes were never made originally, no small sizes can be authentic. This may seem a simple fact to those who collect or deal in depression era glass but many general buyers are not aware of this. Many people have paid substantial prices thinking that the "child sized" pieces were rare.
The majority of new Cameo pattern child sized pieces were being made by Mosser Glass of Cambridge, Ohio. Mosser called these pieces their Jennifer Line which is made in pink, yellow and green. In general, all the Mosser pieces are well made with very good mold detail. Pieces have good finishes and are well proportioned. The entire line was in general production with no limits set on the number of pieces produced. Example wholesale prices were: pitcher and four tumbler set $15; ice bucket and four footed tumblers, $15; covered butter with creamer and sugar, $15. Child size Cameo has also been made in Taiwan and China, whose versions are very crudely made. On many pieces the pattern is barely recognizable. Glass quality is also far inferior to that used by Mosser. Wholesale prices for imported pieces were about $2.25 each for biscuit jars; around $4.50 for pitcher and tumbler sets.